Yellow kitchen ideas: 12 ways to add sunshine all year round
8 min read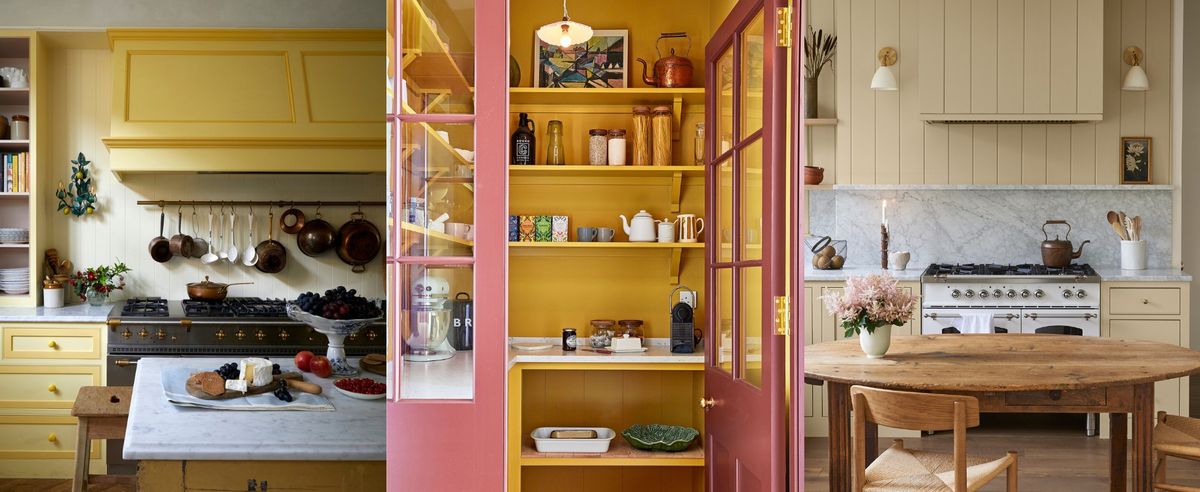 When thinking about a kitchen renovation, yellow kitchen ideas might not be the most obvious design direction. But yellow in all its guises (from whispery barley yellow to rich honey), deserves a spot at the table.
Perhaps our cook spaces have always been the perfect zone for welcoming in this sunny kitchen color idea, as cooking, eating and relaxing seem to go hand in hand with cheery yellow.
'We need a bit of sunshine in our lives more than ever right now and the brighter and bolder the better,' says Marianne Shillingford creative director of Dulux. 'Yellow gives us an instant slug of joy, the buttercup under the chin effect of a bright summer's day on our walls – and you don't need to paint every wall in the room, just a feature shape or a piece of furniture can be enough to get the most out of its positive benefits.'
Yellow kitchen ideas
Whether you prefer the palest primrose and soft lemon or deep ochre and mustard, it's time to put yellow kitchens on the list of yellow room ideas.
'Kitchens can verge on being clinical, so using deep, mustard yellow is perfect for making a space warm and inviting," says Aaron Markwell, home interiors color guru for COAT Paints. "Having a golden hue in your kitchen looks striking; alternatively, my on-trend tip would be soft black cabinets, blackened white walls and a casting glow of golden yellow on the ceiling.'
1. Warm up with heritage ochre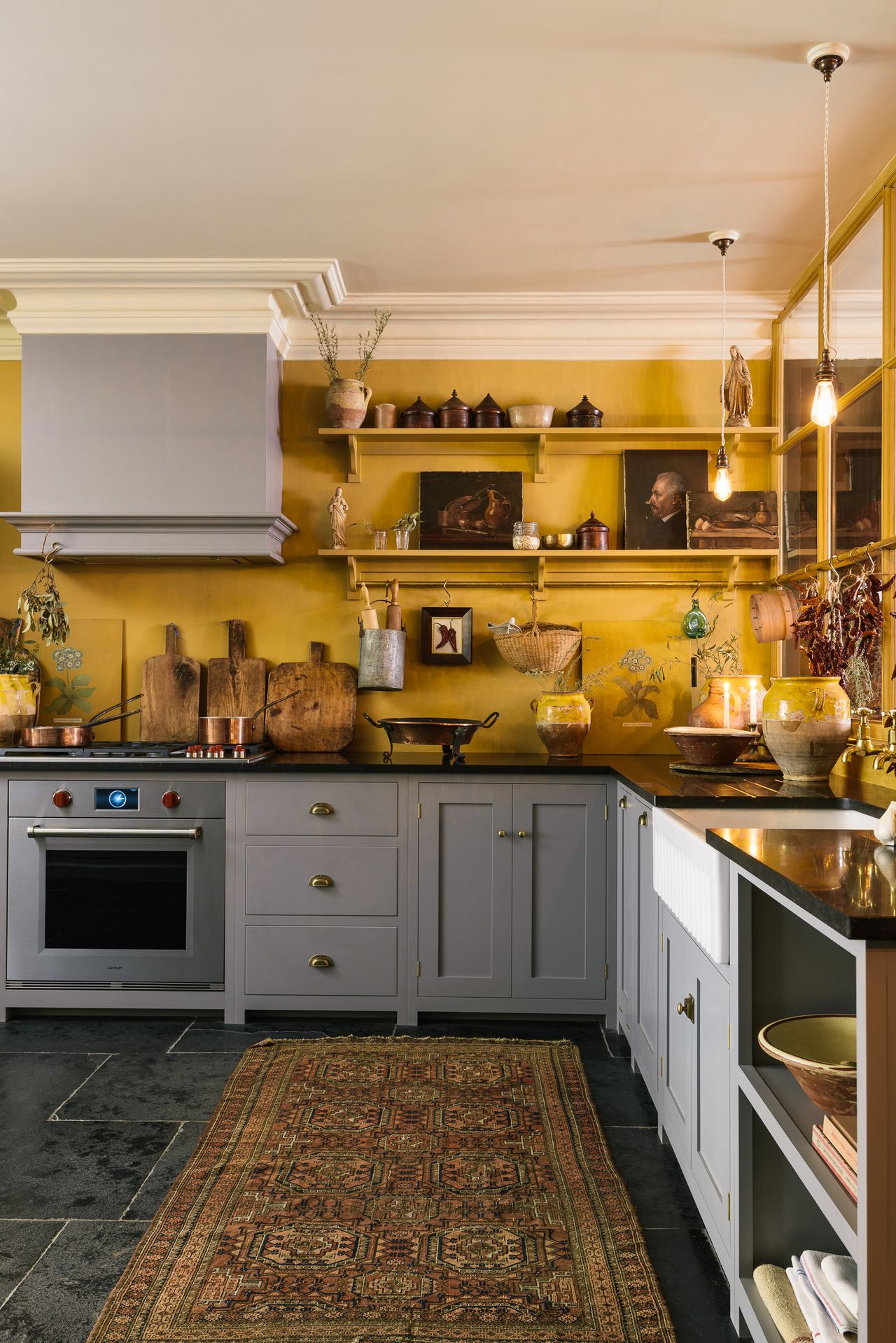 Sunny yellow hues with overtones of bright daffodil or citrus lemon might scare off all but the bravest among us. However, the yellow spectrum is a vast one, and an earthy umber or warm ochre will add depth and interest to a classic kitchen style. Such a mellow, golden shade works so well with grey, oatmeal or navy blue kitchen ideas, adding warmth to a block, neutral scheme; it will also create the illusion of warm sunshine in darker spaces. 
"Warm colors of umber and beautiful objects with a history create a feeling of home comforts and a love of cooking," says deVOL's creative director, Helen Parker. "The shadowy sunlight against the warm mellow yellow of the walls has given this room a beautiful ambience and cleverly turned a dark space into a peaceful and magical kitchen." 
2. Go for glamor with gold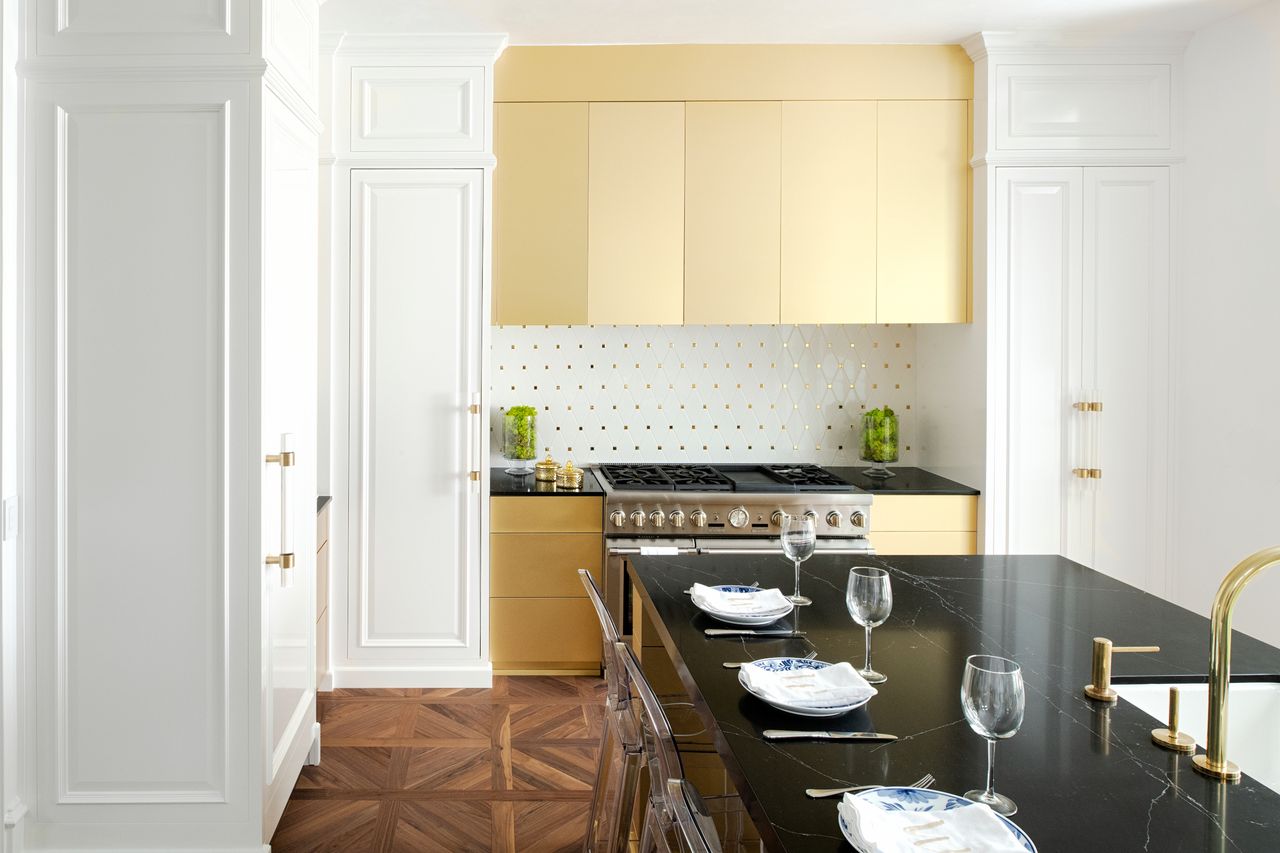 Striking gold cabinets are a glamorous twist on the yellow kitchen trend. What makes this kitchen look cool rather than crass, is that the gold has been applied to minimal, slab front doors, steering clear of a fussy, detailed design. The result is a 21st century take on how warm yellow metallics can elevate simple white kitchen ideas into something very special and luxe – perfect for entertaining guests amid the soft glow of the gold.
"The cabinets are gold metal wrapped which can convey a sunshine-like yellow," explains Emily Williams of Florida-based design and build company Z Properties. "We thoroughly believe that gold is neutral, elegant and timeless – the gold cabinetry tied back into all the other decorative elements of the kitchen such as the brass fixtures. The white diamond shaped tile backsplash with gold dots adds a touch of whimsy and fun to the space."
3. Add yellow in small doses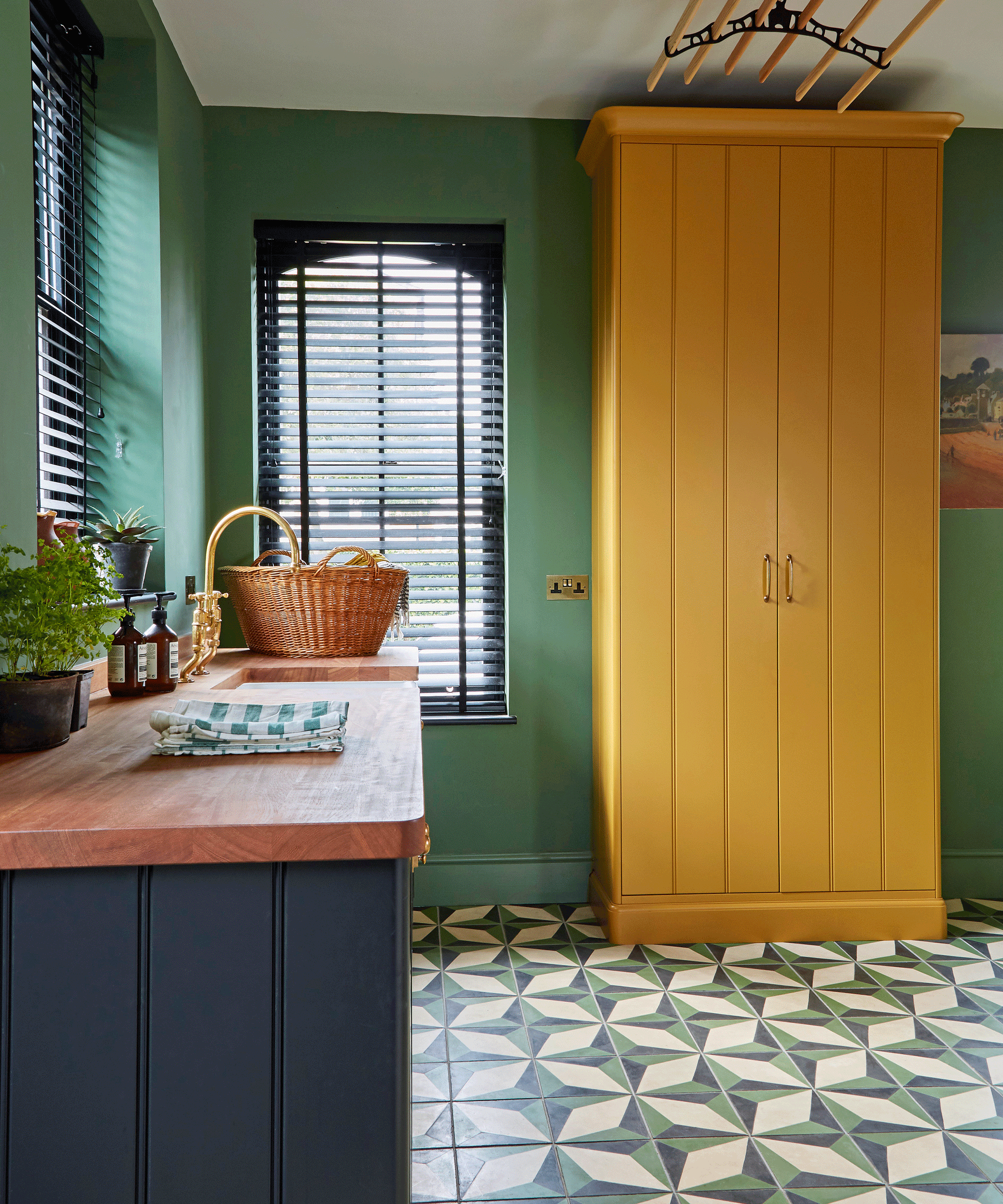 If you don't want to go full-blown yellow on cabinets and walls, try a subtle splash of this sunny hue on a freestanding cabinet or a piece or furniture, especially as an accent to blue or green kitchen ideas.
'Buttercup yellows are a perfect choice for kitchens,' says Colin Roby-Welford creative director at Fired Earth. 'They look fresh and brimming with vitality in natural light, so they're a happy and energizing backdrop throughout the day. They then take on rich and sophisticated golden tones in evening or artificial light – and look amazing in candlelight – making versatile yellow kitchens ideal to entertain in too.'
We thoroughly approve of green and yellow room ideas.
4. Contrast sun-baked yellow with black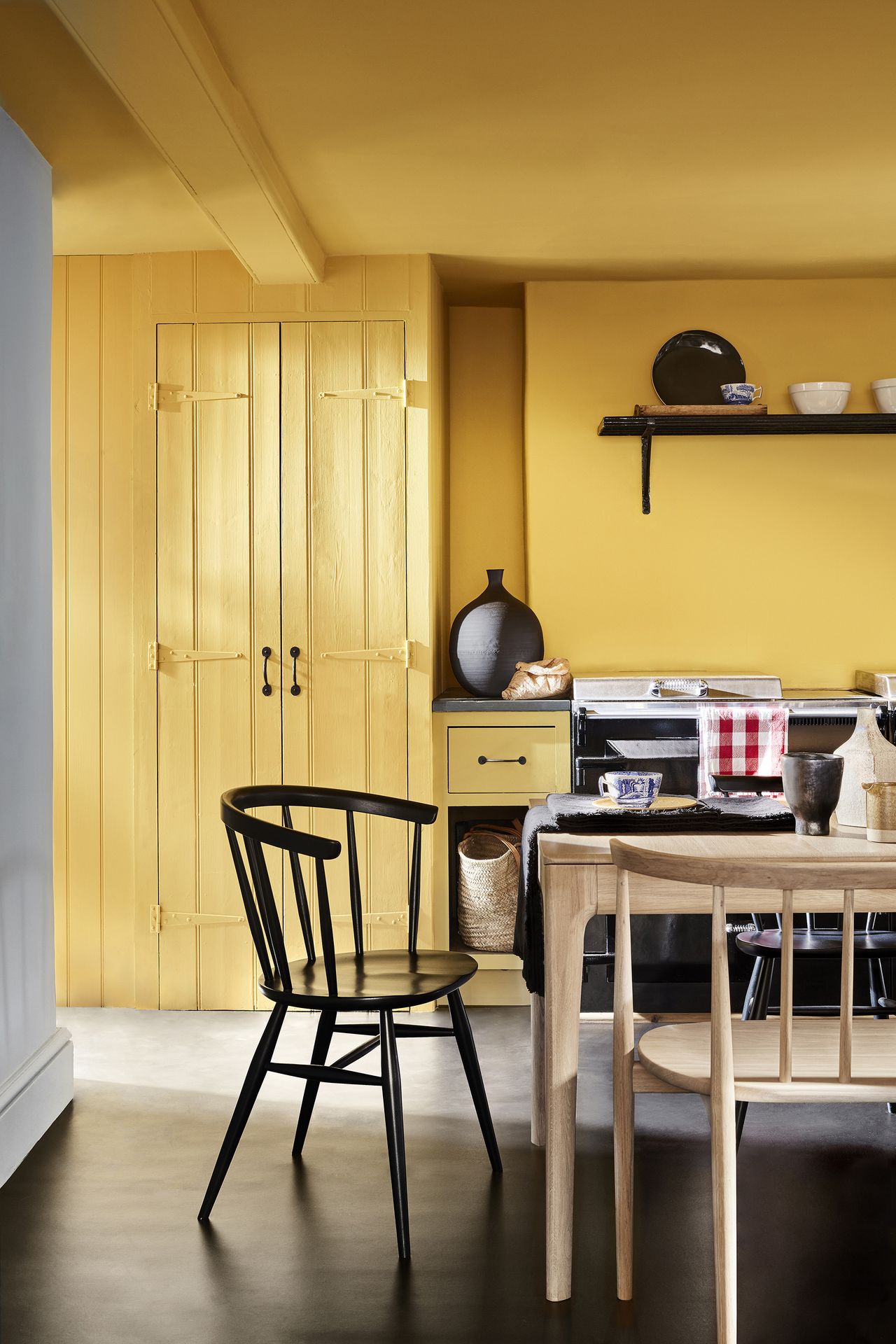 Yellow walls don't have to feel overly sweet or traditional. If your style is on the edgier side, pair a sunny yellow hue with black accents and streamlined furnishing to turn it into a sophisticated scene-setter.
'Black adds gravitas to a space with lots of yellow, and is more contemporary pairing than white,' says Sarah Spiteri, Homes & Gardens' editorial director. 'On the other end of the spectrum, if you're looking for a way to warm up a black and white kitchen that might feel a bit cold, yellow is the perfect choice.'
5. Pair yellow with wallpaper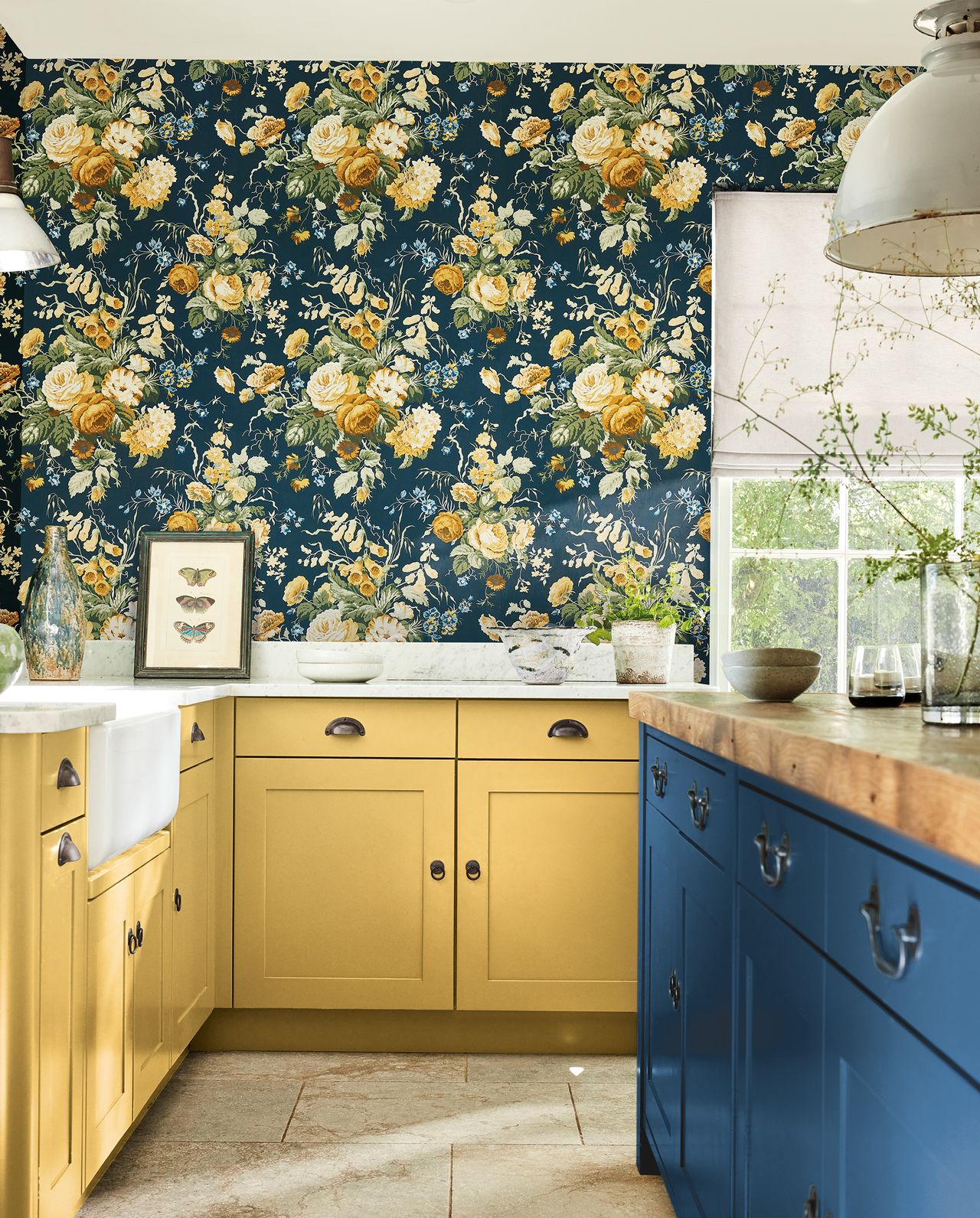 If you're looking to tie yellow into your kitchen in a way that feels natural, start by finding a wallpaper that includes yellow tones you love, like this floral print from Sanderson. 
'Incorporating a yellow pattern in such a big way will instantly create a connection point with any other yellow details you bring into the room,' says Lucy Searle, editor-in-chief of Homes & Gardens. 'Just be sure you choose the same tone of yellow for a cohesive, finished look.'
6. Pair with rustic materials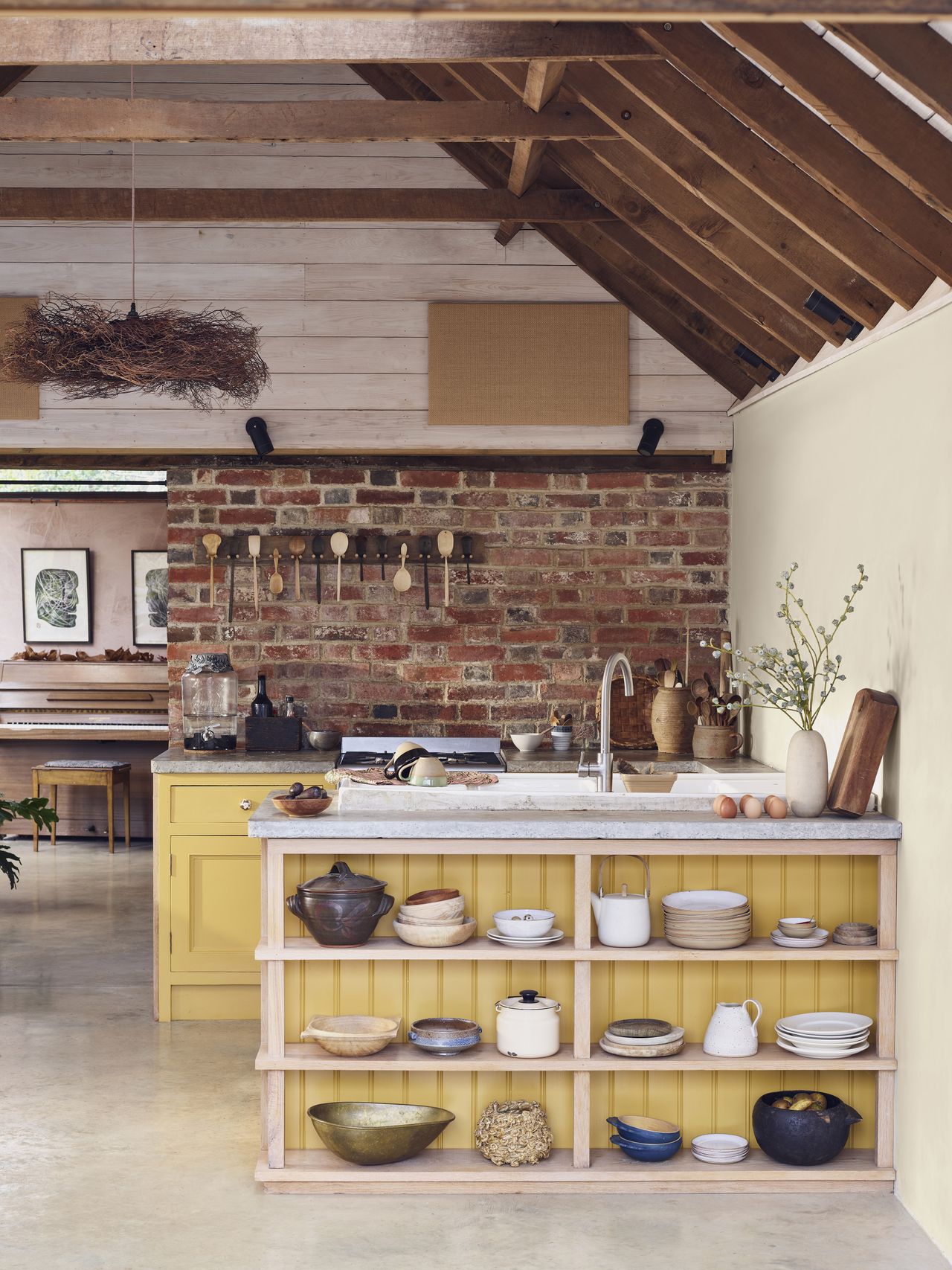 Sunny yellow kitchen cabinets tone harmoniously with the rich terracotta hues of bare brick and warm exposed timber beams. Open shelving filled with stacks of clay bowls and earthenware vessels enhance the laid-back rustic look with Sunflower yellow paint by Morris & Co used for an energizing backdrop.
"Yellow is a joyous and energetic shade which is perfect for adding a new lease of life to any space," says Jessica Clayworth, lead designer at Morris & Co. "The color can go a long way in making an interior look fresh and exciting due to its effervescence. Yellow is a timeless color due to it consistent association with optimism and happiness." 
7. Turn up the heat with a mustard backsplash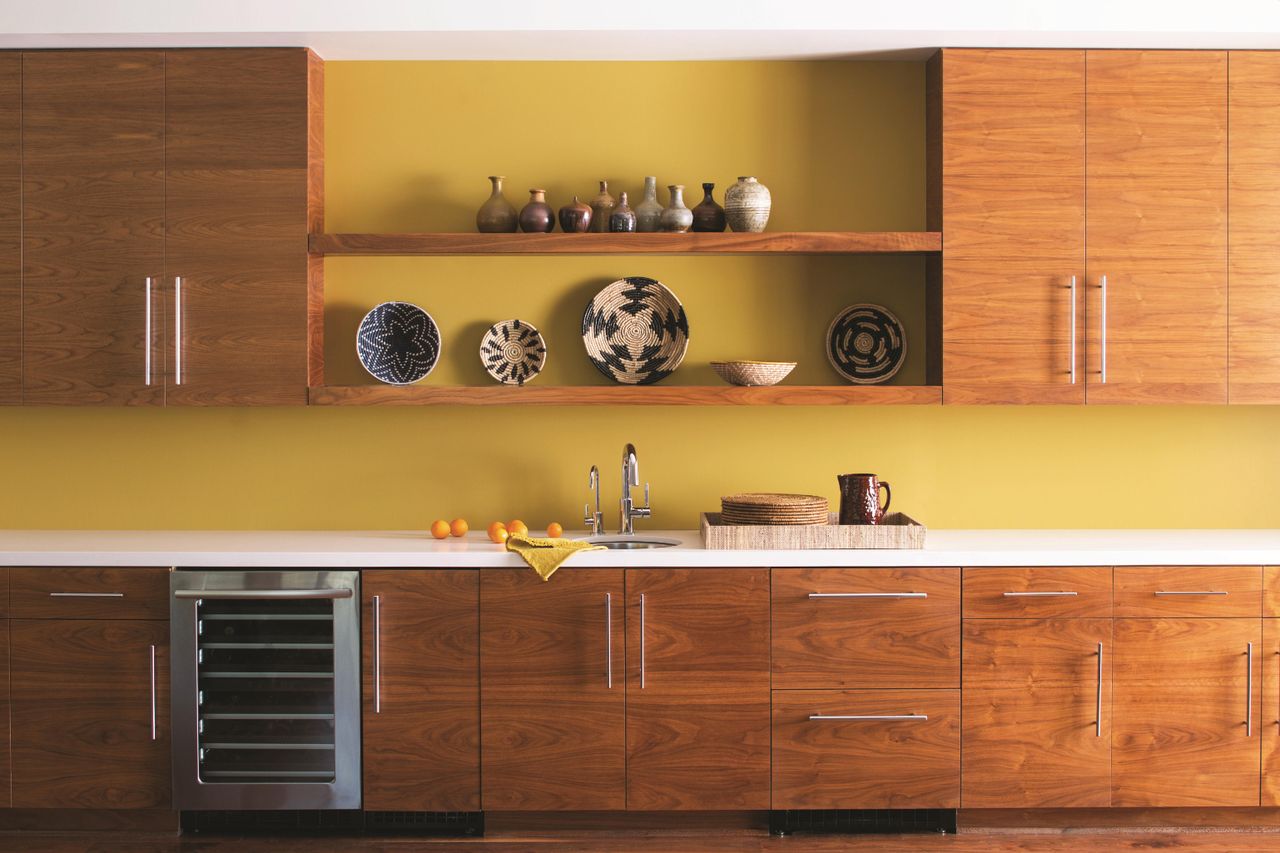 There's nothing easier – or more striking – than a wall of yellow paint behind the kitchen cabinets. Be it simple wooden cabinetry, a slick, modern gloss or a traditional Shaker style, a dash of bold yellow paint will add so much style, for so little effort. 
"The bright and invigorating side of the color wheel, with warm and earthy tones such as ochre yellow, will naturally bring a zest and sense of energy to a room," says Helen Shaw, UK director at Benjamin Moore. "Yellows are known to lift a mood and evoke a feeling of warmth and connection to the sun, boosting positivity."
8. Wake up with bright citrus lemon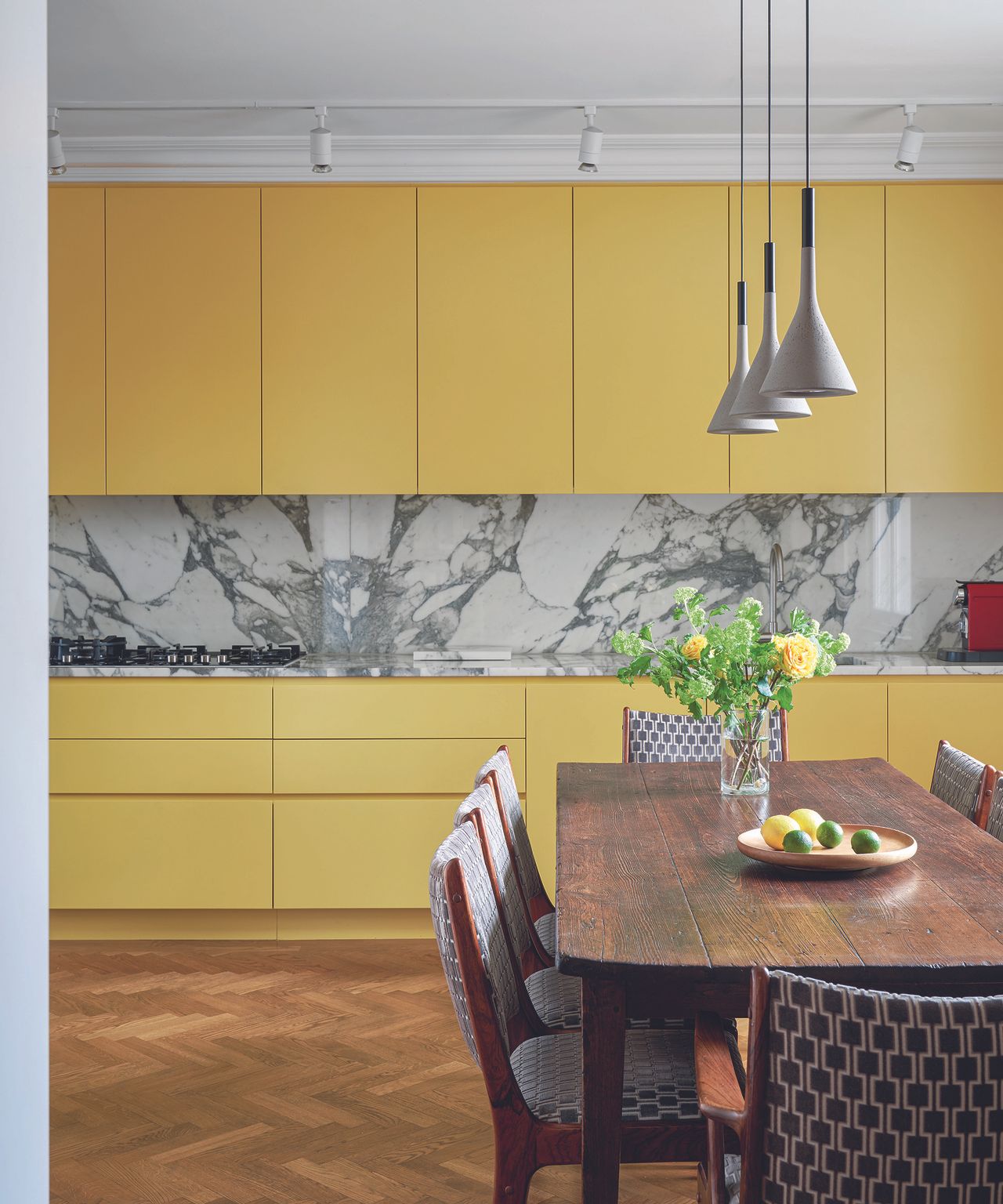 Juicy-fruit colors bring us joy and this zingy citrus kitchen is no exception. The sunshine hues of this super-modern kitchen might just be the happy wake-up call we need every morning, however grey the skies are outdoors. 
There are many features that make this bold color work so well. The slab-front, handle-free yellow doors are simple and fuss free while the dramatic, grey and white veined marble backsplash injects a grown-up sophistication. The result is bright and uplifting – essential elements for a much-needed summery lift all year round. 
9. Go for an unexpected color clash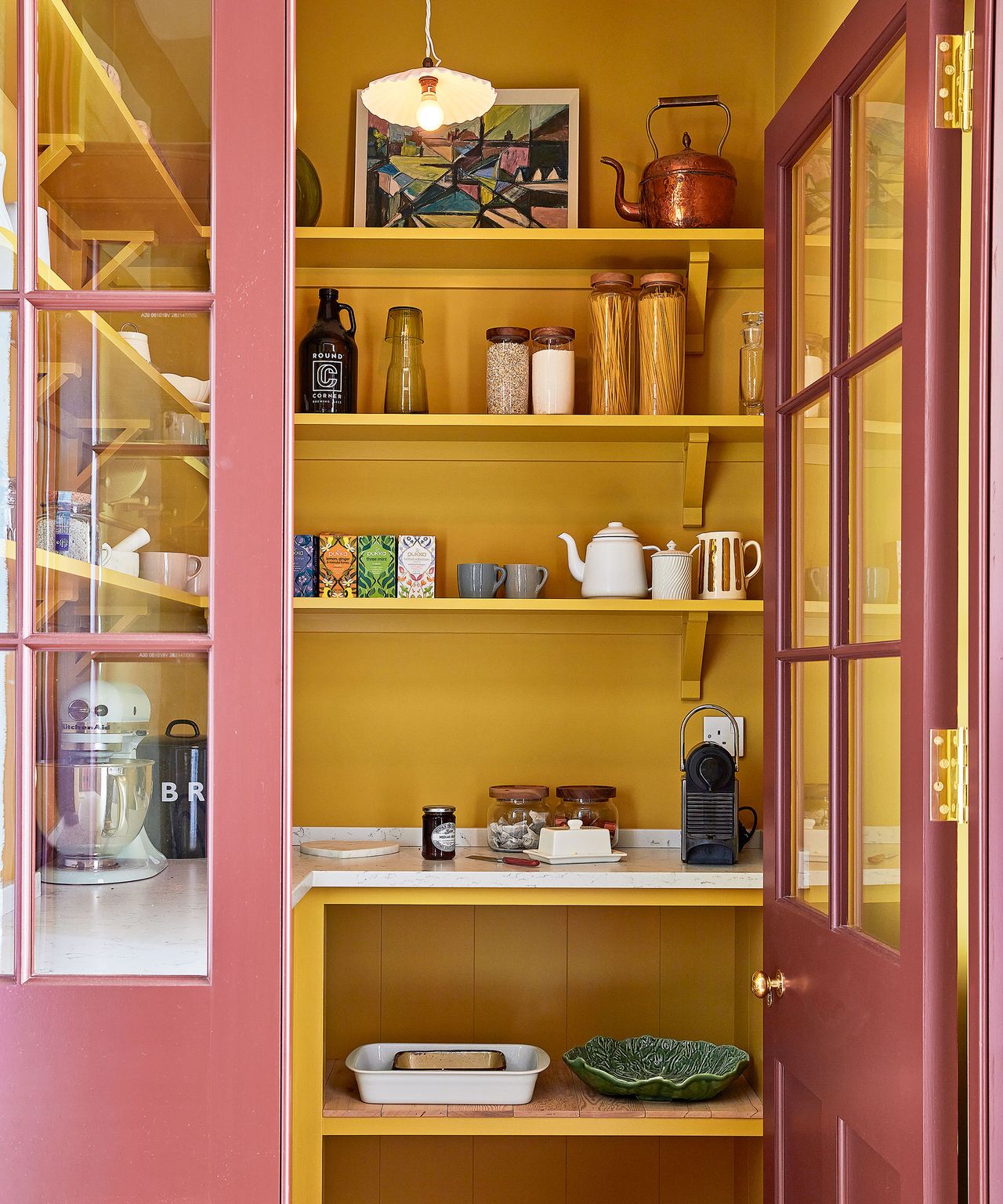 The element of surprise is much undervalued in the kitchen. While we may feel more confident mixing and matching colors in the living room or bedroom, we are less inclined to do so in the kitchen. 
To shake things up, try an unexpected flash of color inside a cupboard or pantry. This warm ochre shade adds a burst of golden sunshine to the interior and balances the rich russet hues of the door front. And if you get tired of this yellow room idea, simply paint over with a different color for a brand new look.
10. Use buttery yellow as a new neutral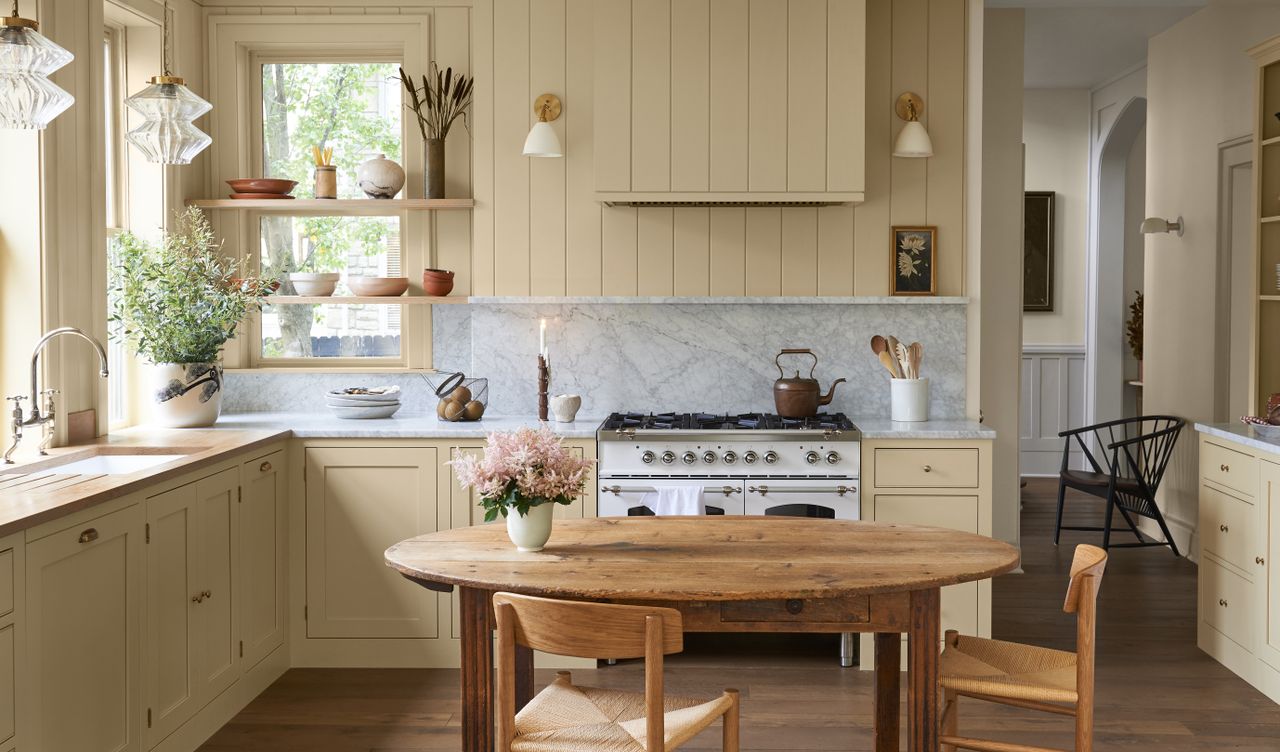 Conjure up a classic kitchen look by painting cabinets and woodwork in a barely-there buttery yellow. This easy-on-the-eye shade is a masterclass in how to create a timeless Shaker kitchen. Offset with tactile materials like wood, marble and stone and accessorize with simple furniture, earthenware pots and tongue-and-groove paneling.
"I'm inspired by American Shaker architecture and love the way that they use yellow. It brings a lot of personality to a traditional design," declares Greg Dutton of US-based Midland Architecture. "We went with a buttery yellow. I call it a near-neutral because it's understated in the way that neutrals are but still gives a lot of pop." 
11. Play up country kitchen style with yellow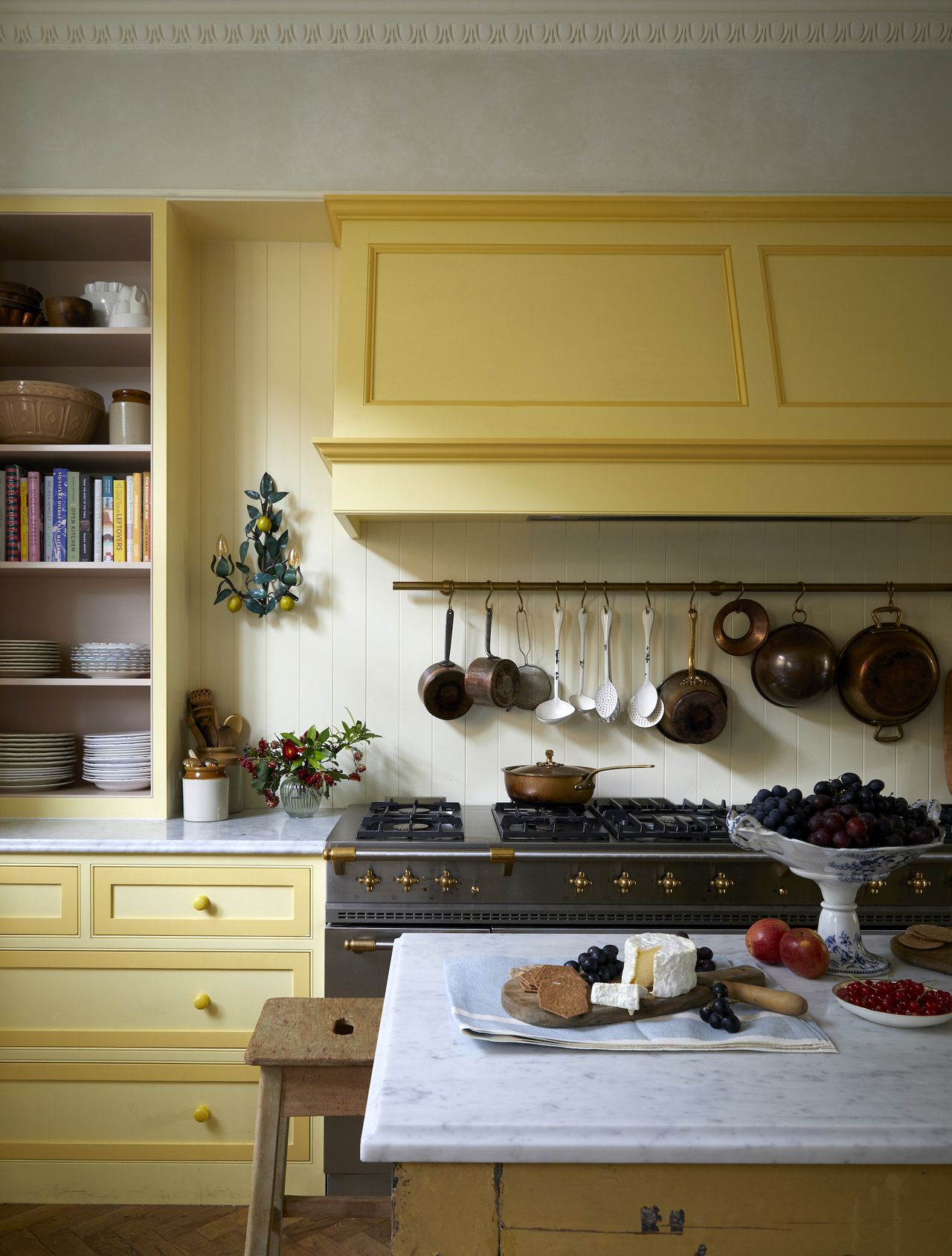 Cornsilk yellow is a classic choice for a country or farmhouse kitchen, as it plays well with details like timeworn copper pots, beadboard paneling, and traditional cabinetry. In the kitchen above, marble countertops keep the whole look feeling sophisticated, and set a French countryside feel.
12. Try yellow on the floor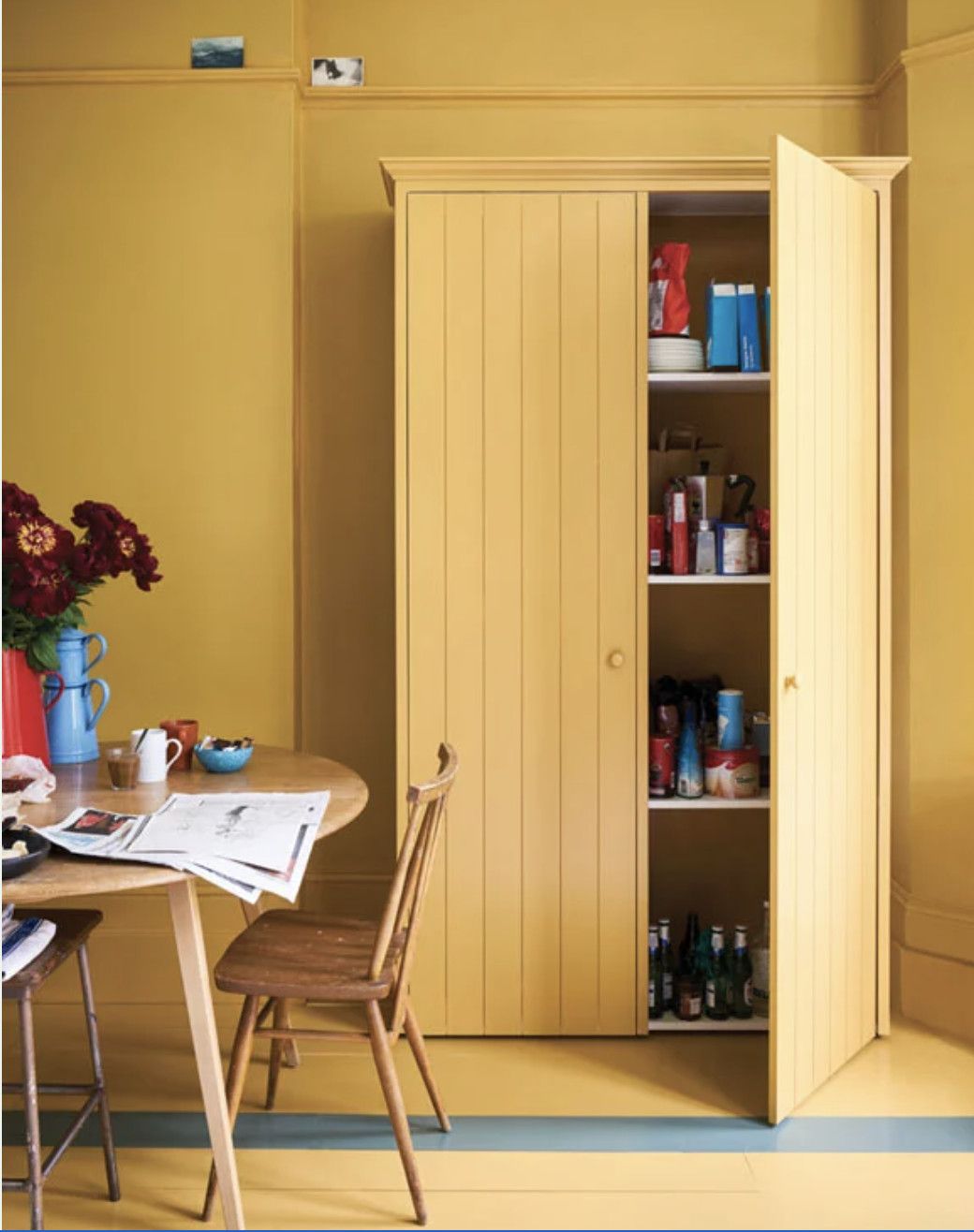 For a sunshine glow underfoot, why not make your floor the star of the show with yellow painted kitchen floors? This custard-colored hue is fresh and inspiring, and painted floors keep in line with the trend towards color-saturated rooms from floor-to-ceiling. 
"Add yellow hues to a kitchen to elevate a space," says Grazzie Wilson, creative lead at Ca' Pietra. "Yellow will flood a room with feel-good vibes."
Is yellow a good color for the kitchen?
Yellow is most definitely a great color for the kitchen. It is an instantly uplifting shade that can't fail to make you feel happy, calm and energized. Sunny yellow hues naturally project a warm and bright glow wherever it is used, making it a good color choice for smaller kitchens as it will create the illusion of more space. 
Yellow colors are also said to make people feel hungry, having the power to stimulate the appetite, so a perfect shade for the room dedicated to cooking and eating. Try an accent wall of canary yellow or a kitchen top-to-toe with pastel lemon fronts for a retro look. The yellow color spectrum has a shade to suit every style of kitchen. 
What colors go well with a yellow kitchen?
Yellow has been billed as today's new neutral and, as such, goes well with almost every color. Try dark shades like navy, charcoal, russet and emerald for a striking individual look or crisp white combined with a sharp citrus yellow. Grey, buttermilk and pale woods create a soothing color palette when combined with yellow.