These 7 Kitchen Trends Are Already Coming in Hot for 2024
7 min read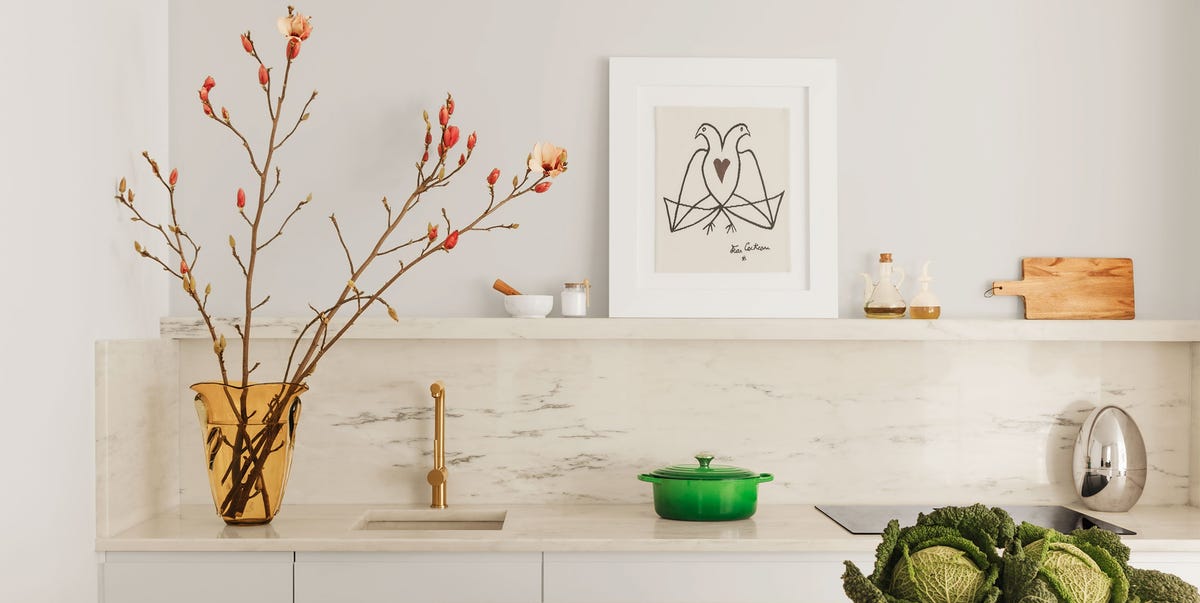 While opulent Art Deco, over-the-top maximalism, and even Barbiecore have all had their moments in the sun this last year, a more serene and calming approach to kitchen design is on the horizon for 2024. Besides a space to expand our culinary creativity, our kitchens have become increasingly important as a place to nurture connections with family and friends.
In short, homeowners want a space that feels like a safe haven. "In 2024, the 'joy of living' is high on the priority list for design," says Kerrie Kelly, CEO and creative director of Kerrie Kelly Studio. "People are increasingly opting for versatile spaces that can adapt to various functions, such as kitchen islands with integrated seating and storage to create a multifunctional hub for cooking, dining, and socializing."
Whether you're planning a new build or simply sprucing up your cooking space with a new cabinet paint job, many of these trends can be incorporated into your design plans. Most of the top kitchen trends of 2024 make life in the kitchen easier, more streamlined, and less chaotic. After the uncertainty of the past few years, we all deserve a space that's a soothing retreat from reality, while still reflecting a stylish palette of beautiful design elements. Here's what the experts say will be hot in the year ahead.
Layered, Understated Lighting
"The hottest trend in kitchen lighting is about layering and creating a versatile ambience," says Kelly. "We're seeing a shift moving away from bold statement pendant lights over kitchen islands and dining areas, while celebrating integrated under-cabinet and toe-kick lighting to add functionality and a touch of glow."
Sconces, which combine style and usefulness, are another lighting trend. "Bright, overhead recessed lights may cause a glare on kitchen work surfaces," says Ashley Macuga, principal designer of Collected Interiors. "We love installing sconces in kitchens because they add a layer of lower light and look so pretty when dimmed once the kitchen is finally closed for the evening."
Macuga agrees that subtle supplementary lighting is essential. "Under-cabinet lighting allows both functional and aesthetic illumination, but it's concealed so where the light comes from feels like a bit of a mystery." Macuga also predicts we'll see more uses of architectural lighting, such as wall washes, in order to highlight key areas of design detail such as beautiful backsplashes and range hoods.
Fussy lighting is definitely not in favor. "Out are lights that overwhelm a kitchen," says Shelby Van Daley, founder and principal designer of Daley Home. "Lights that are simplistic and allow your eye to view the entire kitchen are in."
Warm, Rich Colors
Monochromatic, all-white kitchens are not as popular as they once were. "We're witnessing a resurgence of dramatic color tones that introduce powerful contrast, such as warm, saturated hues paired with understated neutrals," says Kelly. Along with blues and greens, rich browns, smoky blues, and reds and purples are taking center stage to infuse kitchens with a cozy, inviting atmosphere.
Mixing light or dark-stained woods in with saturated colors also is big. "I think a balance of painted and wood cabinetry is really important," says Macuga. "Color can provide a space with personality and charm, and stained woods give a space a feeling of warmth and depth."
But even bolder colors are starting to appear in kitchens. "Burgundy and shades of orange are creeping into kitchens," says Bethany Adams, principal of Bethany Adams Interiors. "They're not for the faint of heart, but if you crave a cozy kitchen, there's no better palette." If you want to start small, suggests Van Daley, simply stain or paint your cabinet knobs. "This creates a very charming look in kitchens."
Matte black and titanium finishes are growing in popularity. On the other hand, brass is still popular, especially with the emphasis on a vintage look, says Laura Williams, lead designer at ATX Interior Design.
High Drama Marble and Stone
Natural materials, such as marble, are a given for counters and flooring. "White marble has been deemed a risky material choice for countertops in recent years due to its susceptibility to stains and chips," says Williams. "But homeowners are taking the risk for the sake of its natural stunning veining and movement. They're more accepting of 'imperfections' that arise over day-to-day use, allowing the surface to show its 'life stories.'"
The earthy undertones and vibrant veining of quartzite is also popular. "Using these types of materials not only provides a connection to the beauty of our natural world, but it also evokes a feeling of sanctuary and harmony in our homes," says Macuga.
Many homeowners are prioritizing sustainability and low-maintenance materials. "Clients are embracing natural stone look-alike varieties with products such as Silestone Le Chic collection and Dekton Pietra Kode collection," says Kelly.
Butler's Pantries and Storage Galore
It's true that you can never have too much storage space in any room, especially the kitchen. "Butler's pantries continue to be the hottest thing going in kitchens," says Adams. "A dedicated space to store your china and sometimes even a wet bar make these kitchen annexes the height of luxury living."
Making the most of in-kitchen storage is big, too. "Now, more than ever, clients are asking for kitchens that are extremely functional, so we are using a lot more drawer inserts and drawers to create organization that didn't exist before," says Van Daley.
Additionally, homeowners are exploring innovative layouts, such as "hidden" kitchens and pantry walls, allowing them to tuck away the cooking area when it's not in use to maintain a clutter-free, minimalist look, says Kelly. Sculleries and dirty kitchens also provide practical spaces for storage, prep, and cleanup to maximize culinary efficiency.
Outdoor Kitchens and Connection to Nature
Another trend that's continuing to mature is the integration of indoor and outdoor spaces. "Clients want seamless transitions to the outdoors with large sliding doors, similar materials, and complementary color palettes, allowing families and friends to enjoy the fresh air while cooking and entertaining," says Kelly.
Indoors, the inclusion of "wellness corners" is on the rise. These spaces have water filtration systems such as Zip Water Hydrotap and dedicated green spaces for growing fresh herbs or sprouting microgreens, says Kelly. These trends combine the best of health-conscious living with the power of plants and biophilic design.
Induction Cooktops
Induction cooking has been popular in Europe for decades and is becoming increasingly common in the U.S., a trend that's fueled by the debate concerning the safety of gas stoves this past year. "Induction cooking produces fewer fumes than gas cooking, so there really isn't the necessity for a hulking extractor or vent hood," says Adams. "That opens up a lot more options in terms of recirculating downdrafts or even foregoing a hood in older homes where there's plenty of airflow already."
Even legacy brands such as La Cornue make induction ranges, so there's an option for every kitchen style. "If the Chanel handbag had a kitchen appliance as a cousin, it would be the La Cornue range," says Macuga. Meanwhile, outdated and bulky appliances are definitely on the way out. Brands such as Hestan reflect a desire for high-performance, smart appliances that seamlessly blend into the design while offering cutting-edge functionality and energy efficiency, says Kelly.
Communal Eat-in Kitchens
Whoever thought the humble kitchen table would be considered a design trend? But the rumors are true, says Macuga: "Families are increasingly centering activities in the kitchen, lounging as much as they are cooking." Clients want kitchen layouts that invite their children and guests to come sit and stay awhile. For example, islands must accommodate the whole family, and counter stools must be comfortable.
Even better is the integration of a kitchen table within the space, where community is made by sitting across the table, not just next to someone. Says Macuga, "In a world full of computer screens, it's the direct eye contact that perhaps we're all yearning for"—a need that's trend-proof.

Arricca Elin SanSone has written about health and lifestyle topics for Prevention, Country Living, Woman's Day, and more. She's passionate about gardening, baking, reading, and spending time with the people and dogs she loves.