Red kitchens – 14 ways to turn up the heat
9 min read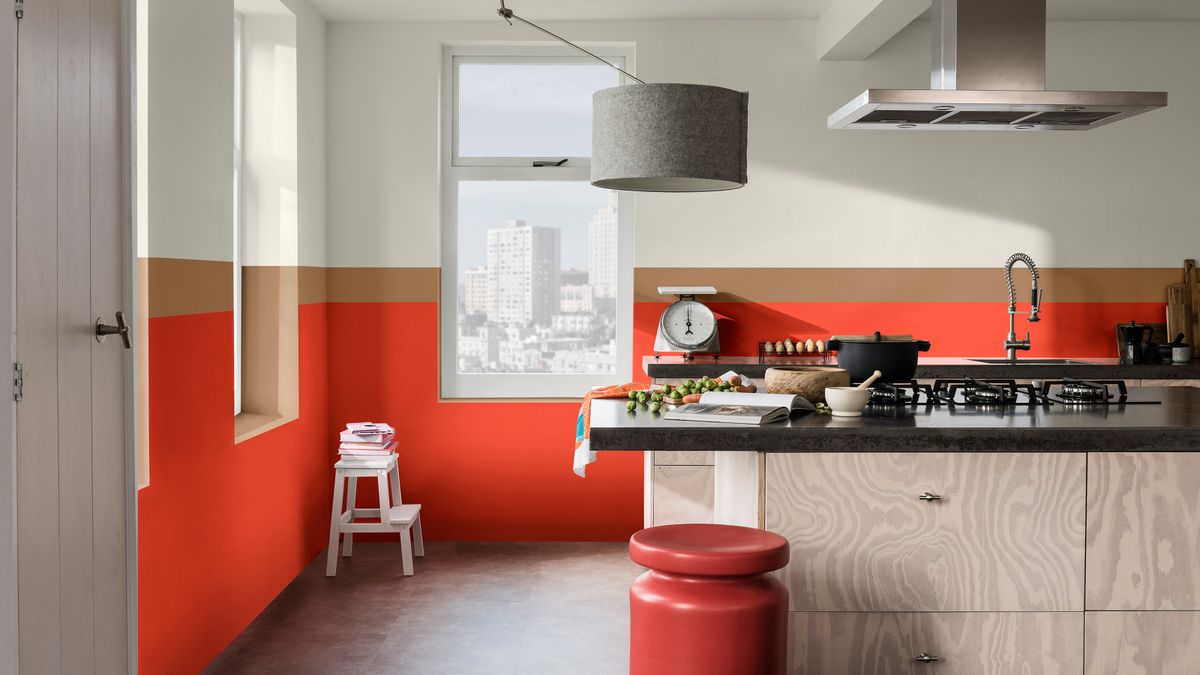 Red kitchens have had a bit of a renaissance. It's a bold color for sure but get it right and you will give your kitchen, if not your entire home, a new lease of life.
Experimenting with kitchen color ideas like red will open you up a whole spicy palette of hues. Choose from rusty terracotta for an earthy atmosphere, a Merlot berry red for a vampy and dramatic vibe or nod to the 1950's with a pillar box tone.
Whichever rouge you choose, our gallery of red kitchen ideas will help you add a warm tone to your food prep space. But, as it is such a dominant color, we've got in touch with paint and kitchen experts who have shared their knowledge on lighting, shades, seating… And even how to save yourself a few dollars by doing a DIY job with professional results. 
Red kitchen ideas to rejuvenate your space
'Add a splash of color to the busiest room in your home with a red kitchen,' says Marianne Shillingford, creative director, Dulux. 
'Whether it's a modern, eclectic or farmhouse style, there are red paint colors for every kitchen. An attention-grabbing red and black kitchen makes a strong impression, while a rustic red and white kitchen can be paired with wooden details for the perfect embodiment of country-style.'
'Red kitchen paint can easily update and transform your cooking space, from bold cherry hues to warm and cosy vintage shades. Dare to go bold with red walls or utilize the shade in your decor with red kitchen accents.'
1. Mix and match cabinetry colors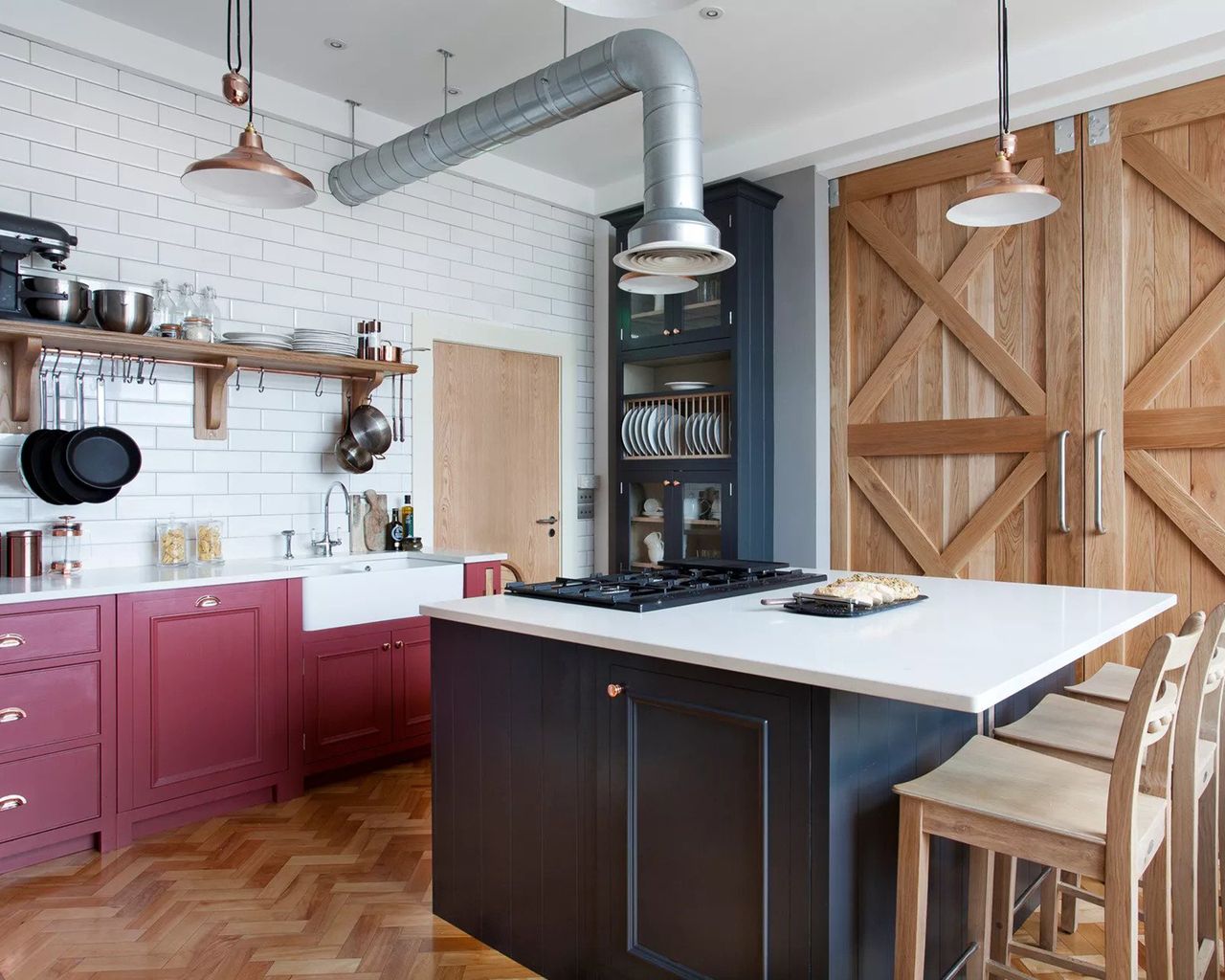 'Using two contrasting shades of paint is something that's worth considering,' says Daniel Boden-Wilson, PR manager, Neptune.
'Use an equal balance of both colors and the one tempers the other. In this case, it's all about creating a stark contrast, but the colors don't have to be compatible. Here, we've used navy and Paprika – two shades that can be both warm and cool, making them tonally well-suited.
'It's important to think about the light too and what effect it'll have on the paint color. Here, the bright light highlights the pink undertones of the Paprika paint, which makes it a far more suitable companion for navy. If this were in a low-ceilinged room with little light, the partnership wouldn't be as successful, because Paprika's red-brown base would make the overall palette feel a touch muddy.'
'The same thinking applies to the other elements in the room. Your cabinet colors need to sit well with the flooring, wall color, hardware and tiles. Warm tones of the wooden floorboards are reflected in the Paprika paint.'
2. Create scarlet cabinets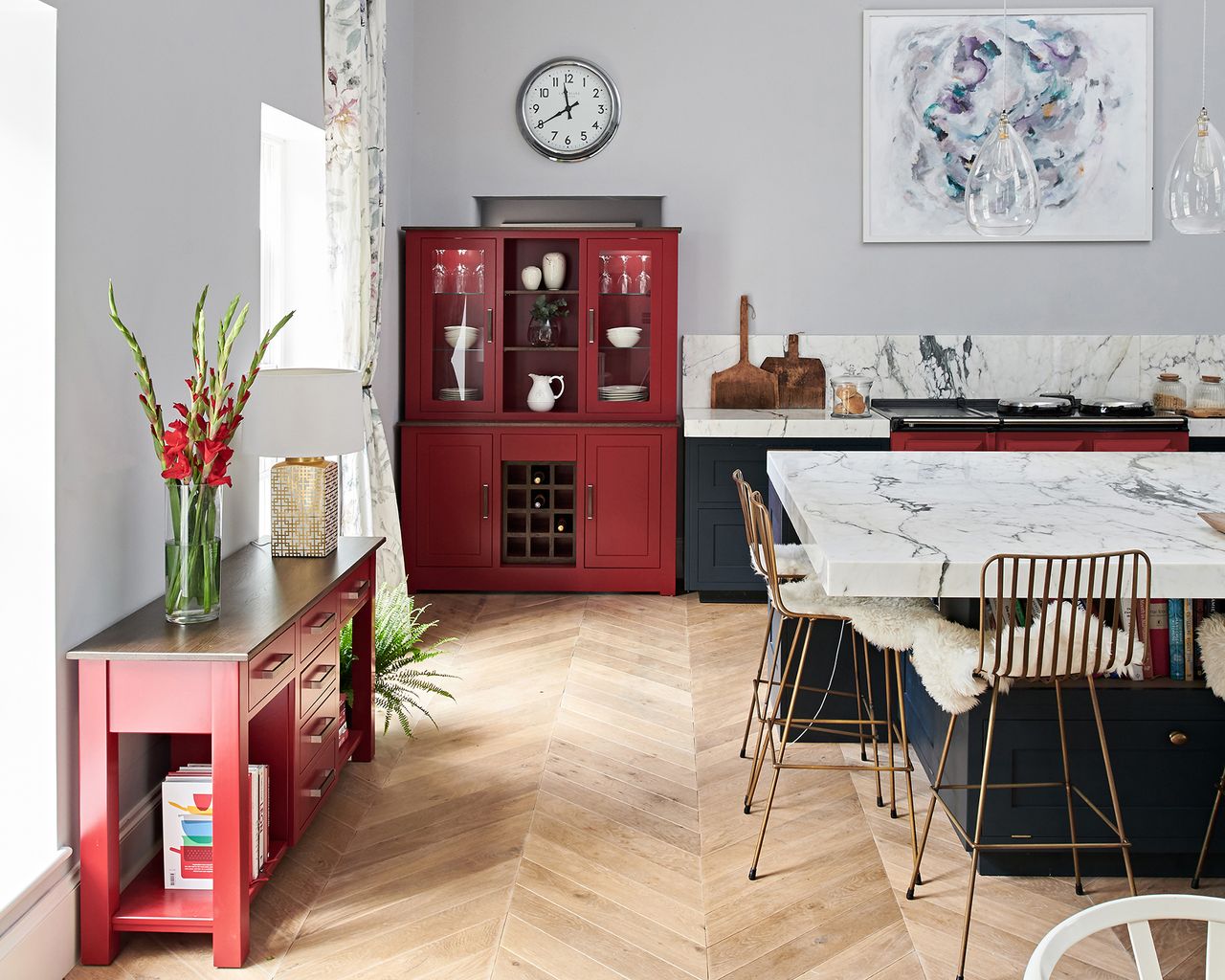 If you're in the mood to sass up your kitchen with a bit of scarlet – you don't need to splash out on new cabinetry. Find a red paint you like in a suitable finish for the material you intend to paint and have fun upcycling your existing dresser and other storage.
Whether you have wood or laminate cabinets, our guide on how to paint kitchen cabinets has a glut of good advice – so get stuck into our tutorial.
3. Add a pop of color with red seating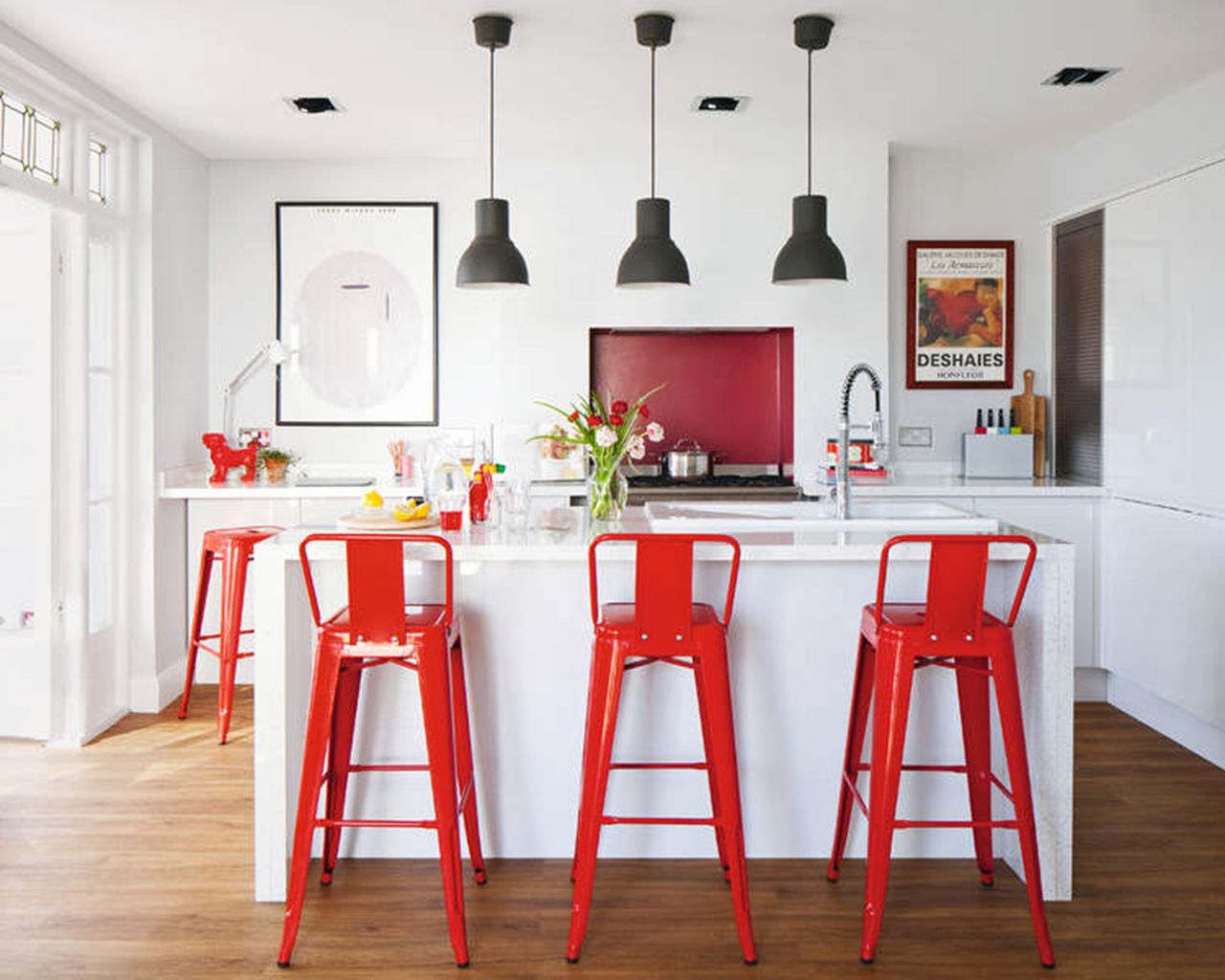 If you've already committed to having a white kitchen, but want to add a pop of color without messy paint or expensive furniture – go for the best bar stools. You can either find some chairs that are already the color you want, or upcycle them with paint that matches the rest of you red kitchen decor.
Love the symmetry of having a trio of chairs and ceiling pendant lights around the kitchen island. Three is definitely the magic number when it comes to interior design. But if you've a bigger space, odd digits do well too.
4. Choose retro red countertops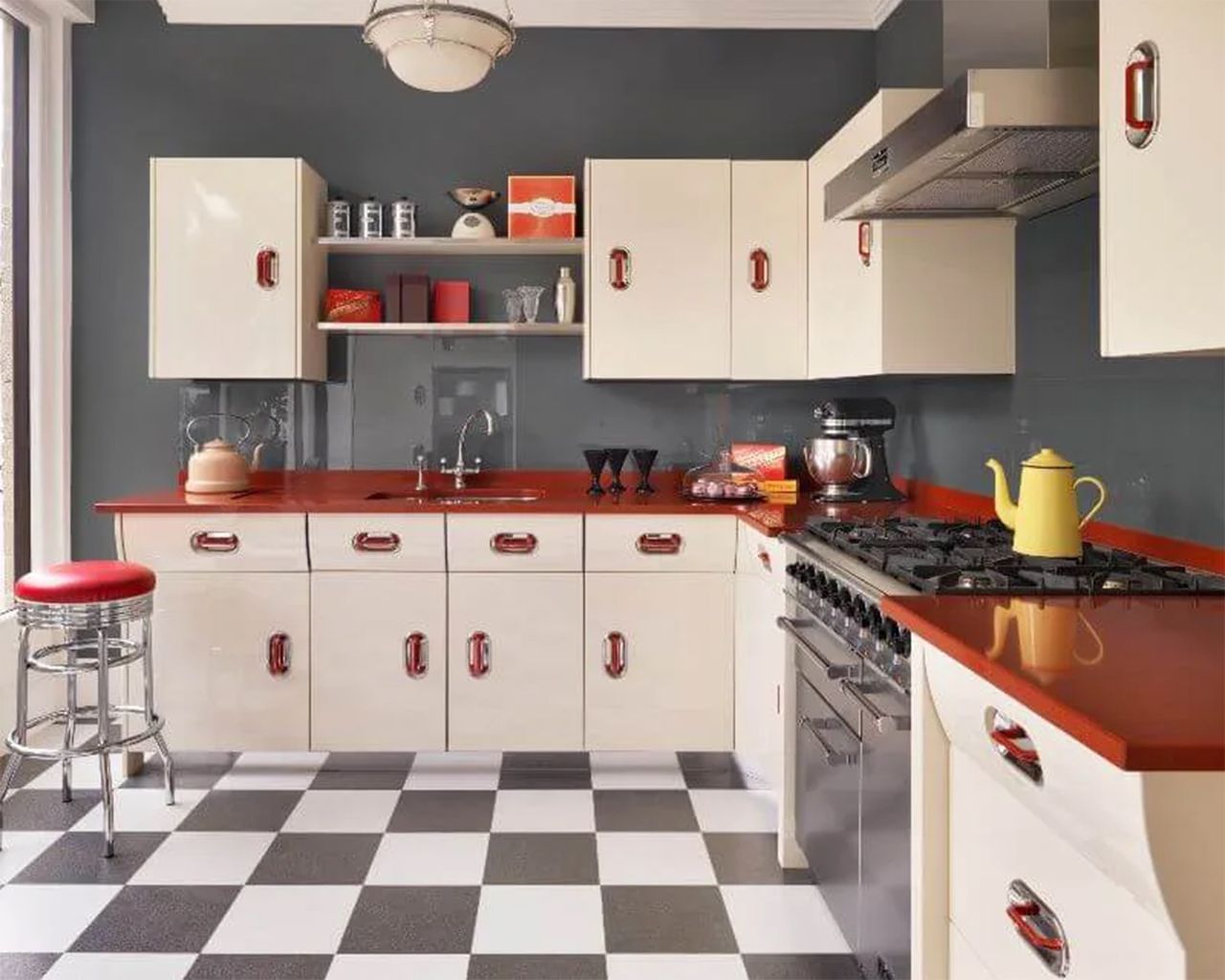 The recreation of a classic 1950s diner look is sure to make your kitchen a real talking point. The grey and white checkered floor is a twist on the monochrome motif we're more used to, but serves well in this predominantly cream kitchen.
'Home trends evolve over the years, but when the fashions of yesterday become popular once again, it's evident they are meant to last,' says John Lewis, founder of  John Lewis of Hungerford.
'The retro theme is gaining popularity throughout the art, fashion and music worlds, so it is perhaps no surprise that retro kitchen design is also back in vogue.'
If your home didn't come with this coveted floor design, take this on as a DIY job with our guide on how to paint a classic checkboard flooring.
5. Use a muted red in a modern farmhouse kitchen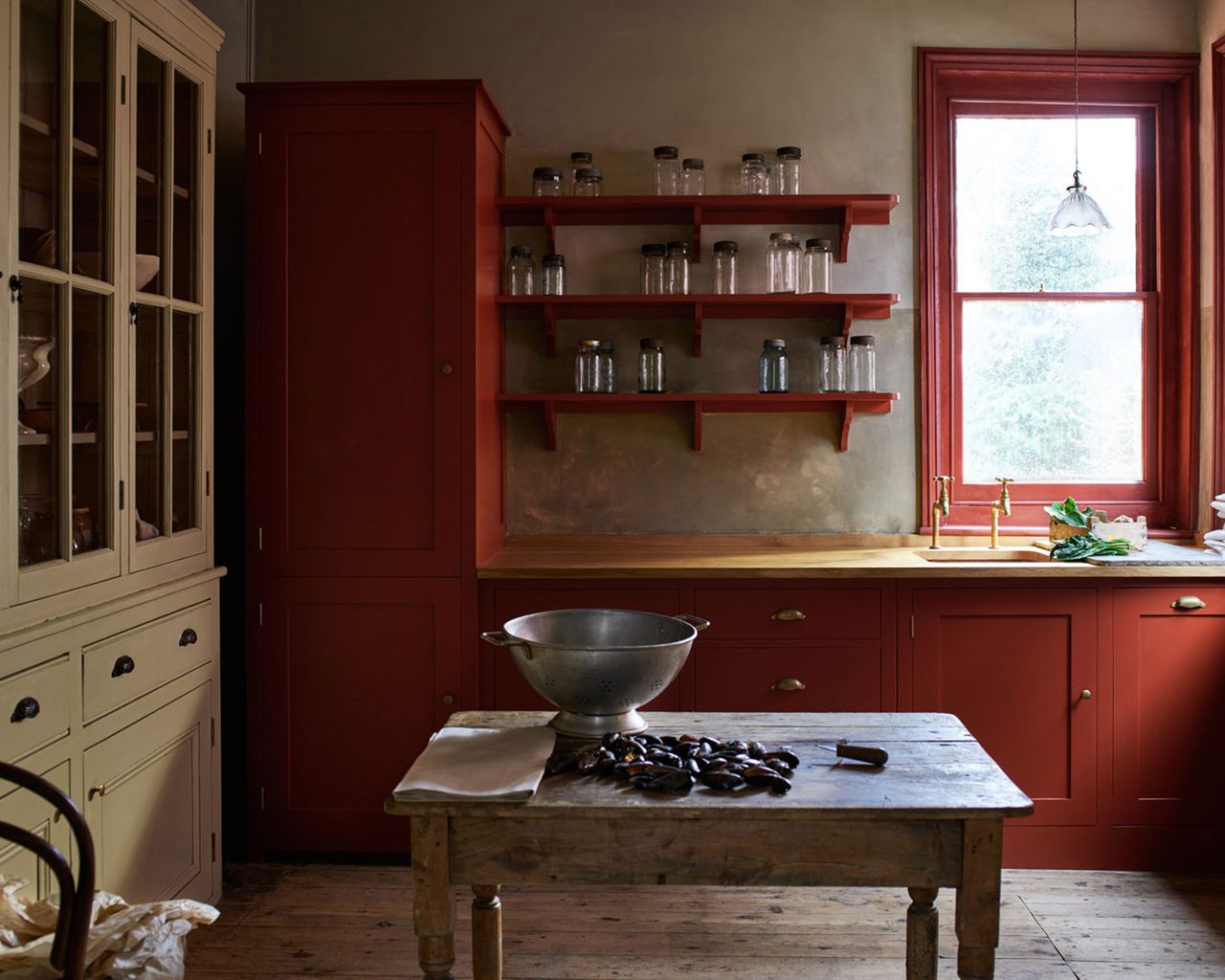 The cabinetry in this kitchen and scullery has been hand-painted in Plain English's 'Rusty Nail', creating a unique and characterful corner.
Modern appliances are concealed behind Spitalfields cupboards and the worktops have been carpentered using oiled oak. Raw linen, textured walls and a glint of burnished copper add depth to this cheerful design.
But, don't be deterred by the British name of this company if you're stateside. With a showroom in Manhattan and projects in New York and California, copying this oxidized red kitchen couldn't be easier.
6. Make a stand with red and black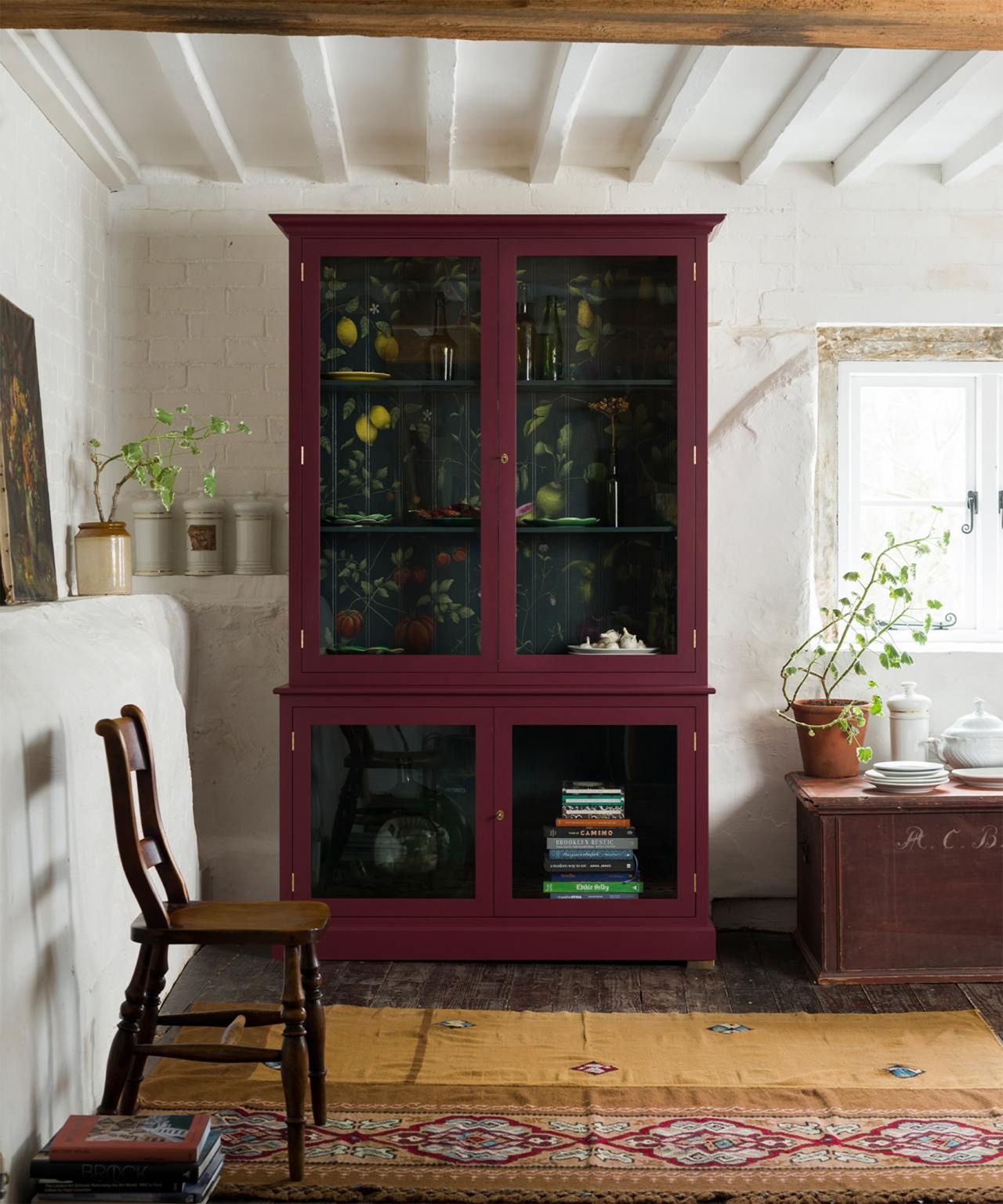 Black kitchens don't have to be dark and depressing. If anything, you want this space to look inviting and appetizing for guests and family members. Introducing red kitchen decor will help to make this space feel warm, as will pretty floral and food-patterned details.
'A very traditional color that was often used in country house kitchens, this rich deep red works anywhere and has the ability to make a piece of furniture instantly feel grand and smart. Mix with black granite or slate for a truly authentic look.' says Zoe Parker, PR Manager, deVOL Kitchens when discussing their Refectory Red shade.
7. Use glossy berry tones in small spaces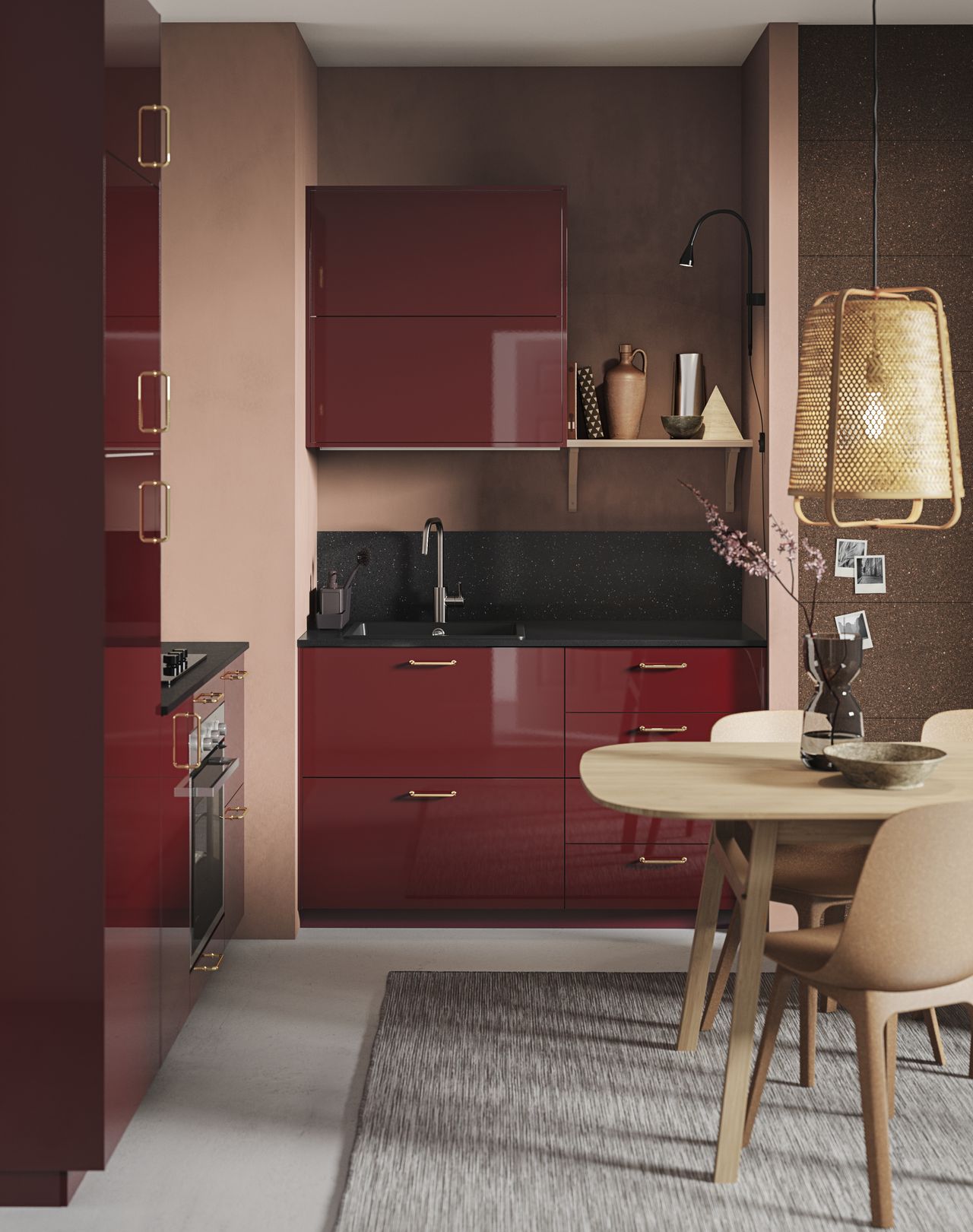 When working with small kitchen, there are loads of different ways to give the illusion of a larger space. If you've already picked out a statement pendant light, you'll want a warm glow to bounce off reflective surface. Now, we're not suggesting mirrored furniture, but high-gloss cabinetry can do the trick.
While a pillar box red with orange undertones can be overwhelming, this winey tone is a willing choice if you're looking to subtly introduce red kitchen decor into your kitchen-diner. While this sultry look may appear expensive-looking, you can get the goods from IKEA.
8. Contrast a blue kitchen with a decorative red tiles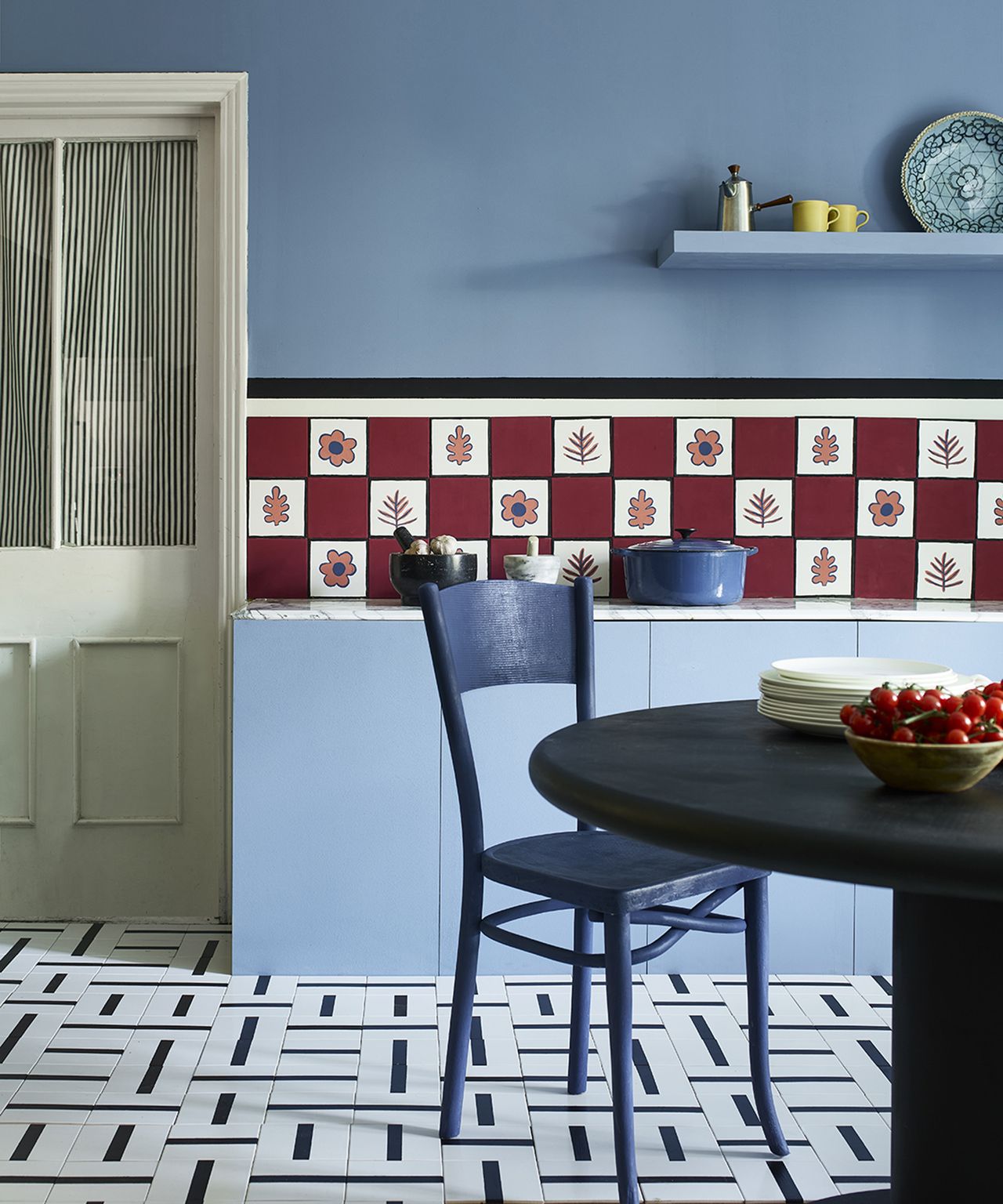 Blue kitchens are a calming environment for budding chefs and those using the space as a WFH setup. But, if you want to add some dynamic energy, then red is a great choice to fire it up a few Fahrenheit.
'Powder blue is actually the perfect partner for a bright and bold pillar box red shade,' says color expert, Annie Sloan.
'It instantly cools the fiery tendencies of the red and has connotations of fun and playful mid-century decor. Think American Diner, or indeed those beautifully playful blue and red Italian kitchens and cafe schemes of the 1950s era – powder blue and pillar box red? It's tried and tested!'
9. Choose a red range cooker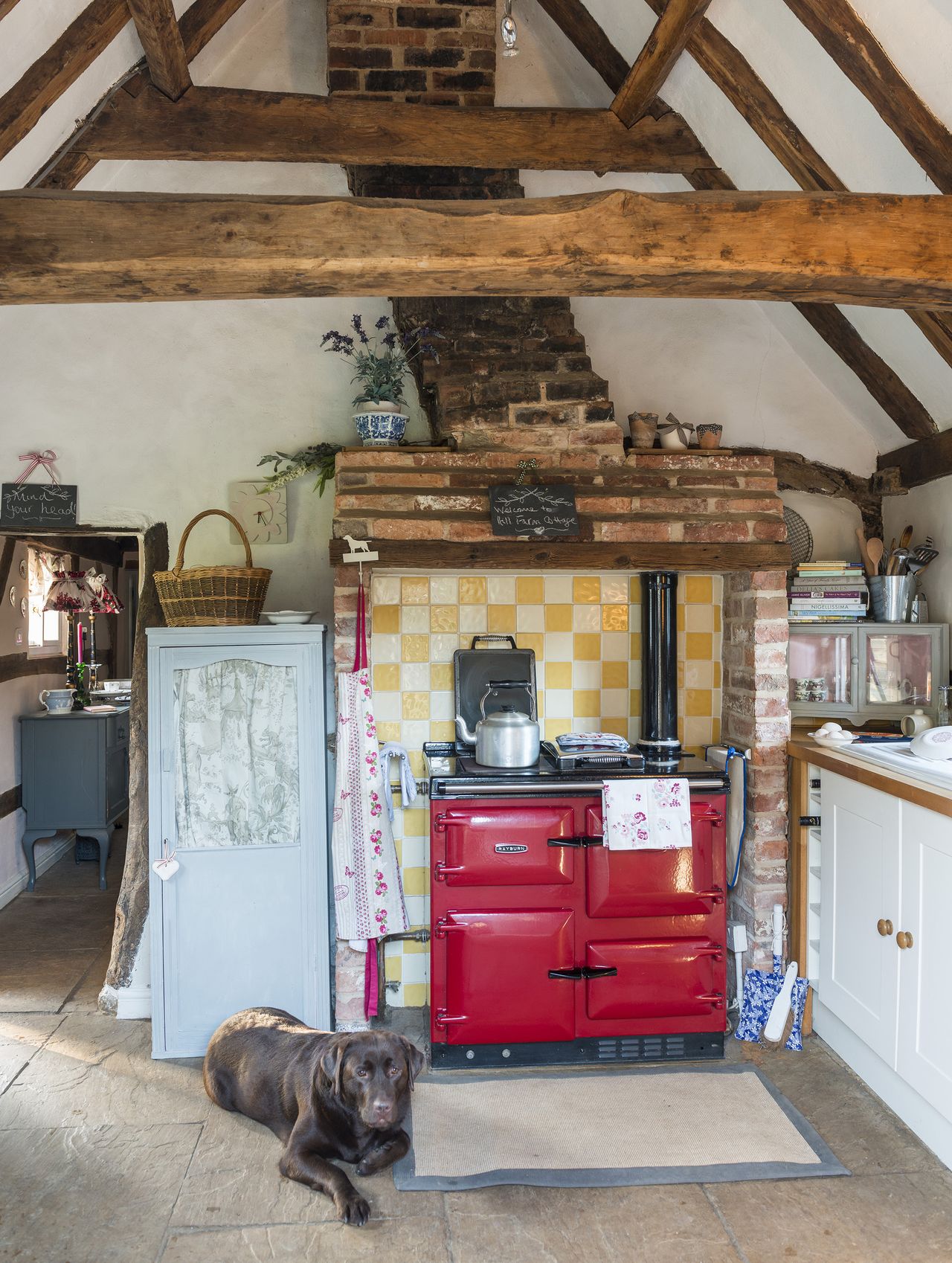 OK – we admit, range cookers are an expensive investment. But if you can afford this statement item in your traditional kitchen – then make it the decor du jour. Range cookers can last up around 15 years if they are properly maintained, so if you're a homeowner, you may want to save up for this splurge-worthy item. After all, if you think about how many times you'll be using it – the cost per use is totally justifiable.
If we've convinced you, our guide to the best range cookers that money can buy is a must-read.
10. Use red and pink candy stripes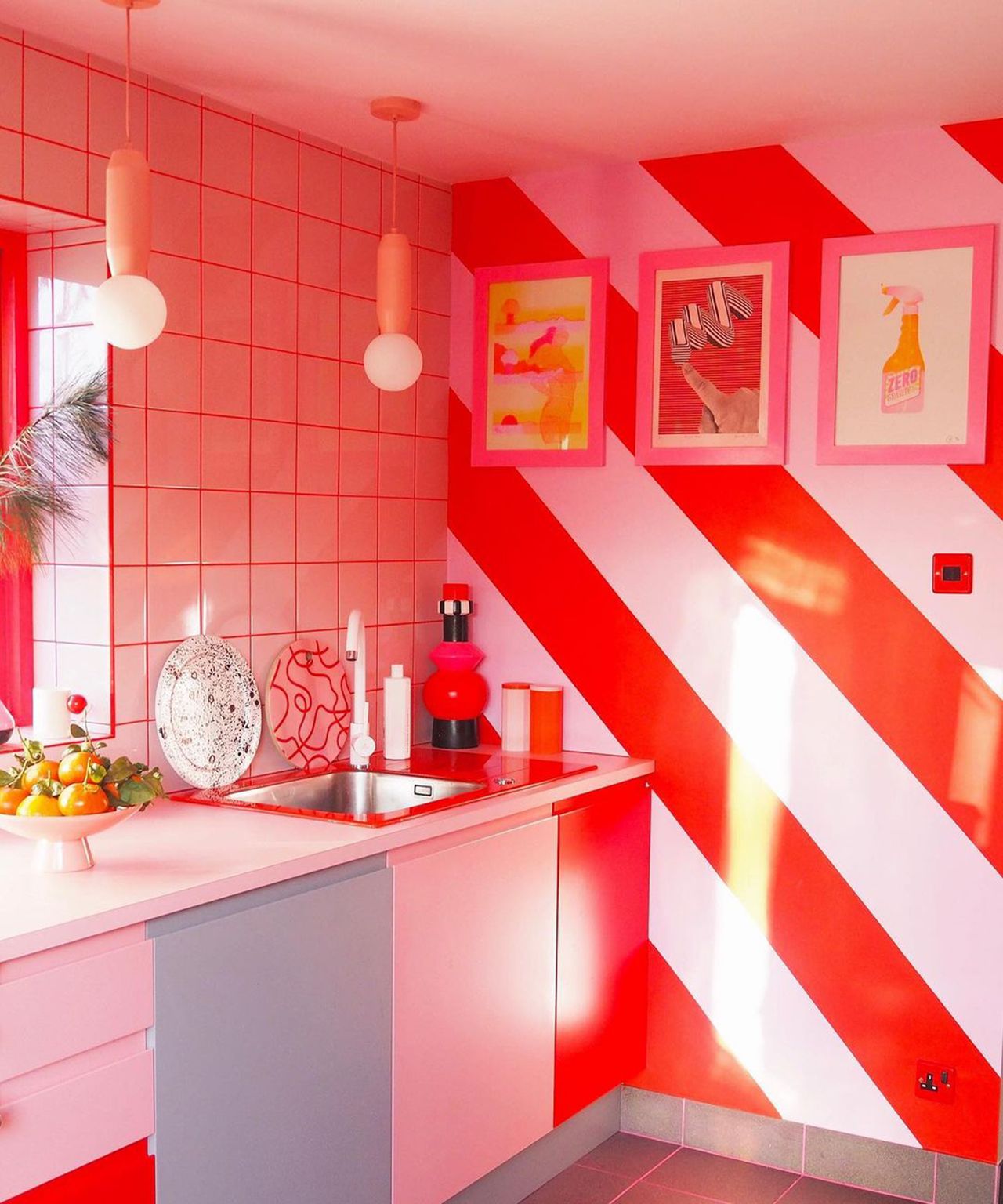 We've seen pink kitchens all over Instagram and although they are a space for adults to prepare and cook food – that doesn't mean that you can't have fun with your walls. Owners of this kitchen, Ms. Pink and Mr. Black (aka @quirkandrescue) have decorated their space with pink and red paint to create some kid-friendly candy stripes.
They say: 'If you want to make a big, modern maximalist impact, (as Sophie Robinson said of our work), it's best to have a tight color palette. It doesn't get much tighter for us than this. Pink, red and grey! Which colors which you choose?'
If you think this sweet red kitchen idea would suit your scheme, pick up a pot of two of the best kitchen paints.
11. Mix a terracotta red with brass finishes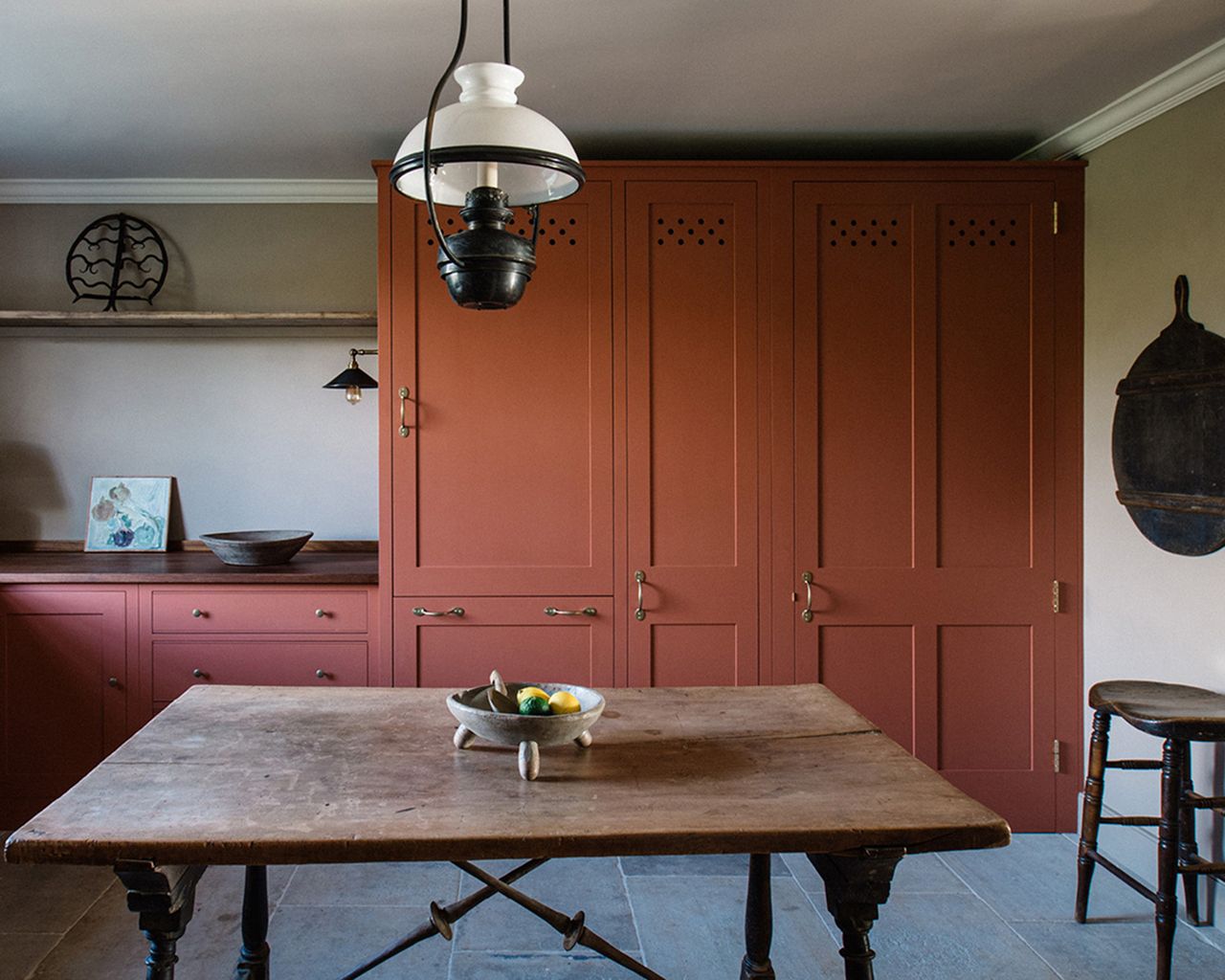 Burnt orange and warm red kitchen ideas remind us of trips to North Africa with smells of gorgeous Tagines and sights of tourists bartering for earthenware in souks. But, if you want a taste of the exotic closer to home, choose a Terracotta red for your kitchen cabinets, and pair it with wooden and antique brass fixtures.
'The lovingly oiled Teak worktop provides deep work surface for preparing, cleaning, serving and storing… as well as complimenting perfectly, the 'Tuscan Red' paint color and Antique brass knobs.' says Josie Fontana-Reval, marketing director, Plain English Cupboardmakers.
12. Add texture with red concrete paint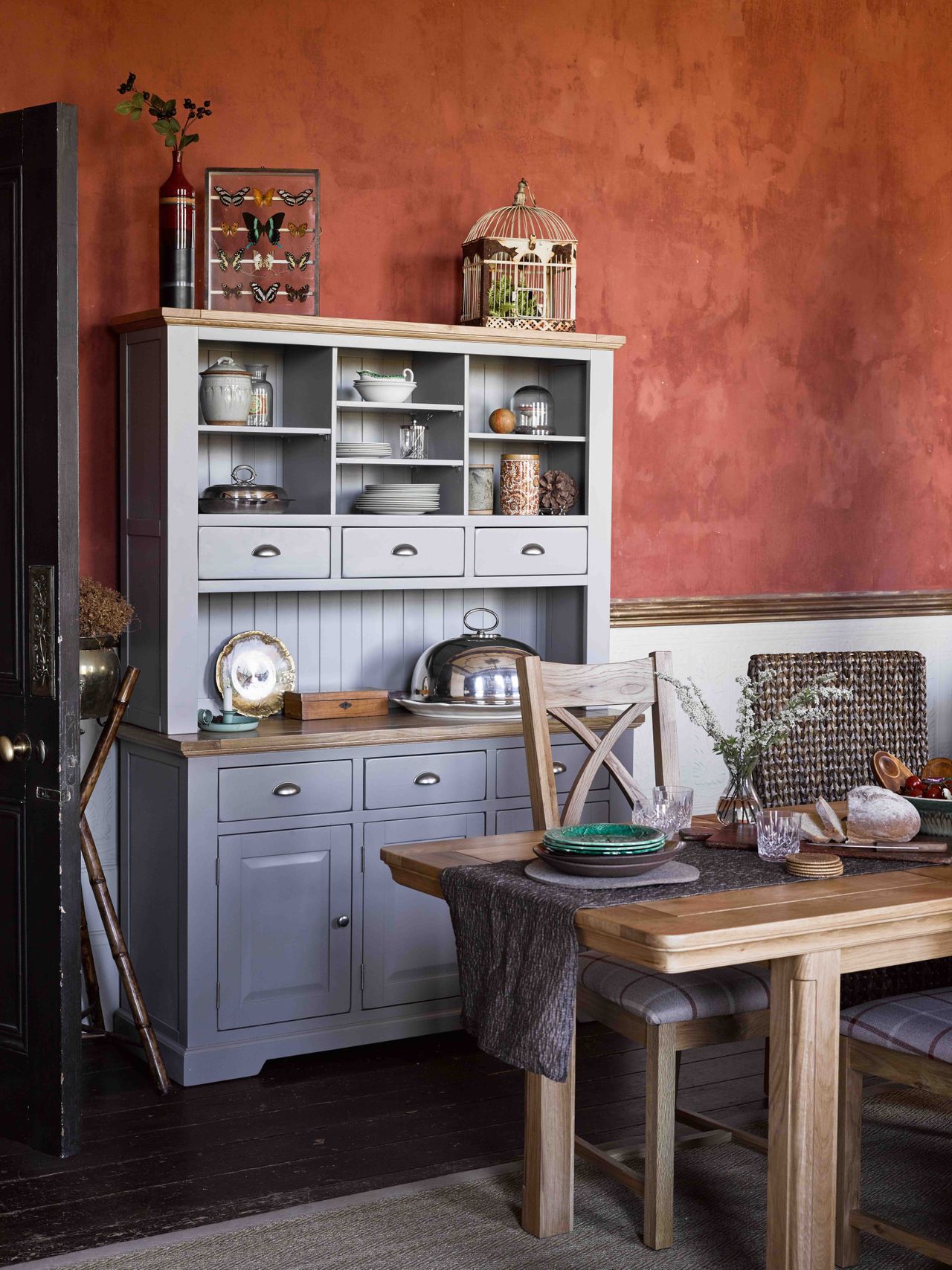 While grey kitchens ideas are a classic staple – amplify them with a red chalk or suede-effect wall paint to add a cool industrial and textured edge. To do this, you can buy a specialist paint from Frenchic.
13. Add a red light fixture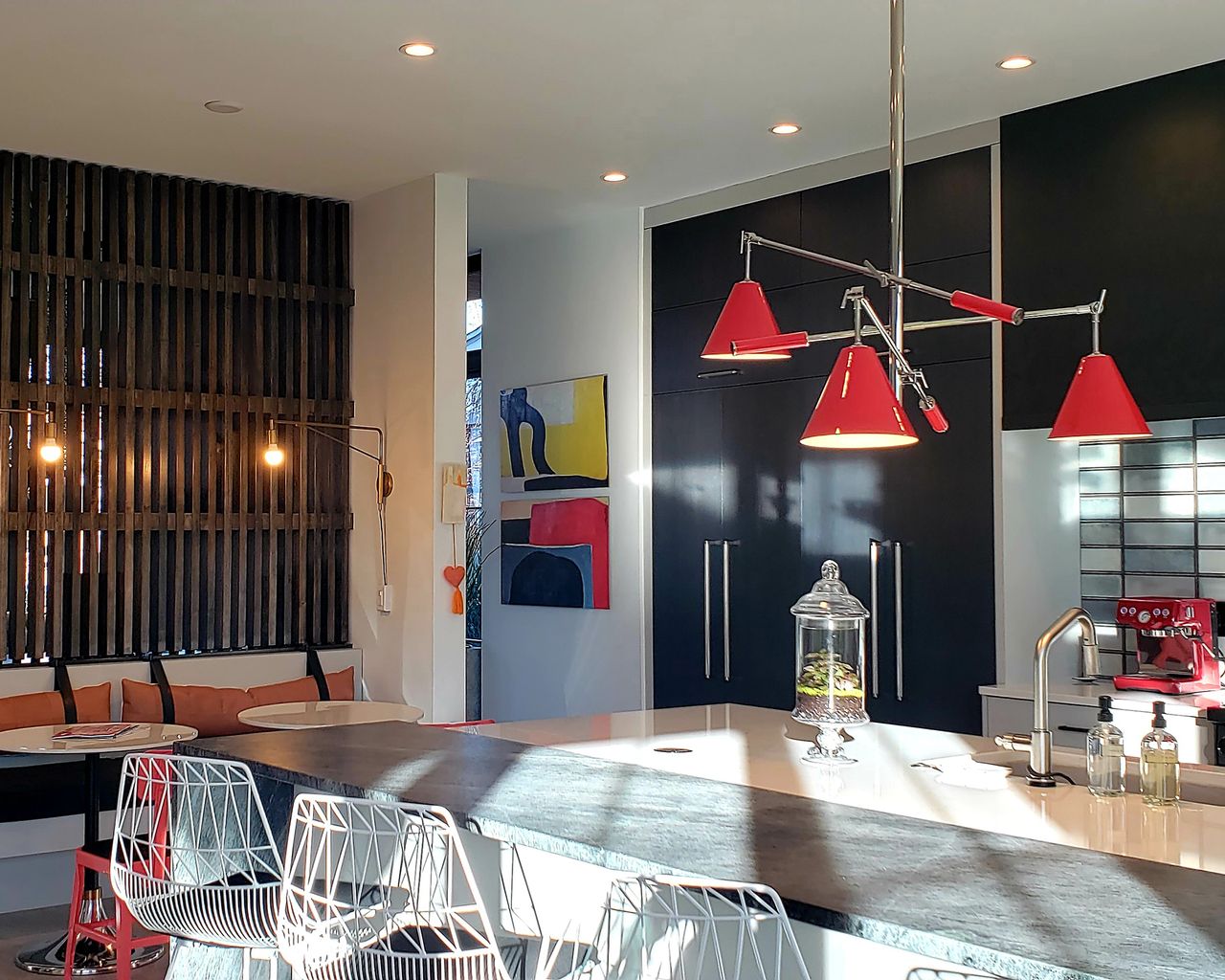 Featuring strong colors and a unique lighting piece, renowned interior designer, Meg Miller, has created a contemporary kitchen project that is sociable with lots of seating around the kitchen island and beyond. But, we think the star of the show is this Sinatra Suspension kitchen lighting design in a bright cherry red finish.
14. Color block with brown to warm a cool red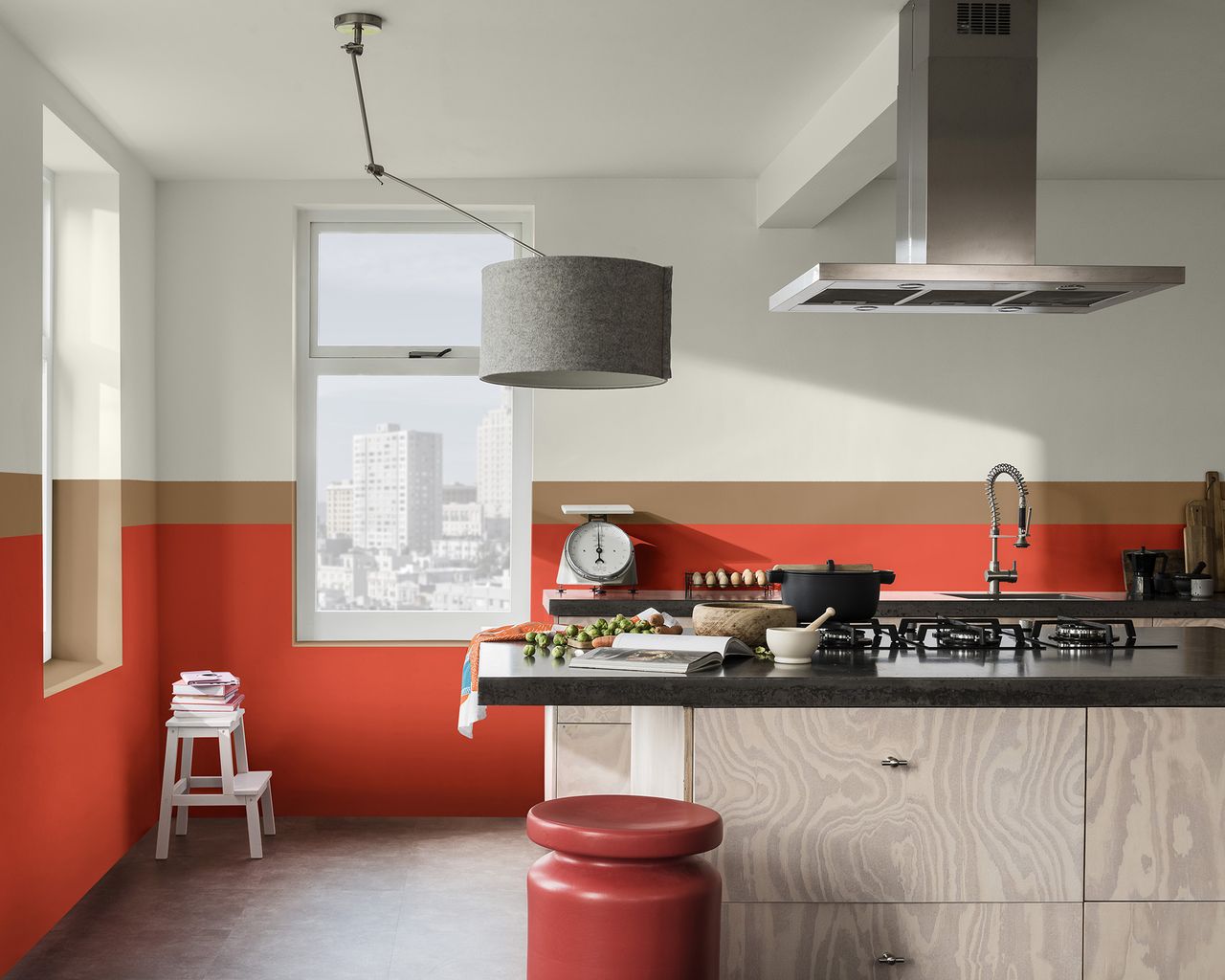 This tasty color blocked scheme balances bold, bright wall decor using Dulux's Easycare Kitchen in Dynamite Red and Spiced Honey.
Make your red kitchen unique by playing with an additional soft shade on the top of the wall, such as White Cotton Keeping these colors neutral will help your cooking space feel inviting without being overwhelming. What a culinary delight.
Is red a good color for a kitchen?
'Warm and welcoming, daring and dramatic, red paint can make a statement in doses big or small,' says Shillingford.
'From energetic candy red paint, to luxurious deep red paint, a coat of the primary hue can add a surprising pop of color to any room. Denoting power and passion, our shades of red paint can evoke excitement, playfulness or a classic touch.'
'If bold and bright isn't your thing, historic hues such as cherry red paint can be beautiful but sedate.'
How can I cheaply decorate a red kitchen?
'The easiest and speediest way to update your kitchen? A spoonful of color,' says Shillingford.
'Whether you want to put a personal stamp on your kitchen (without the cost of getting a new one) or just fancy a change, you'd be surprised at what a difference a fresh lick of paint on your cupboards can make to the overall look and feel of your kitchen.'

https://www.realhomes.com/design/red-kitchens