Fall garlands ideas |
10 min read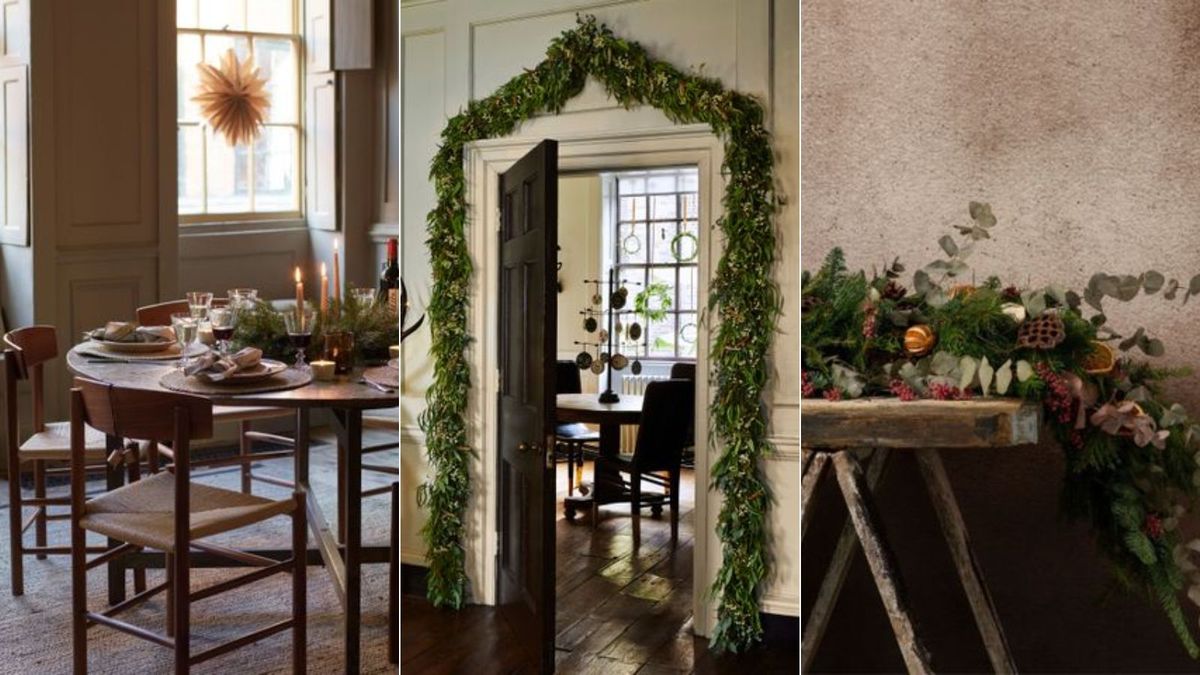 Fall garlands can quickly transform any room into a seasonal wonderland. 
As one of the most versatile fall decor ideas, fall garlands can be customized according to your home's style, to individual rooms' color schemes and  even the mood you want to set. The best might have aromatic spices, foliage and herbs added to so that your home doesn't just look like fall but oozes gorgeous seasonal scents, too.
Our experts have provided their top tips for displaying, selecting and decorating fall garlands.
The best fall garland ideas, according to experts
'As the leaves transform into a kaleidoscope of warm hues, it's time to invite the spirit of fall into your living spaces with the artful use of fall garlands,' says Elizabeth Grace, interior designer and founder of the Dream Homemaker Blog. 'These delightful adornments drape your home in nature's most captivating colors, infusing a touch of rustic elegance that resonates throughout the season.' 
By considering the best placement for your fall garlands and paying attention to color, texture, and thematic coherence with the rest of your space, you can easily infuse your home with the cozy and inviting ambiance of fall.
Elizabeth Grace is an Interior Designer, Furniture and Home Expert. She received her degree in Interior Designing from the University of Notre Dame. Elizabeth landed her first job as an intern with a leading firm in New York City, learning from some of the city's top designers. She currently works as an interior designer for both residential and commercial clients.
1. Select the ideal fall garland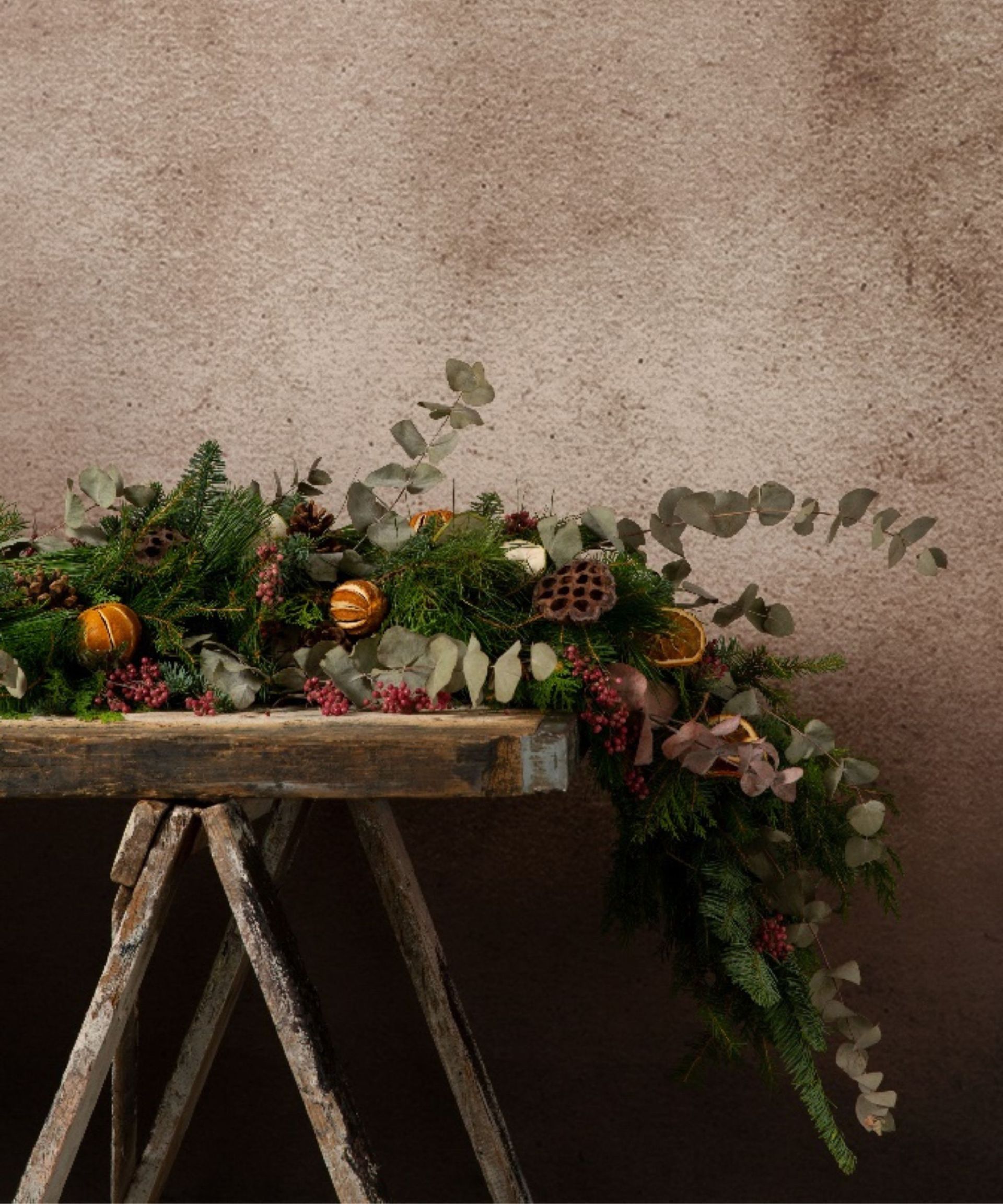 Before we get to how to display your fall garlands at home, it's important to consider the wide range of different garland styles, materials and colors to find one that suits your decor.
'Fall garlands come in a tapestry of materials, styles, and motifs, making it paramount to choose a garland that resonates with the room's aesthetic. For a cozy and traditional vibe, opt for garlands adorned with dried leaves, faux pumpkins, and acorns. Metallic accents, such as copper or gold, elevate the elegance for more formal settings. Burlap and jute garlands add a rustic touch, perfect for farmhouse or cottage-inspired interiors,' advises Elizabeth Grace.
Nature-inspired garlands: These can include typical fall elements such as pine cone decorations, berries, twigs and a leaves such as eucalyptus. You can even make a dried orange garland. These can introduce a refreshing natural atmosphere, whether they are made from faux materials or not. 
Leaf garlands: These can be a more subtle way to decorate for fall, with minimal embellishments. You may want to opt for leaf garlands featuring seasonal hues such as deep reds, oranges, and rustic browns. These colors evoke the beauty of changing leaves, alluding to nature's transitions.
Pumpkin garlands: These are made with real or artificial pumpkins and are a great way to add a dramatic burst of color into your home; this year, they're amongst the latest fall trends, too.
Below, we have a selection of our favorite fall garlands.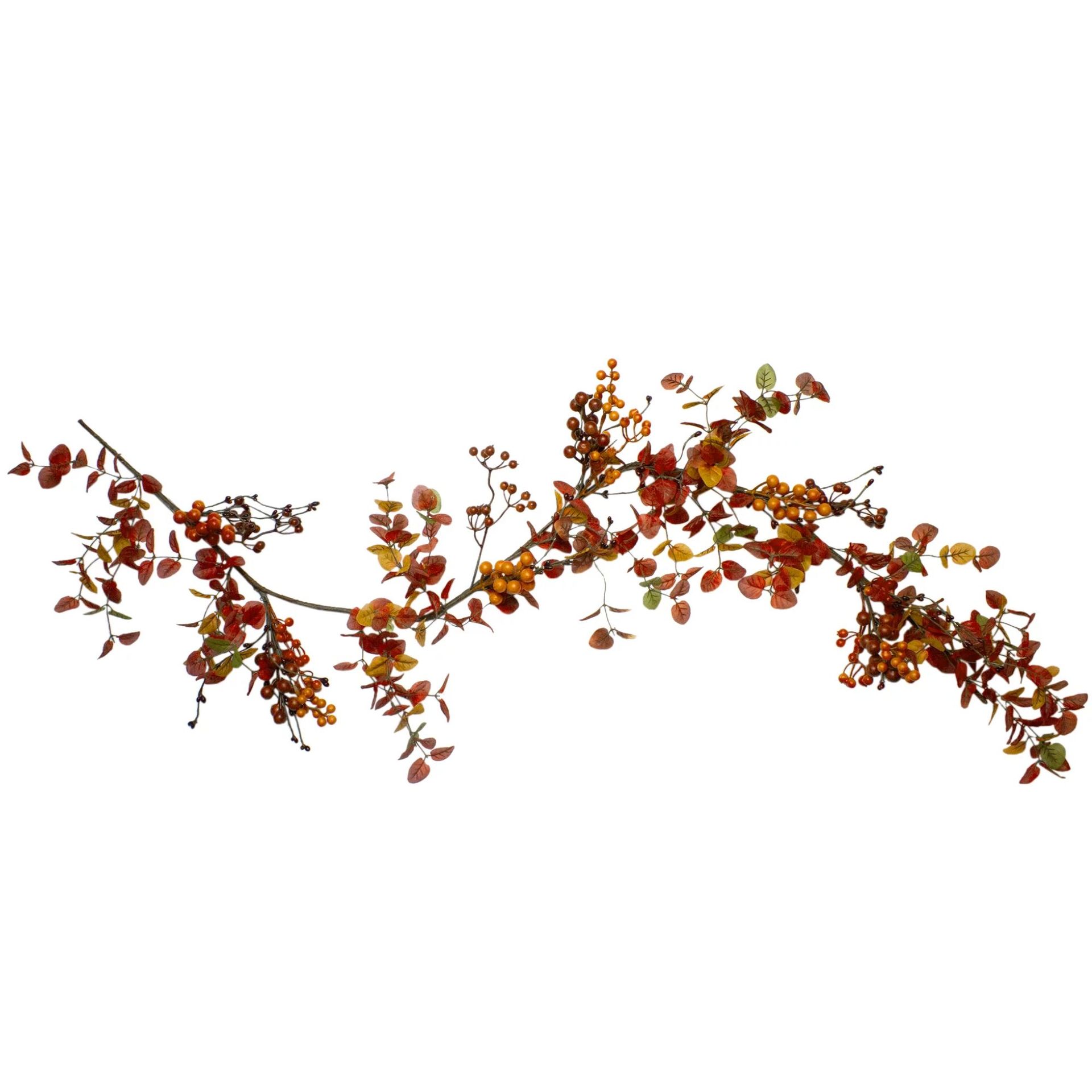 Northlight 5′ Berry and Leaves Fall Harvest Artificial Garland
$41.29
This fall garland is perfect for creating fall themes in or outside your home, with its typically seasonal red, orange, yellow and green colors. The combination of twigs, berries and leaves make this artificial garland look very natural, bringing nature into your decor.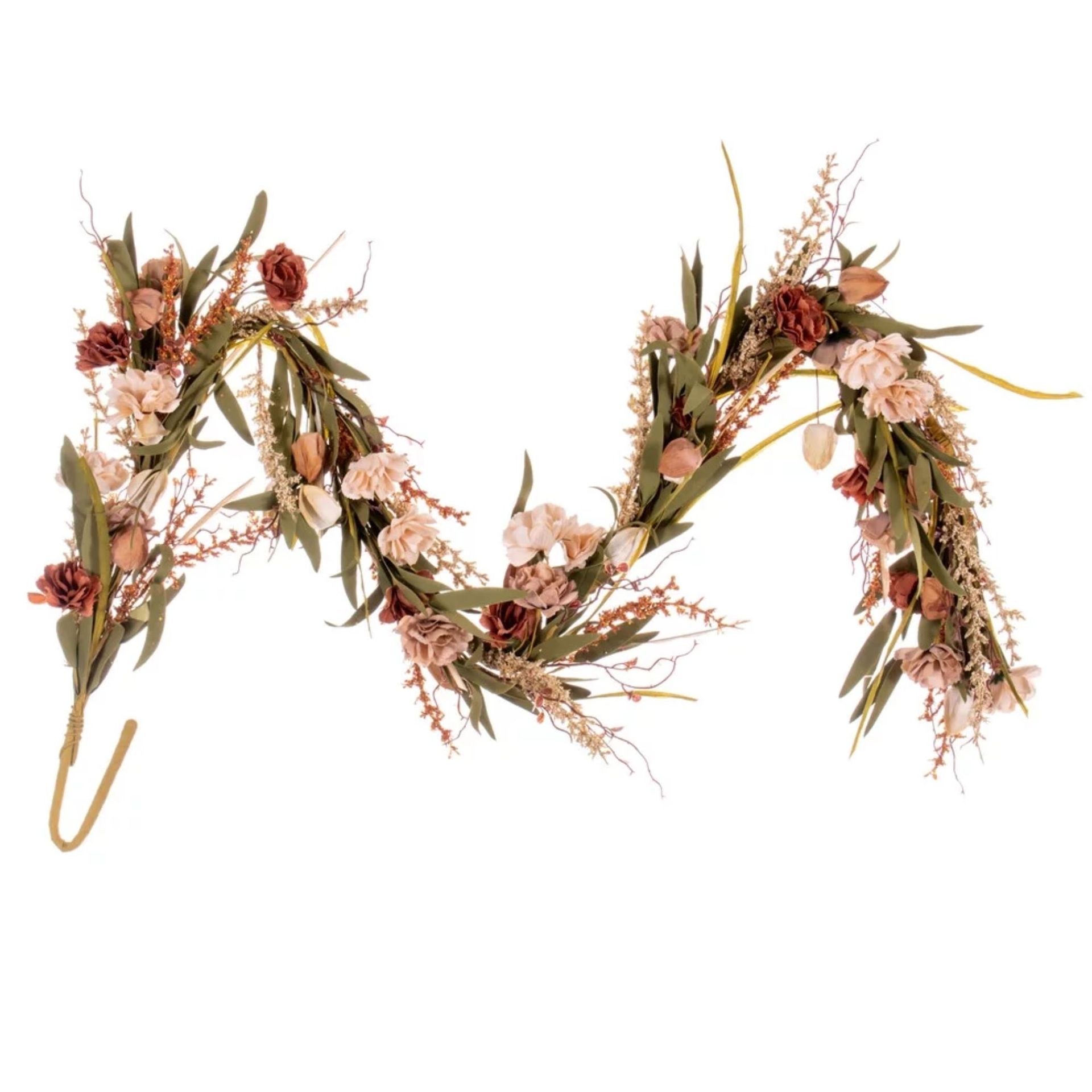 5′ Brown/Cream Carnation/Lantern Garland
$35.86
This carnation garland is a beautiful option that has a range of flowers in different shades of pinks, and leaves. It is a great garland to shape around windows, mirrors or door frames due to its wire base.
2. Use a fall garland to highlight a doorway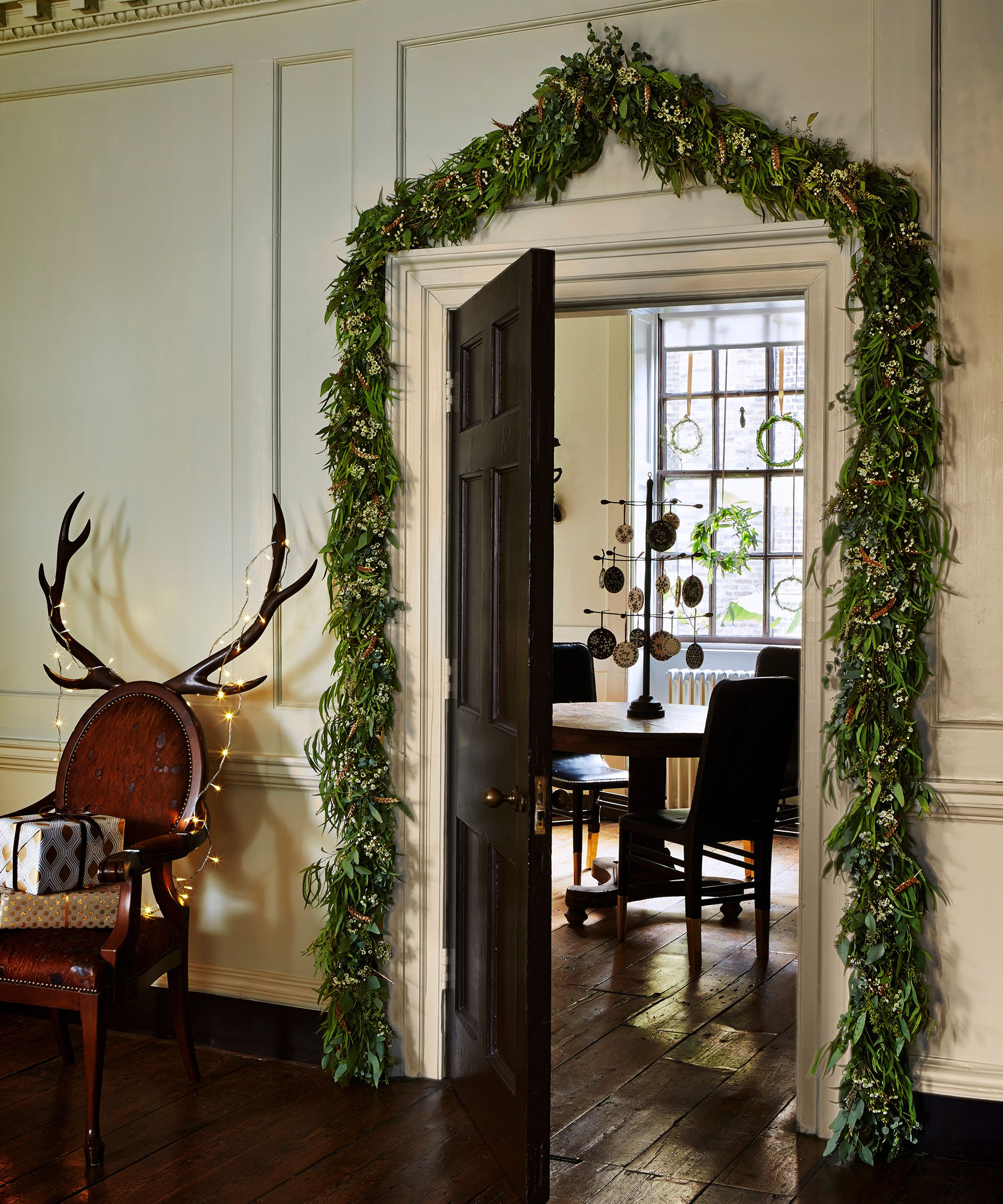 Welcome guests with a fall entryway by using garlands to frame doors. This can work  for other indoor spaces, such as your living and dining room, and outside to set the scene around a fall front door. 
You can even intertwine twinkling string lights into your garland to create a warm, captivating effect.
Lucy Searle, global editor in chief at Homes & Gardens says, 'I love how the fall garland in the space above has been shaped to create an arch – it's a simple way to bring a touch of grandeur to the space, despite the obvious simplicity of the garland itself.'
Lucy Searle has written about interiors, property and gardens for over 30 years, starting within the interiors departments of women's magazines before switching to interiors-only titles in the mid-1990s. In 2018, Lucy took on the role of Global Editor in Chief for Realhomes.com, taking the site from a small magazine add-on to a global success. She was asked to repeat that success at Homes & Gardens, where she has also taken on the editorship of the magazine, which is the UK's oldest interiors magazine at 103 years old. Lucy is a serial renovator and also owns rental properties in the UK and Europe, so brings first-hand knowledge to the subjects she oversees.
2. Match a fall mantelpiece garland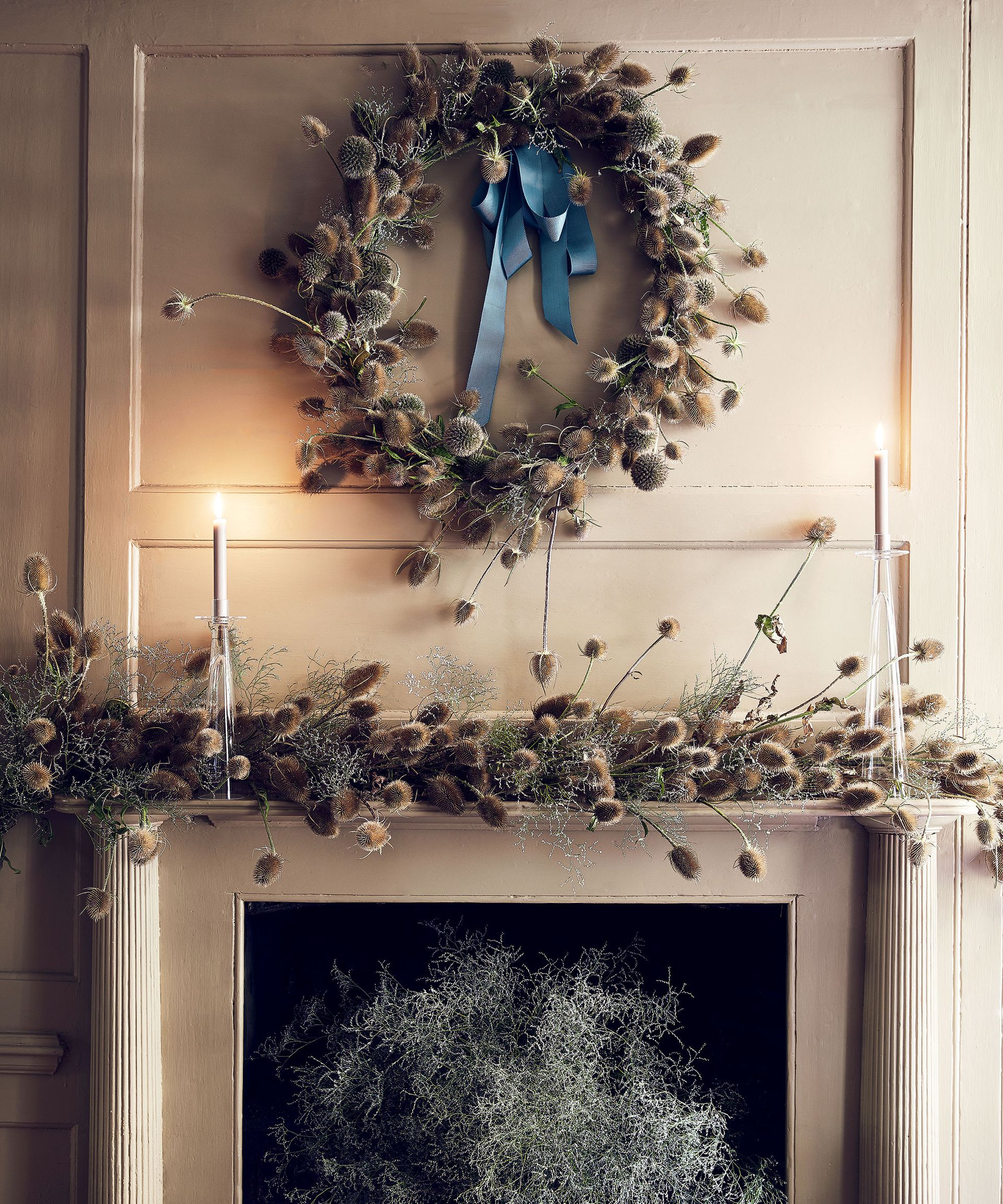 Draping a fall garland over your focal fireplace mantel is perhaps the most classic way to display this decoration, and infuse your living room with warmth.
Elizabeth Grace, founder of the Dream Homemaker Blog says, 'Transform your fireplace mantel into a seasonal masterpiece by draping a fall garland adorned with autumn leaves, berries, and pine cones. Add small LED lights for a whimsical touch during evening gatherings.' 
This could be a good opportunity to use a garland with metallic or reflective elements which will sparkle when the fireplace below is lit, creating a warm glow. Wayfair's sophisticated metallic garland in gold and silver is a great find for either adding to a plainer garland or to be used alone; Wayfair also sells a wide range of pre-lit fall garlands.
3. Make a staircase display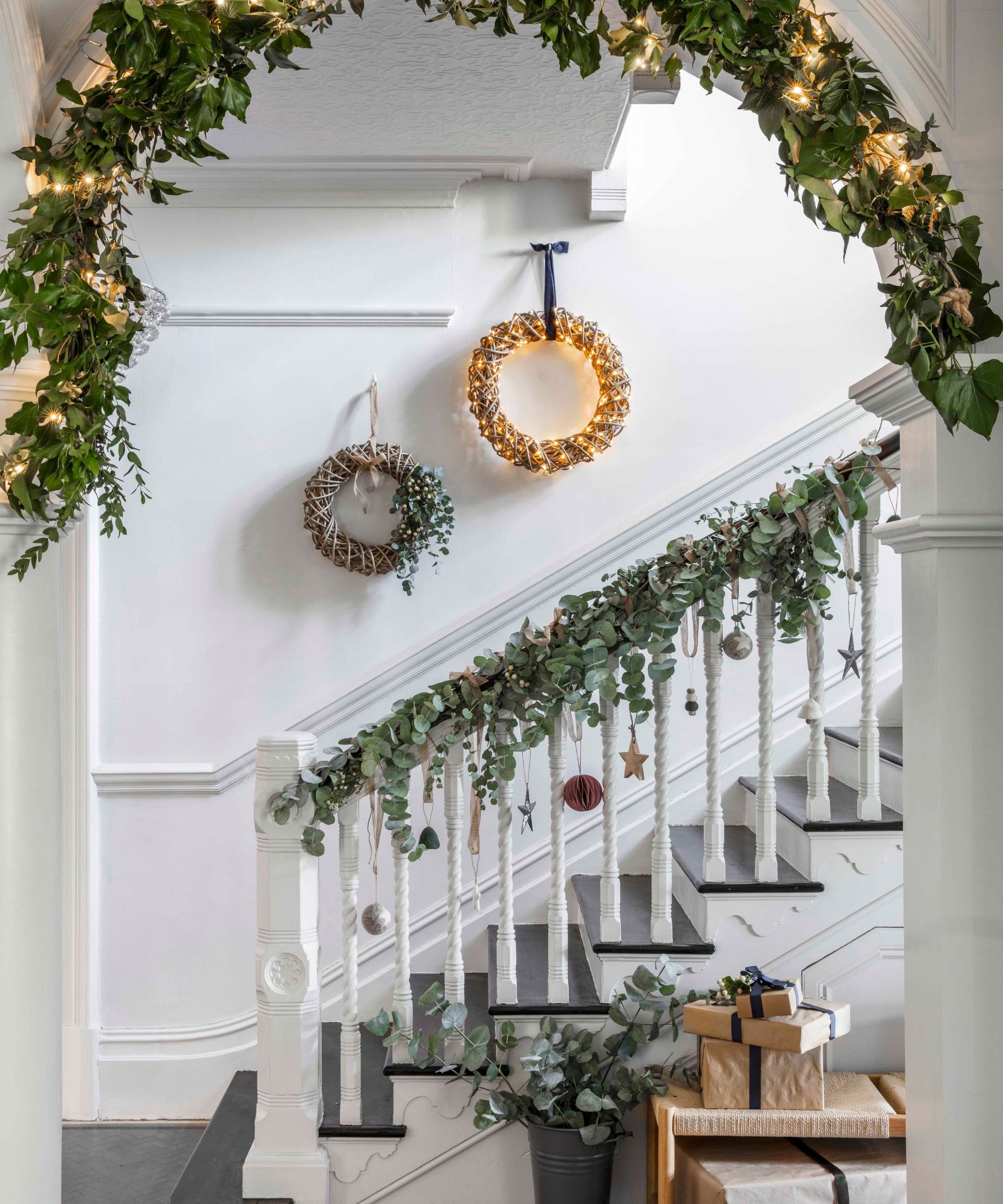 Intertwining a fall garland into your banister is an eye-catching way to decorate your stairway and hallway areas, and if you choose a neutral, perhaps green garland, it can easily transition to Christmas after Thanksgiving.
'Grace your staircase railings with the graceful cascade of a fall garland. Weave it delicately through the banisters, allowing the colors to cascade harmoniously,' comments Elizabeth Grace. 
Staircases are also great for displaying garlands because it gives you the opportunity to create a 'branching out' effect with your garlands. This can be done by wrapping your garland around your handrail and extending with smaller leaf garland elements by winding down the balusters of the banister to create a striking, natural display. You can also drape other elements off the hand rail, such as berries and pine cones.
4. Dress a fall table with a garland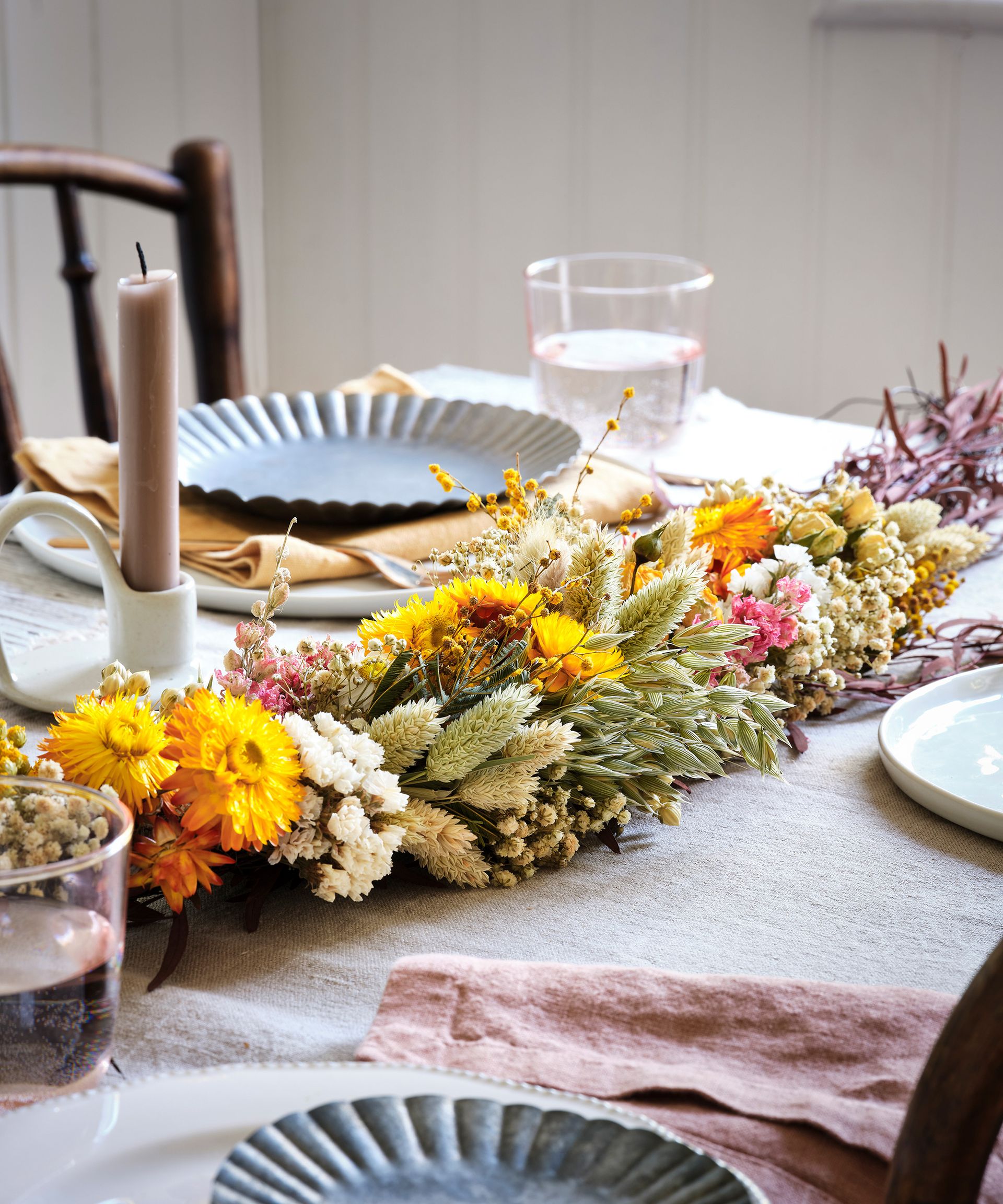 Looking for fall table decor ideas? A fall-themed garland can be a captivating centerpiece that elevates your dining table, and can be a good way to style a dining table that's not in use. Nestle your garland among candle holders, pumpkins, gourds, lanterns, and other decorative items. Choose a garland that suits the type of dining table or tablecloth you have.
Another fun idea is to adorn the chandelier above the table with a fall garland to create an textural display.
Jen Ebert, Digital Editor of Homes & Gardens, says, 'The secret to successful fall garland decorating is to be as generous with flowers and foliage as your budget allows. Seasonality and sustainability are key for 2023, so choose fall garlands that are made with native foliage. There is nothing more satisfying than bringing in foraged rose hips, pine and bare branches from the garden.'
You can even use and re-use dried flower arrangements, like the one above.
Jen is the Editor (Digital) of Homes & Gardens online. Before starting this position, she had completed various interior design courses at KLC Design School, as well as working across Ideal Home, LivingEtc, 25 Beautiful Homes and Country Homes & Interiors as an interiors writer.
5. Match garlands with room color schemes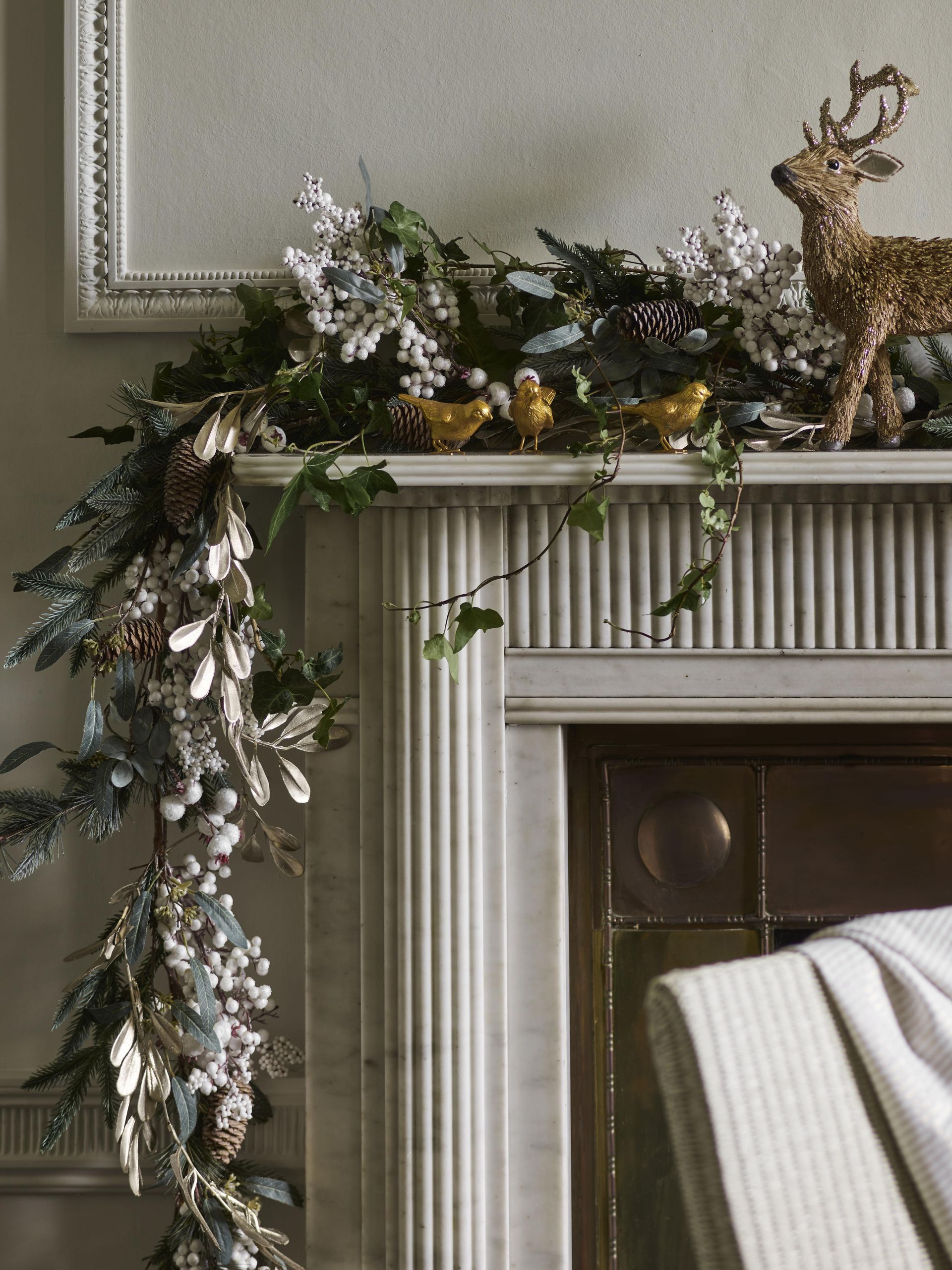 The third stage of decorating your home with fall garlands is finding garlands that complement your existing decor and enhance your space's aesthetic rather than contradicting it.
Whether your interior style is modern, traditional or rustic, the garland should harmonize with your overall design aesthetic, as well being appropriate for the room it's in.
Artem Kropovinsky, interior designer and founder of Arsight says, 'The choice of garland material is crucial too. For instance, using a paper garland in the bathroom might not be the best idea due to the humidity. However, a wooden garland would fare better in such conditions. The same applies to a dried eucalyptus or lavender garland, which would be more suitable for a bedroom where the aroma is better valued.'
Based in New York, Artem Kropovinsky, founder of Arsight, has a decade of extensive and considerable global design experience. Prioritizing minimalism, sustainability, and authenticity, Artem, alongside his team of professionals, works on projects in the US and worldwide.
6. Choose scented living room garlands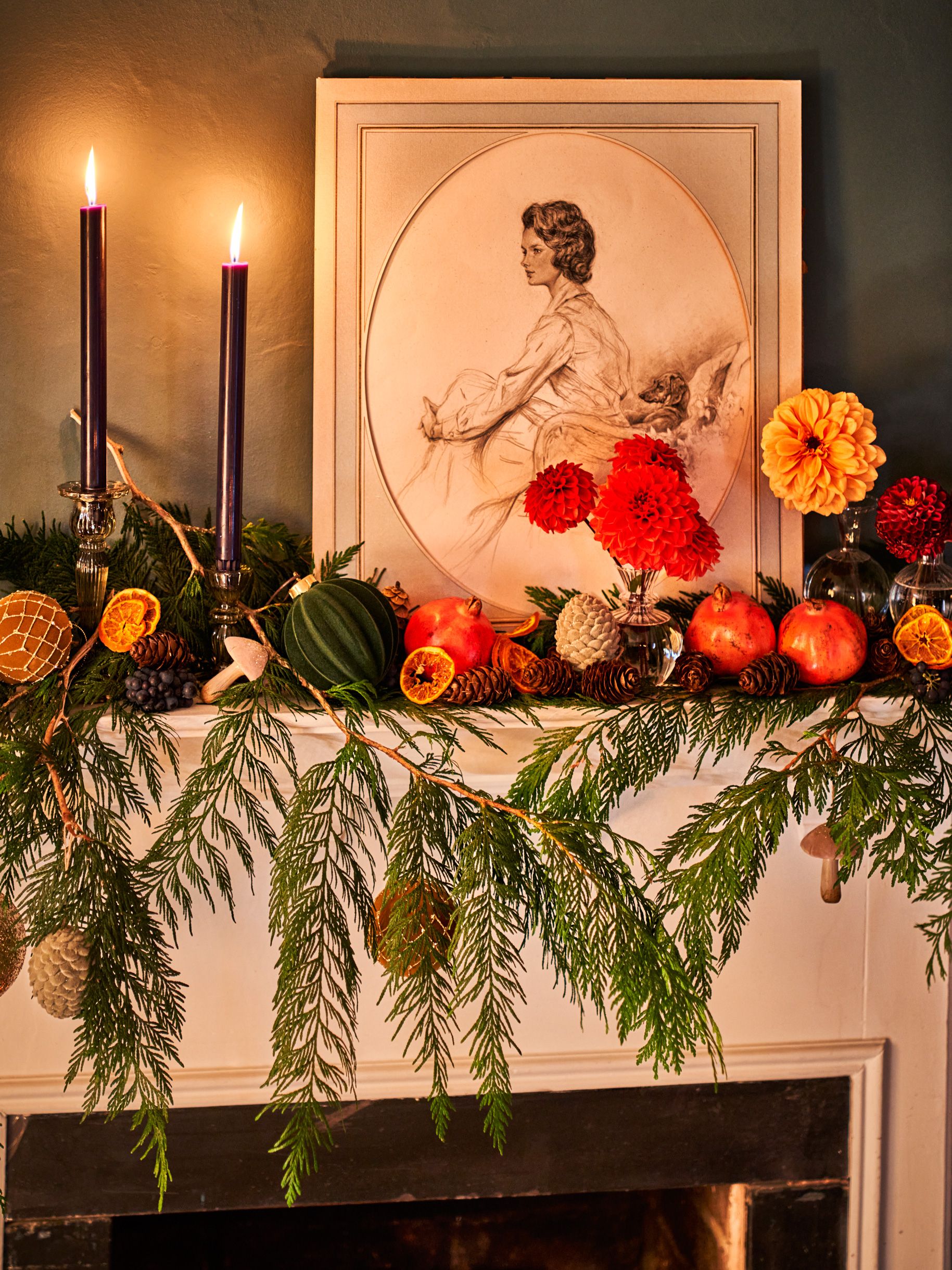 Traditional natural garlands can be a fail-free choice for fall living room ideas, since they can work with most design aesthetics and have a certain grandeur about them. 
If your space is lacking traditional fall color schemes, a fall garland with seasonal blooms in rich reds, oranges, and deep yellows will add some much needed warmth, or can boost the layering of colors in an already colorful room.
And, if you can buy or harvest fresh greenery and flowers for your fall garland, you can fill the room with beautiful scents, too.
7. Add a fall garland to a kitchen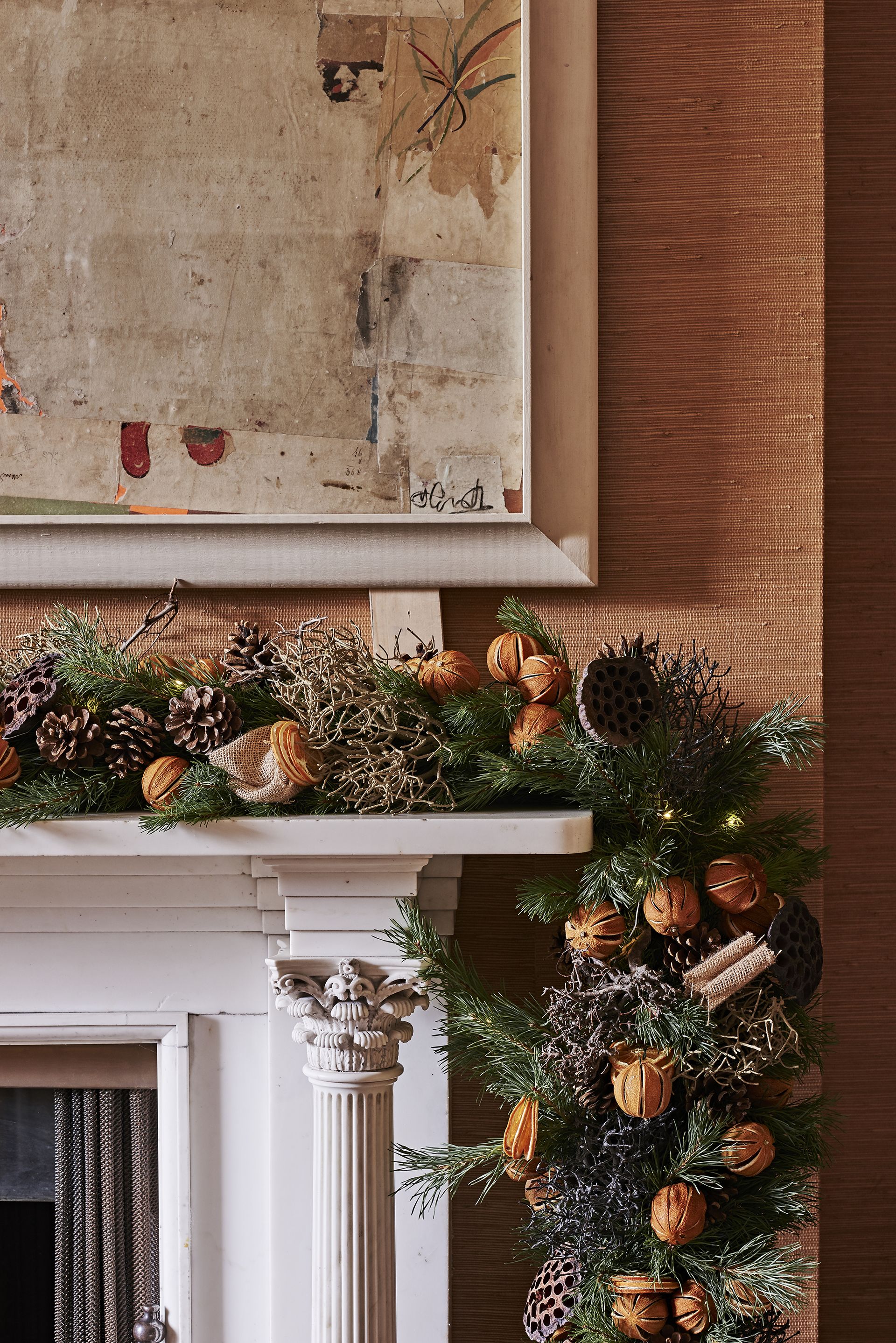 For your kitchen fall decor ideas you could use a garland that incorporates items which may be found in the kitchen. For example, you can incorporate dried herbs, mini pumpkins, dried orange slice decorations, white wheat and sunflowers. Across a mantelpiece or shelving is the obvious spot for a kitchen garland but there are other options.
Artem Kropovinsky comments, 'Consider the kitchen, where draping garlands around windows or installing them vertically can make a unique statement. 
'In the bathroom, placing a garland on a shelf or above the mirror imparts a sense of luxury or autumnal charm,' he adds
8. Make a bedroom cozy with a fall garland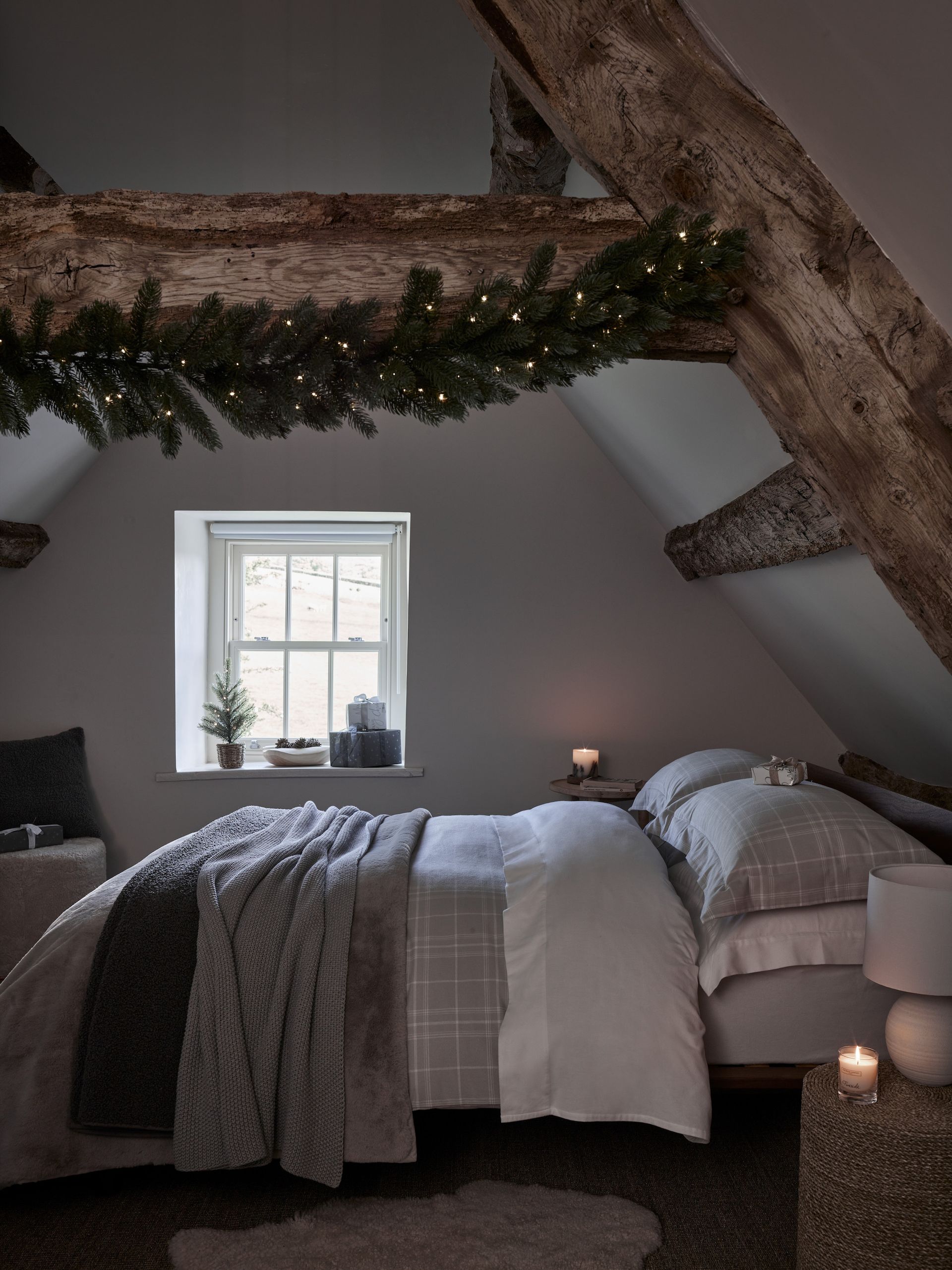 In keeping with fall bedroom decor, you will most likely want to maintain a serene and cozy atmosphere, so opt for a subdued garland featuring soft hues and string lights for a dreamy touch. 
Use natural foliage or colors with pastel or fall hues such as mauve, burgundy, and muted greens. You can hang a bedroom garland around your bedframe, or drape it along a mirror or even suspend it from the ceiling, as above.
FAQs
How to accessorize your fall garland?
A few ways to accessorize your fall garland include fall flowers (or dried flowers), fall leaves, twigs, pumpkins, or faux candles. String lights wound through the garland will also allow you to dim the lights in your room and rely on this softer, warmer light source.
How to maintain your fall garland?
'To ensure your fall garland remains captivating throughout the season, keep it away from direct sunlight to prevent fading. Lightly mist the garland with water to maintain its vibrancy. When the season transitions, store your garland in a cool, dry place, ideally in a sealed container, to protect it from dust and potential damage,' advises Elizabeth Grace founder of the Dream Homemaker Blog.
Artem Kropovinsky adds, 'Speaking of maintenance, consider the durability of natural garlands. Leaves and flowers might need a delicate dusting, while thicker, woody stems might only require an occasional wipe.'
---
For those of you who have been wondering how to start decorating for fall, finding a fall garland for one or each room in your house can be an easy and striking way. 
Begin by considering the size of the garland you need for the space you are decorating, and then get to choosing your favorite garland for each space according to the style and function of the room. 
You can even change out your garlands seasonally to keep your home festive all year.