Entertaining garden ideas: 10 ways to create a welcoming backyard
9 min read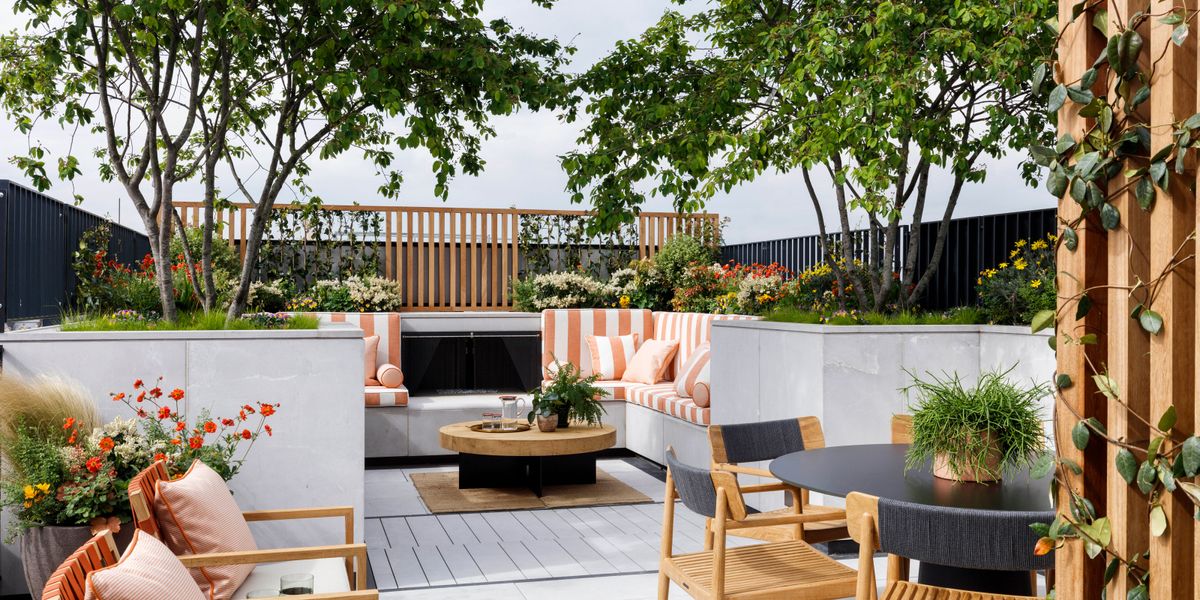 Transform your backyard so you can host in style with these entertaining garden ideas. 
Whatever the size of your yard, realizing your outdoor living room ideas can create space for drinks and for relaxing in comfort, as well as dining alfresco, whether it's a more formal event, a cookout, or a laidback gathering around a fire pit as the sun sets. 
We've gathered together all our favorite ideas for outdoor entertaining spaces that will suit everything from large yards to small patios to give you all the style inspiration you need this summer.
Entertaining garden ideas
Whether you want outdoor dining ideas ready to share seasonal food alfresco, to relax in the sun with friends, or to welcome a crowd for a special occasion, take your cue from these entertaining garden ideas.
1. Introduce playful color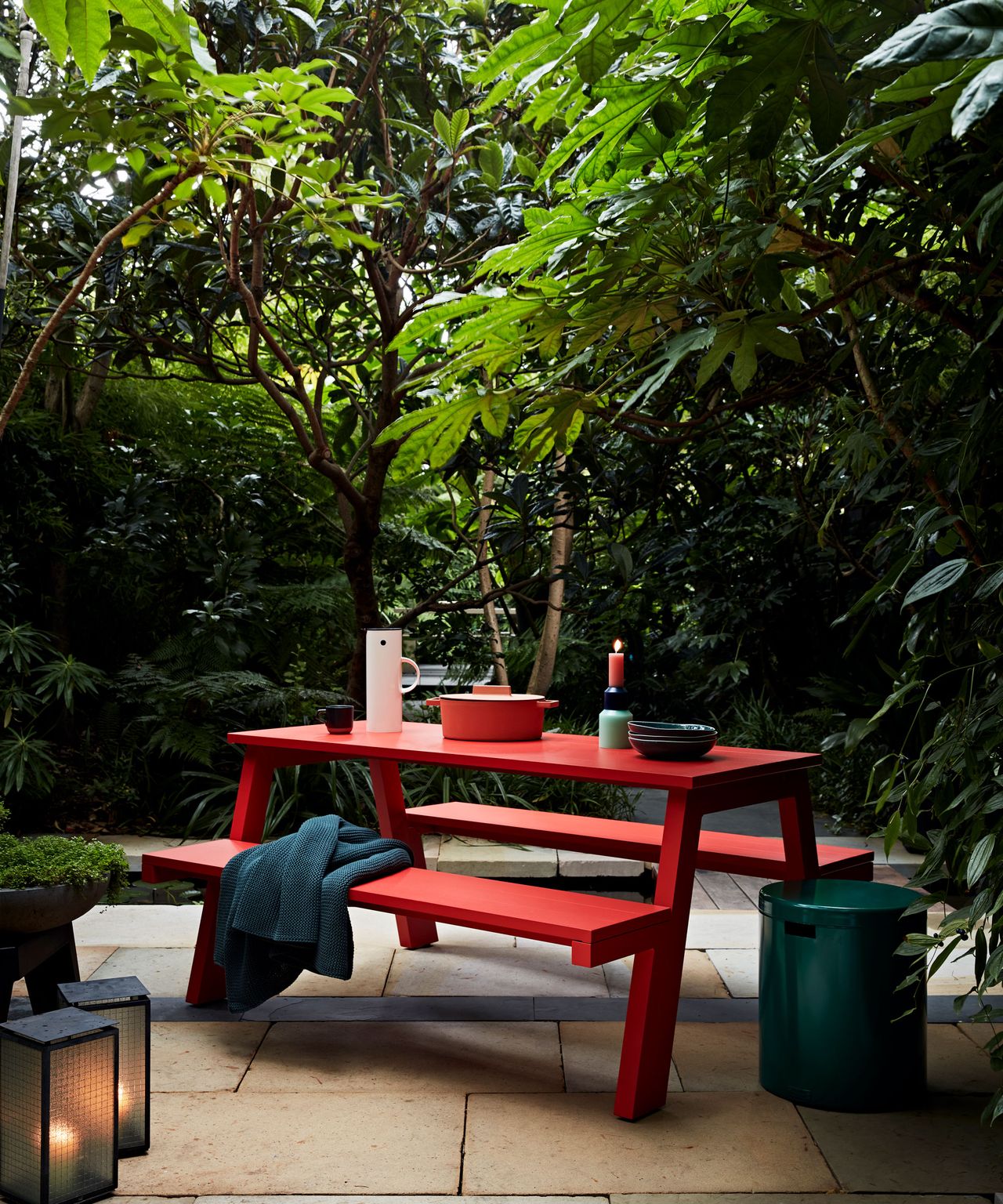 Outdoor spaces allow us to be more experimental with design, to be braver with color, and inject a bit of fun with eye-catching garden furniture. 
If you're tempted by the thought of color but tend to play safe with more neutral shades here is your opportunity to experiment and opt for something bolder. It's also a good way to add an instant lift to a shady garden.
'Uplifting color and positive pattern are a key interiors design trend for 2022, and this sense of optimism also filters outside,' says Jennifer Newman, who is known for bold and adaptable designs that get noticed. 
'There's a sense of creative hedonism as we look to make our outdoor spaces more inspiring, more playful, and more stimulating social "rooms" by incorporating braver color and more sculptural design pieces.' 
2. Add a bohemian touch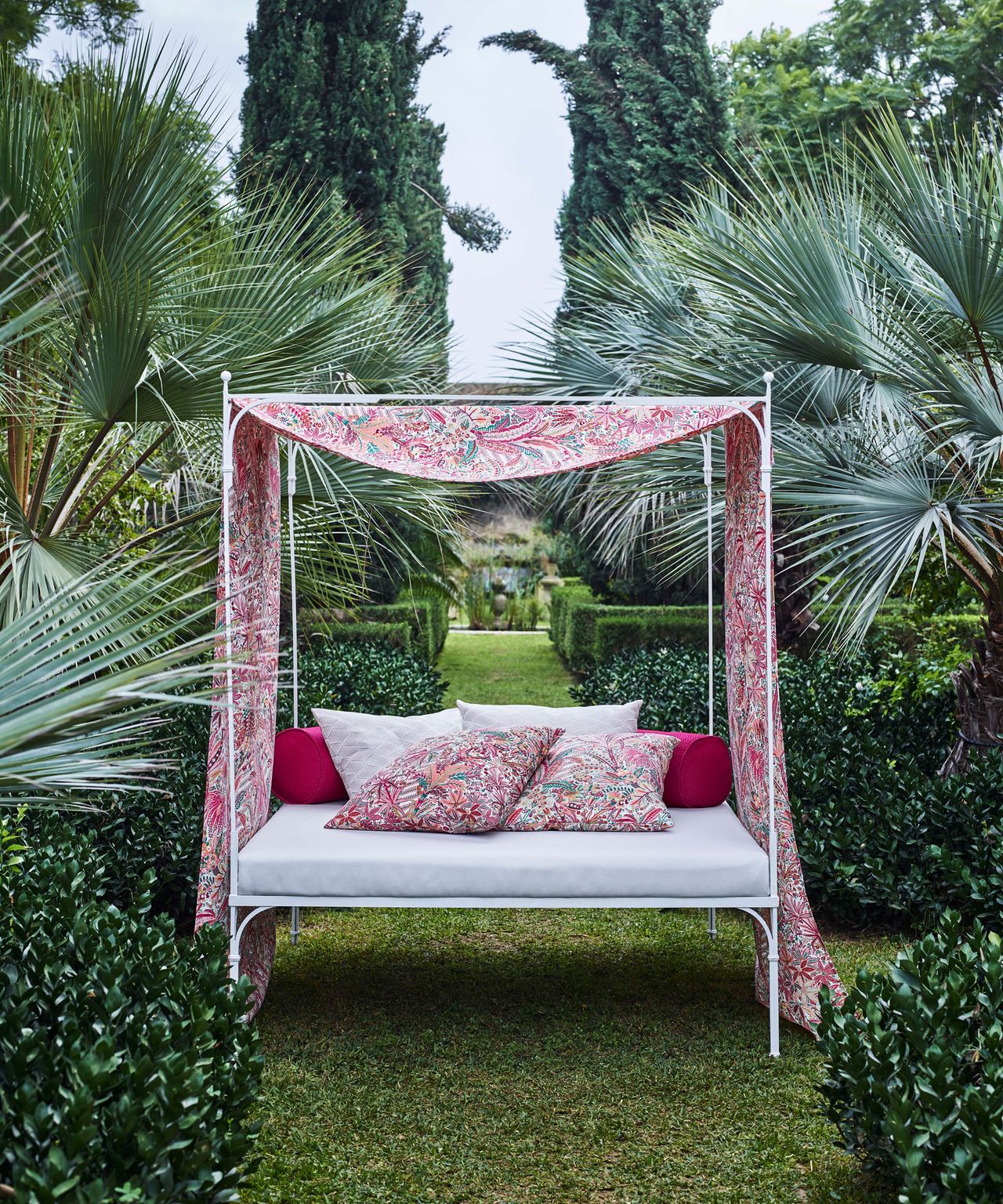 What better setting for fabric with an ornamental botanical theme and boldly scaled florals than the yard? Choose high performance material designed especially for outdoor use and let your imagination find inventive ways to showcase it such as a luxurious daybed for lounging on to add a touch of decadence to your entertaining.
'For this daybed we used Persian Voyage, a beautiful, lush botanical paisley from our archive recolored in a rich lacquer pink,' explains Genevieve Bennett, head of interiors design at Liberty. 'The atmosphere is one of relaxed bohemian elegance with a contemporary twist. 
'It's from the Liberty Garden collection, which has been carefully curated to work with a variety of outdoor settings, from densely planted country gardens and poolside spaces to urban terraces.'
3. Opt for alfresco dining to host a crowd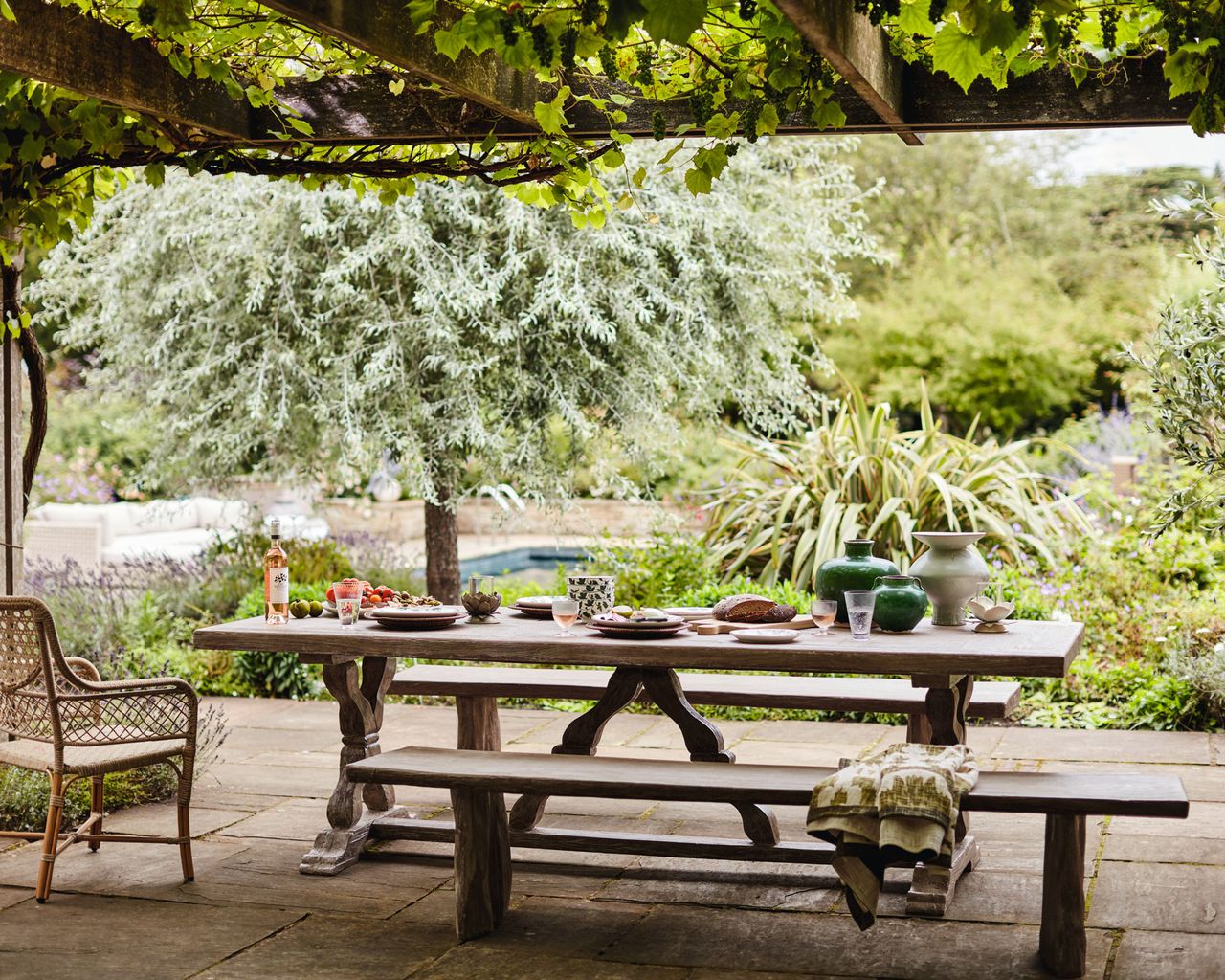 A solid dining table with space enough for a large group to gather around and plenty of room for a spread of dishes is a must for alfresco entertaining. If you regularly host large groups of friends, opt for benches that seat more people and can be slid out of the way beneath the table when not in use.
'Whether you're catching up with friends over lunch or hosting a dinner party in the evening, a large outdoor dining table is a must, providing lots of room for big sharing plates, as well as plenty of space for guests,' says OKA co-founder and creative director Sue Jones. 
It's also a good idea to position your table under the cover of a shady pergola or retractable roof or awning in case it's too bright from the sun or a summer storm threatens. 'Dining alfresco is one of life's greatest pleasures,' adds Sue, 'but when it comes to the weather it always pays to be prepared.'
4. Take lounging up a level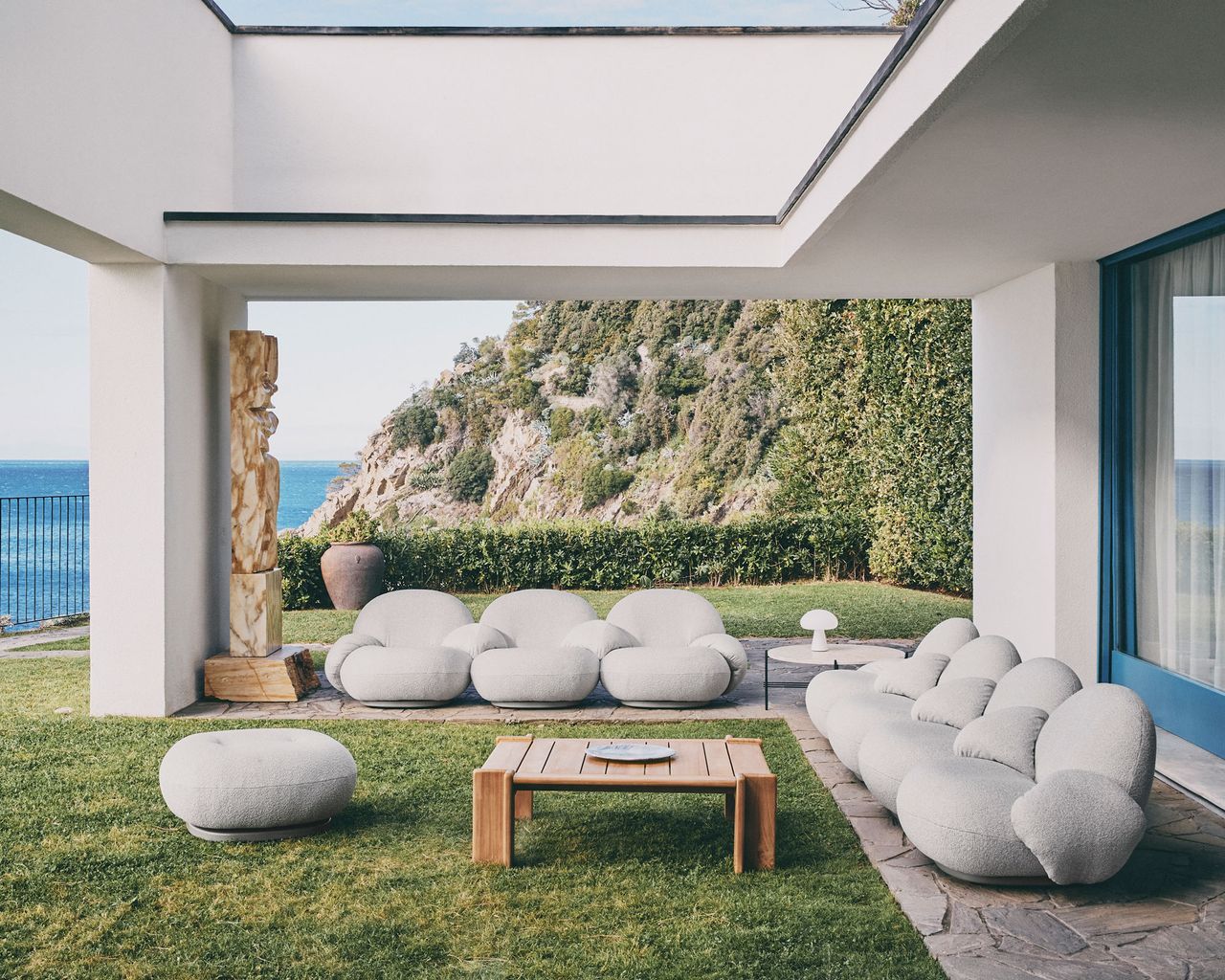 The latest outdoor sofa collections have the comfort and distinctive aesthetic of indoor pieces. This fits with the trend to invest in considered schemes that flow out on to a terrace or balcony, extending the usable square footage of our homes to create 'transteriors' – halfway spaces that are neither fully indoors nor entirely out.
'These spaces might be covered patios, sunrooms, conservatories or heated decks, pergolas strung with lights that create a convivial atmosphere, or even simple canopies to gather beneath,' explains Marie Kristine Schmidt, CMO of GUBI. 
'The divisions between inside and out have been blurring for decades, amplified by the global shift towards a more flexible approach to where we work, rest and play. Such threshold spaces are no longer seen simply as welcome additions to our homes, but as an integral part of them.' 
Look for low slung designs that are super-soft and can be configured in different combinations for maximum comfort depending on the sociable set up you have in mind.
5. Style up the table with big blooms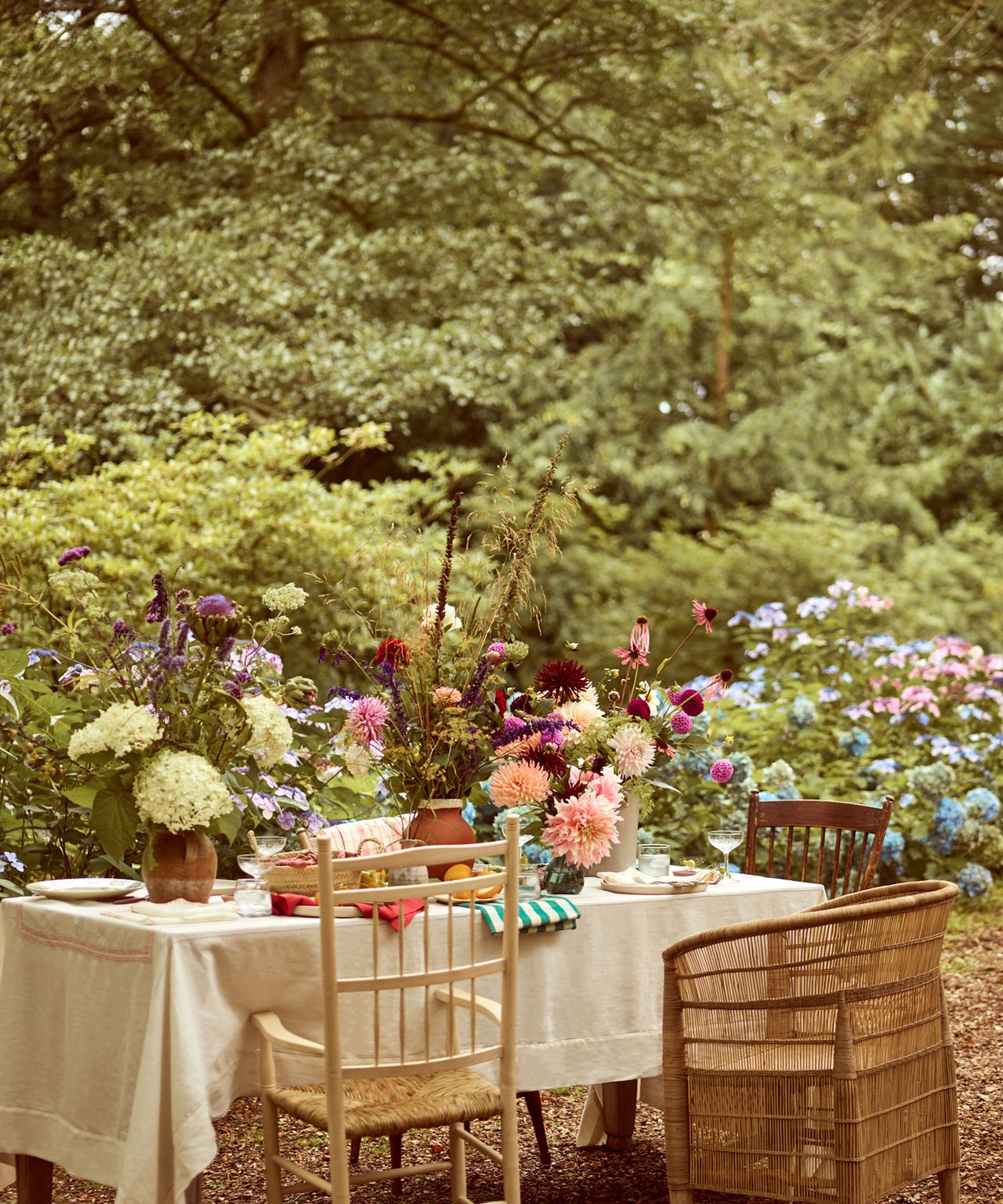 If you've caught the dahlia bug and are growing your own, you have the perfect material in the garden to create showstopping displays for summer tables. If not, dahlias are widely available from florists and farmers markets, too. You only need a few stems to make a stunning display and the more random, the better.
'Dahlias are such showy blooms and look marvellous on their own, either arranged en masse or displayed individually, so one can appreciate their unique traits and features up close,' says dahlia expert and Floret Flowers founder Erin Benzakein. 'In addition to holding their own in an arrangement, they play well with others and can be incorporated into any mixed bouquet.' 
Blush-colored 'Café au Lait is often referred to as the queen of dahlias, with strong stems that hold up well in arrangements, while the heavy flowers of peachy salmon 'Sierra Glow' is another favourite for bouquets. A few stems of spiky 'Black Narcissus' will add a touch of drama. Alternatively try a centerpiece created with a few stems of white pompom-headed hydrangea 'Annabelle'.
6. Make the occasion feel special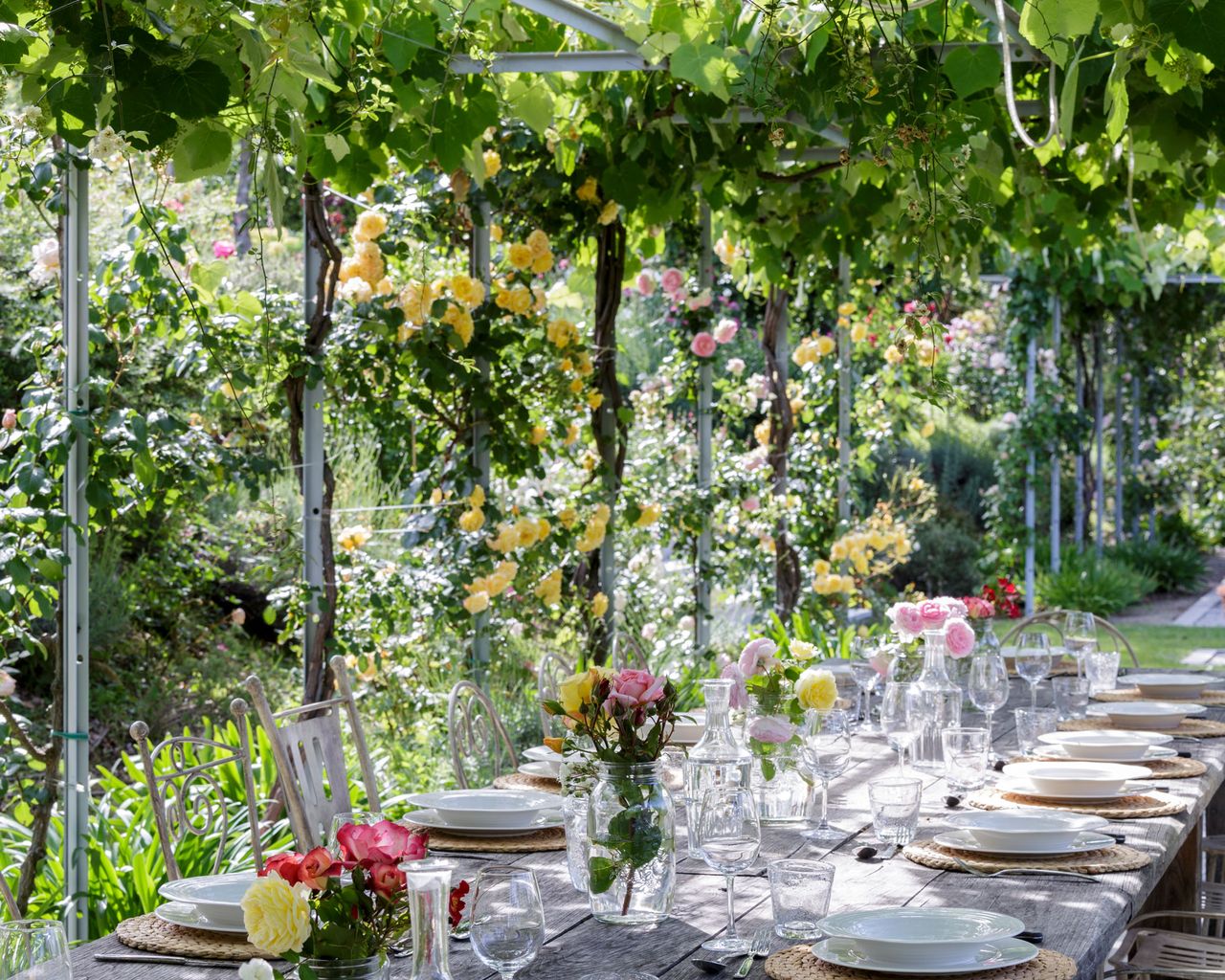 Whether it's a birthday celebration, significant event or simply a gathering of old friends for a summer lunch, make the effort to pull together an elegant look and it will be appreciated by all your guests. 
Aim for a more formal table setting with crisp white china and stylish glassware. Create a centerpiece by bedecking the table with a generous selection of roses or other seasonal blooms hand-picked from the garden to elevate your social gathering to a more memorable affair. Even better if you're sitting beneath a plant-covered pergola or trellis to throw dappled light on to your guests. 
7. Add a focal point to gather around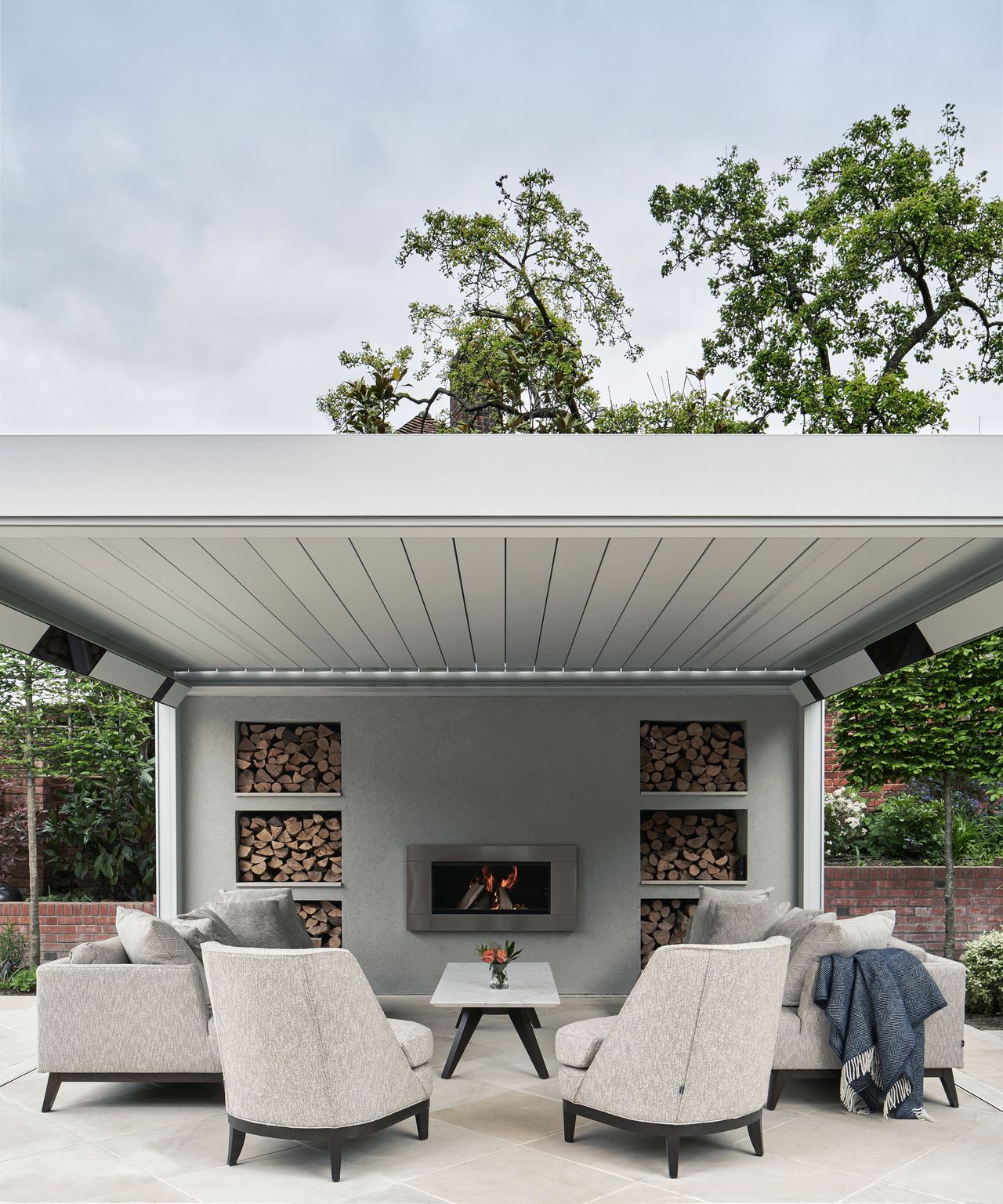 An outdoor fireplace adds warmth and glow for instant atmosphere if you're entertaining at night. It's also a great focal point to gather around for after-dinner drinks. 
An inbuilt fireplace with an enclosed chimney will keep things smartly contained, and provides a safe and sociable way to burn logs, which can be stored in integrated alcove spaces. Layer up pillows and a throw or two to make the space even more inviting.
Choose a homely arrangement of seats around a low table to make your guests' comfort a priority. The look is also firmly in the category of taking interior design looks outside to create that all-important living room feel. 
This cool and contemporary setup is protected by a sleek pavilion structure featuring electronic side panels and a louverd roof that opens and closes at the touch of a button to provide a sheltered entertaining area whatever the weather. 
8. Divide up your entertaining space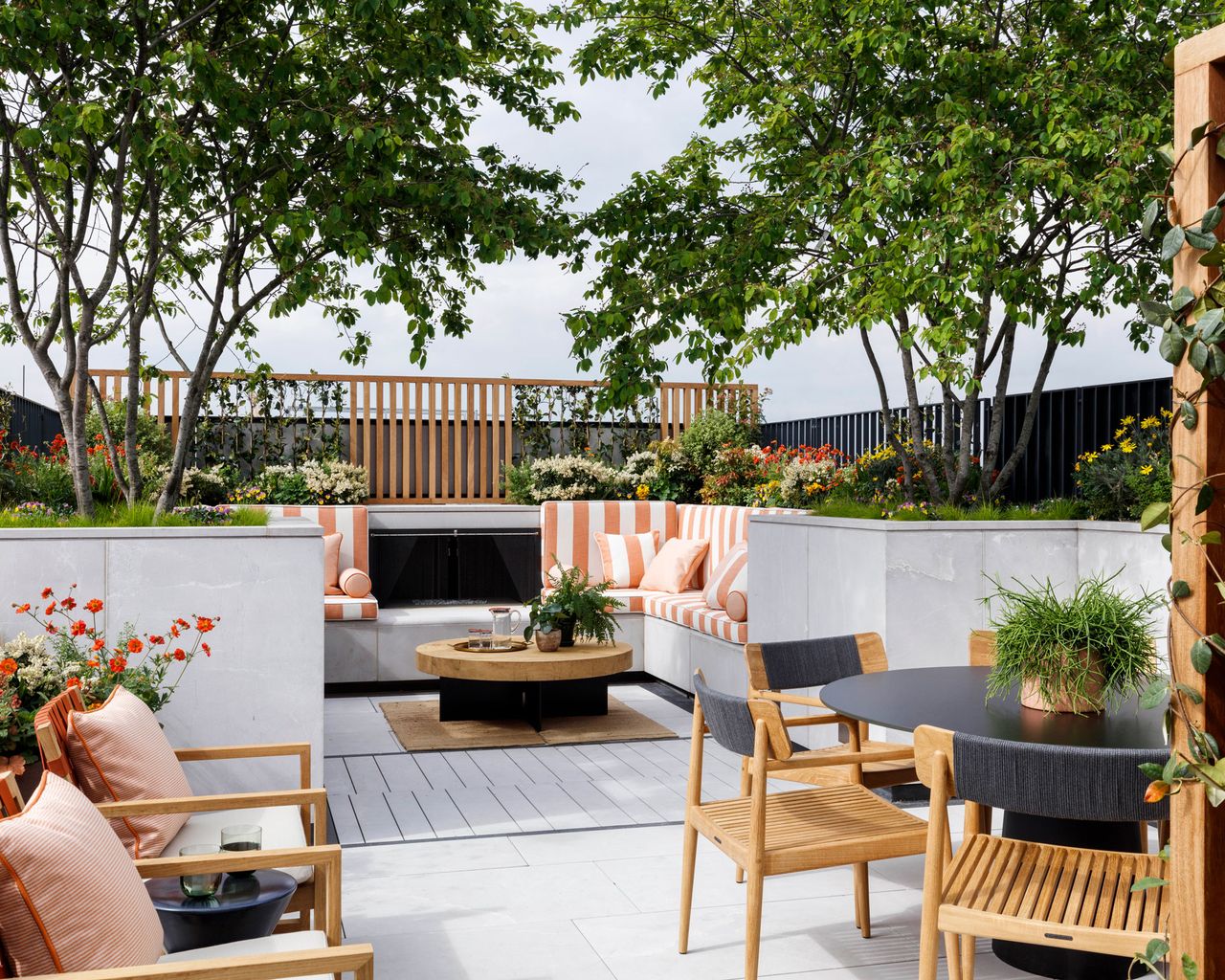 If you have a rooftop deck or terrace area, you can still section off into clear zones that each have a purpose in the same way as you would in a larger garden. Use raised beds or large rectangular planters to divide the space like this layout by landscape architects Hay Designs.
The resulting areas can be used for a mix of activities like enjoying side by side sundowners, intimate dining, and comfortable lounging and relaxing after an alfresco dinner.
Choose co-ordinated outdoor furniture, complementary soft furnishings like these peachy summer stripes from Studio Ashby to add a pop of colour, and a cohesive planting style to lend a visual link that leads the eye from one area to the next. 
The bench sofas include under-seat lighting and an integrated fireplace in the center that together switch up the space to cozy for perfect night-time entertaining.
9. Create an instant firepit moment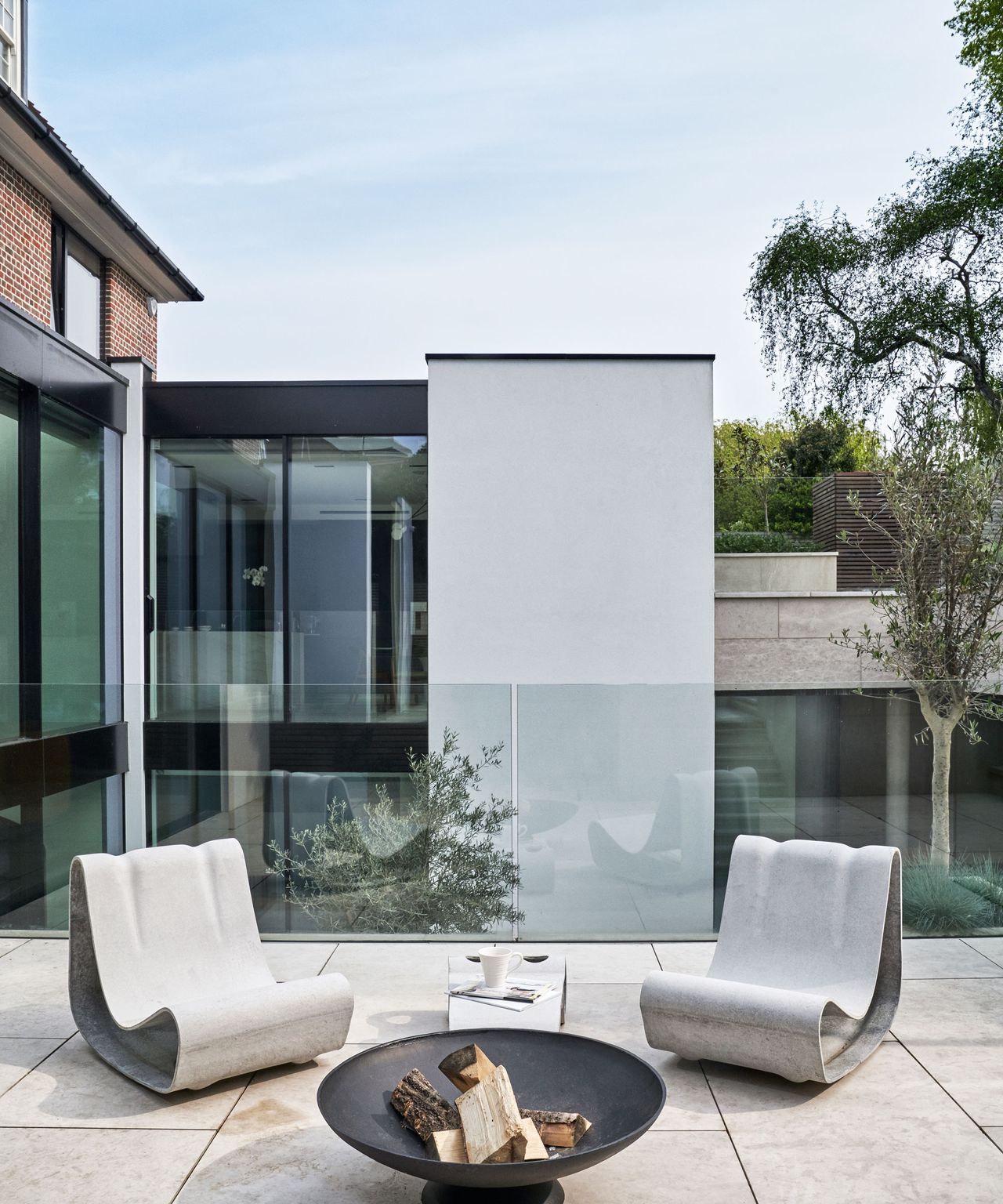 The latest sleek fire pit designs are a great way to add ambience to your backyard, creating a radiant and inviting focal point for gathering around that engages and delights.
Simple freestanding fire bowl styles are available in a variety of materials, including concrete, metal and cast iron, that take up minimal space. Wood-burning fire pits add a crackle and pop to create a cozy campfire atmosphere. Even better, it's an instant focal point for your patio or deck. 
Many are multi-purpose as they come with a removable top to double up as a table, which is a great idea for entertaining if there's an occasion when you don't want the fire. They're also brilliantly portable if you like switching around your space. 
10. Go for a casual laid-back vibe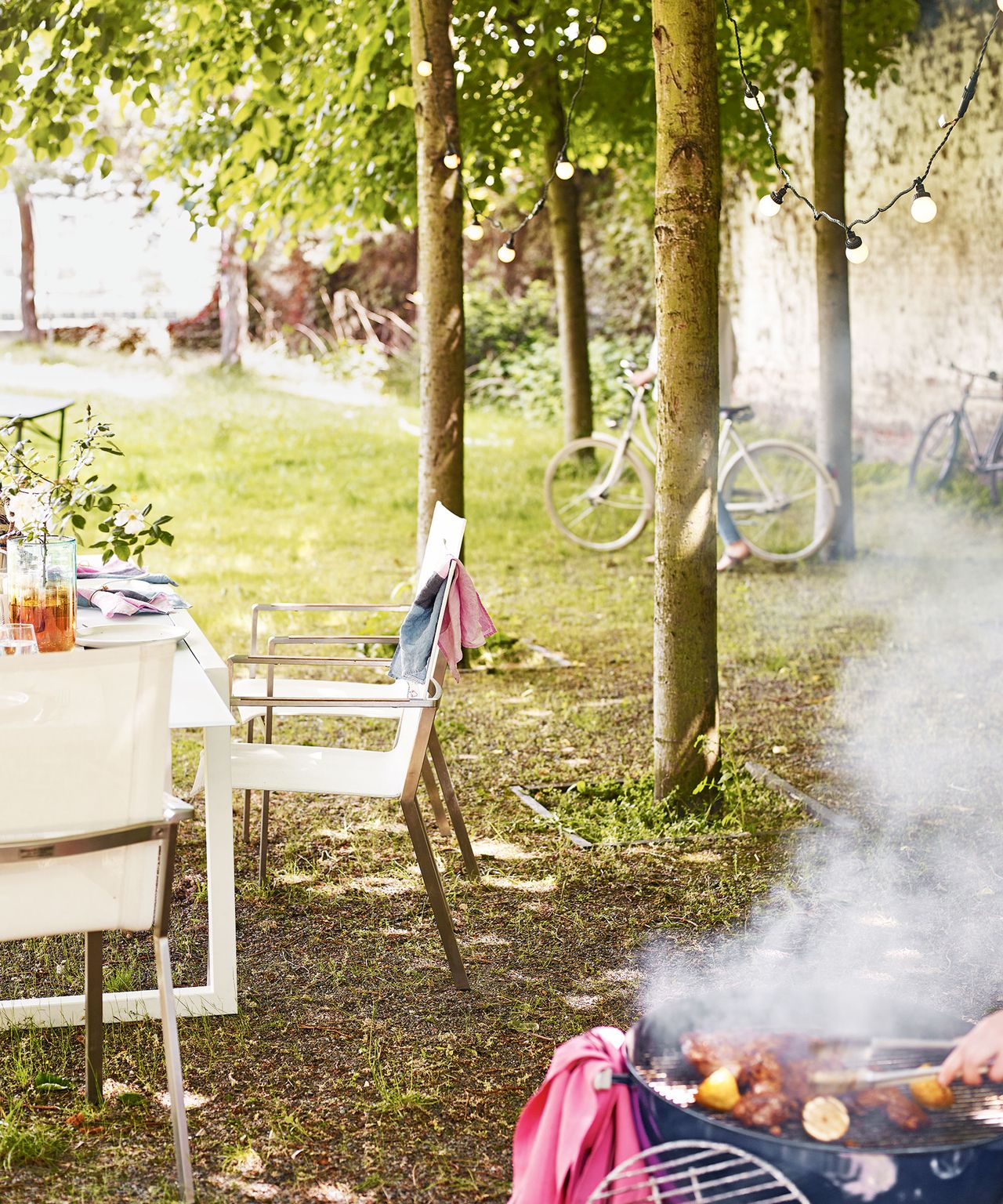 Sometimes it pays to keep it simple and opt for a more relaxed style of entertaining. If you love spontaneous get-togethers all you really need is a table, some chairs and the means for a cookout, like a simple grill or kettle barbecue.
Cooking over flames for that quintessential mix of fire, smoke and food is a key part of summer entertaining. Charcoal grills are central to this experience, and come in a range of styles from the simplest drums and open grills, to the ever-popular kettle versions and more luxurious models.
The simplest option is a kettle barbecue for great results with minimum effort, and they are generally large enough to cook for six. They often come on wheels allowing you to chase the sun or shade depending on your preference.
How can I make my garden fit for entertaining?
To make your garden fit for entertaining think about staging focal points and wow factor moments, as well as adding personality to your space. This can include lighting, sculpture and other types of outdoor art, as well as water features and dramatic planting, and the way you choose to use color.
Good outdoor lighting ideas can transform your garden and maximize its potential as an extra space to enjoy in the evening. The right lighting can spotlight focal points such as planting and water features, as well as helping to zone different areas for relaxing, alfresco dining or gathering for drinks. 
Discreet up lights can be used to enhance plants and trees, adding drama as their shapes will take on architectural qualities when thrown into relief. The same goes for pieces of garden art or sculpture, and water features, which can become key focal points of the night garden if you use the right lighting to draw attention to them.
Adding a color pop by painting a wall in a bold shade or using a bright accent color for accessories also adds a sense of personality to the garden.
How can I decorate my garden for entertaining?
To decorate your garden for entertaining consider the pretty touches you can introduce for the get-together, and the pieces you can add to make the space more comfortable.
For evening entertaining, supplement your yard's fixed lighting with lanterns or outdoor light strings. And dress tables with blooms from the yard set in vases, or planted pots.
To make guests comfortable, add pillows and throws, too, if temperatures are likely to drop after dusk falls. 
Set an outdoor rug under a dining table or use it to zone a seating area to add color, texture, and comfort underfoot.