50 small kitchen ideas for even the tiniest of spaces
25 min read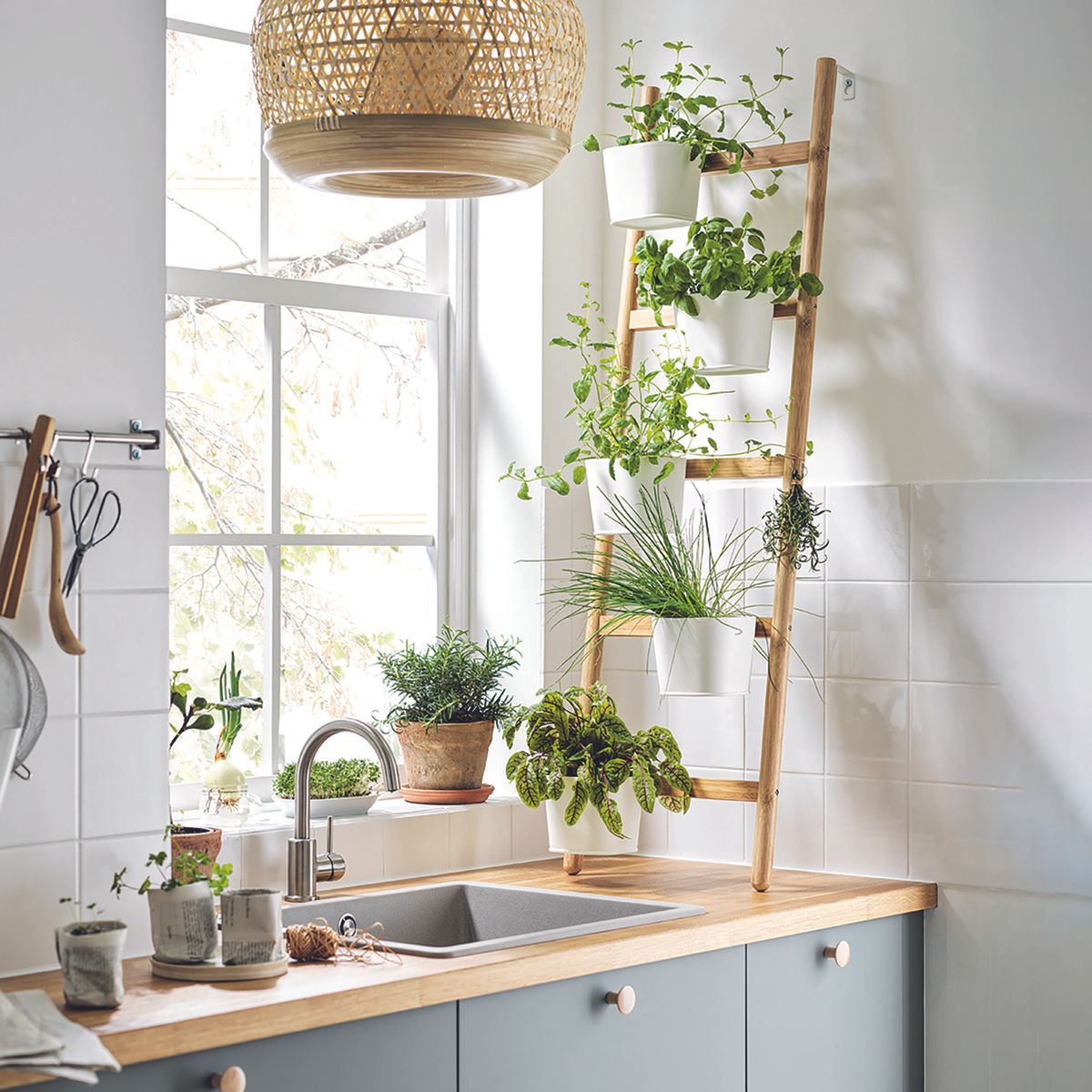 The kitchen keeps a home running just as it should, and more recently it's morphed into the main living area, too. However, the floorplans of many homes in the UK don't offer a huge amount of space for a room that is used for cooking, dining, and socialising. Many of us are working with small kitchen ideas, so if you're frustrated by the lack of space in yours, you're in good company. 
The constraints of a more compact kitchen means we have to get creative when it comes to our kitchen ideas. We also think there's plenty of scope to be more daring in a small space than in a huge kitchen complete with an island and American-style fridge. Small kitchen design also means less money spent on cabinetry, potentially leaving more budget for fun additional extras such as lighting, appliances and decor. 
Small kitchen ideas
Layout is the first thing to consider when thinking about how to design a kitchen that's short on space. Ben Burbidge, Managing Director at Kitchen Makers says, 'When presented with a small kitchen it is essential that the layout is carefully considered to make sure every inch of the kitchen is utilised.'
'The age-old advice to think of the fridge, oven and sink as points on a triangle and ensure the distance between each is not too limited holds true even in small or awkward spaces.'
'Carefully selected colours and materials can help to make your kitchen feel more spacious,' adds Ben. 'Consider using mirrored or light-coloured splashbacks with reflective properties to make your room appear larger. In terms of colour schemes it is not necessary to stick to a bright palette in small kitchens, so don't be afraid to use colour.'
1. Go for simple black and white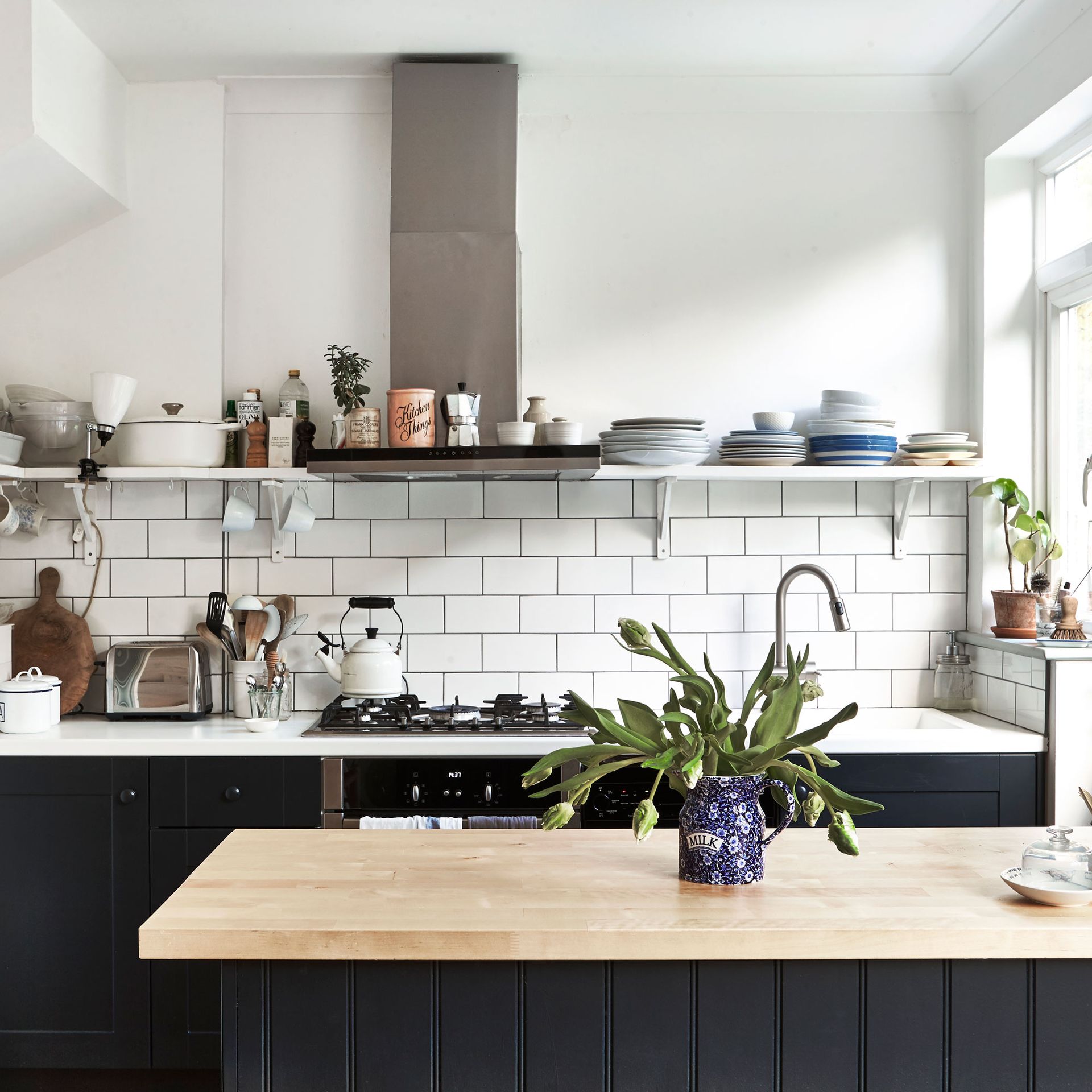 Keep the kitchen design really simple with black cabinetry below and a white backsplash and open shelving above. Often described as a 'tuxedo kitchen' this monochromatic kitchen look is at once traditional and modern. The black grounds the scheme and the white walls make it feel fresh.
2. Blend woods and whites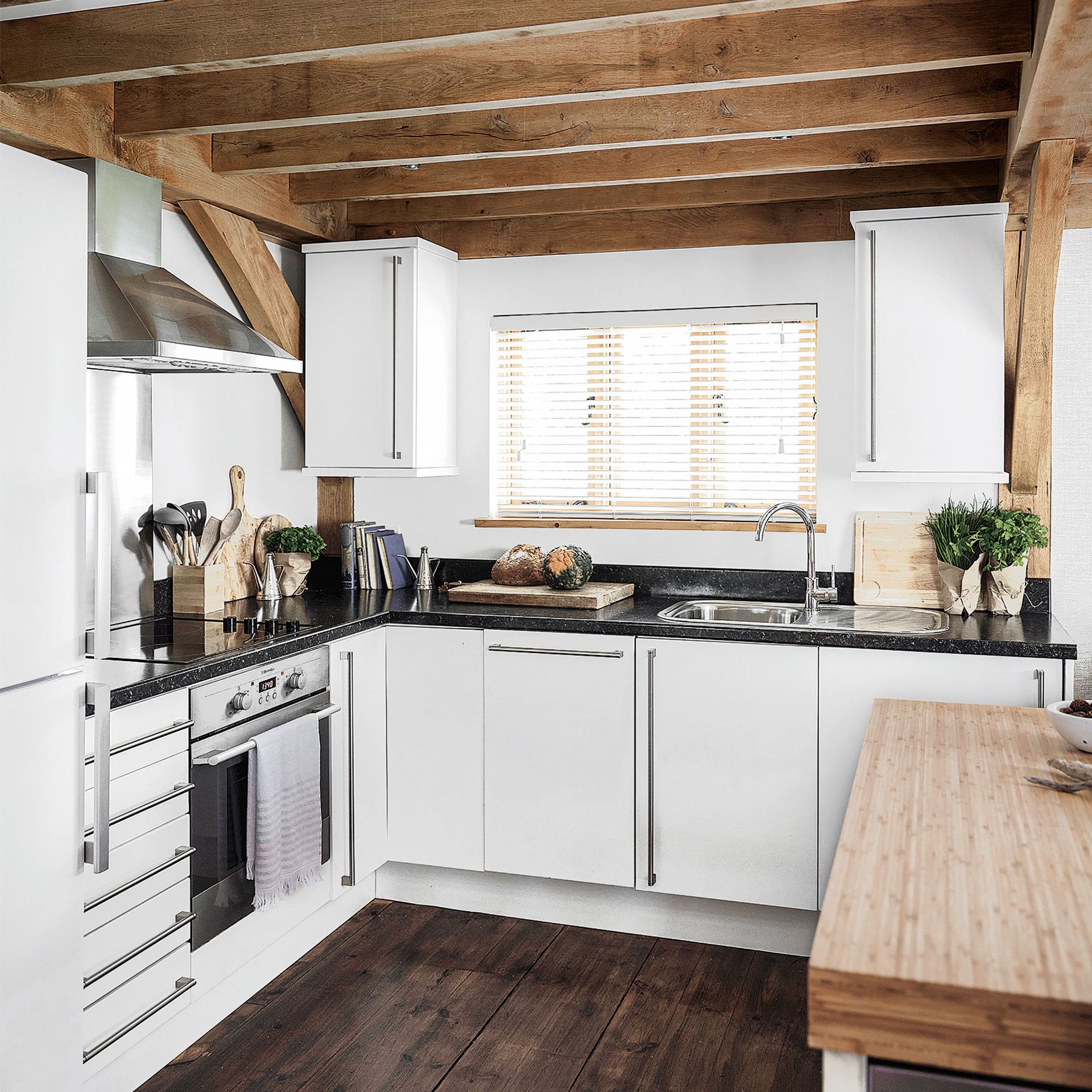 Stick to a Scandi-inspired wood and white kitchen scheme for a bright and airy feel. Large swathes of wood flooring and white cabinetry will create a calm and clutter-free first impression. 
You could always incorporate some open shelving and add colour with plants or coloured plates and bowls. Warm-toned lighting will stop it from feeling cold.
3. Don't be afraid to add colour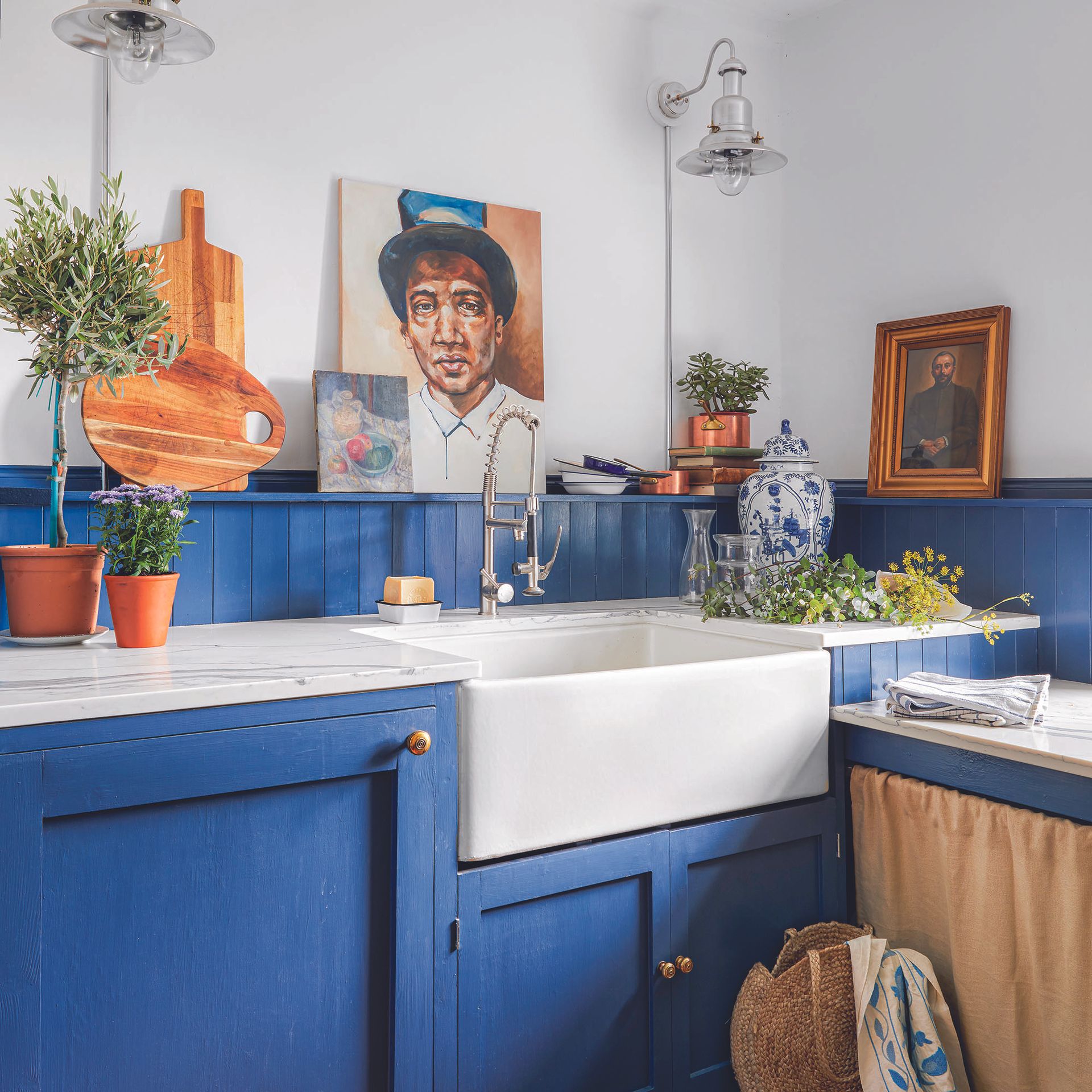 A small kitchen can leave you wanting to play it safe with the colour choice, but it's actually a great opportunity to opt for a striking palette. A bright colour can help to draw a room inwards for a warm and inviting feel, as opposed to it feeling stark. 
A blue kitchen is a great way to try this out as it's easy to style and isn't far away from the comfort of a navy scheme. 
4. Tongue and groove it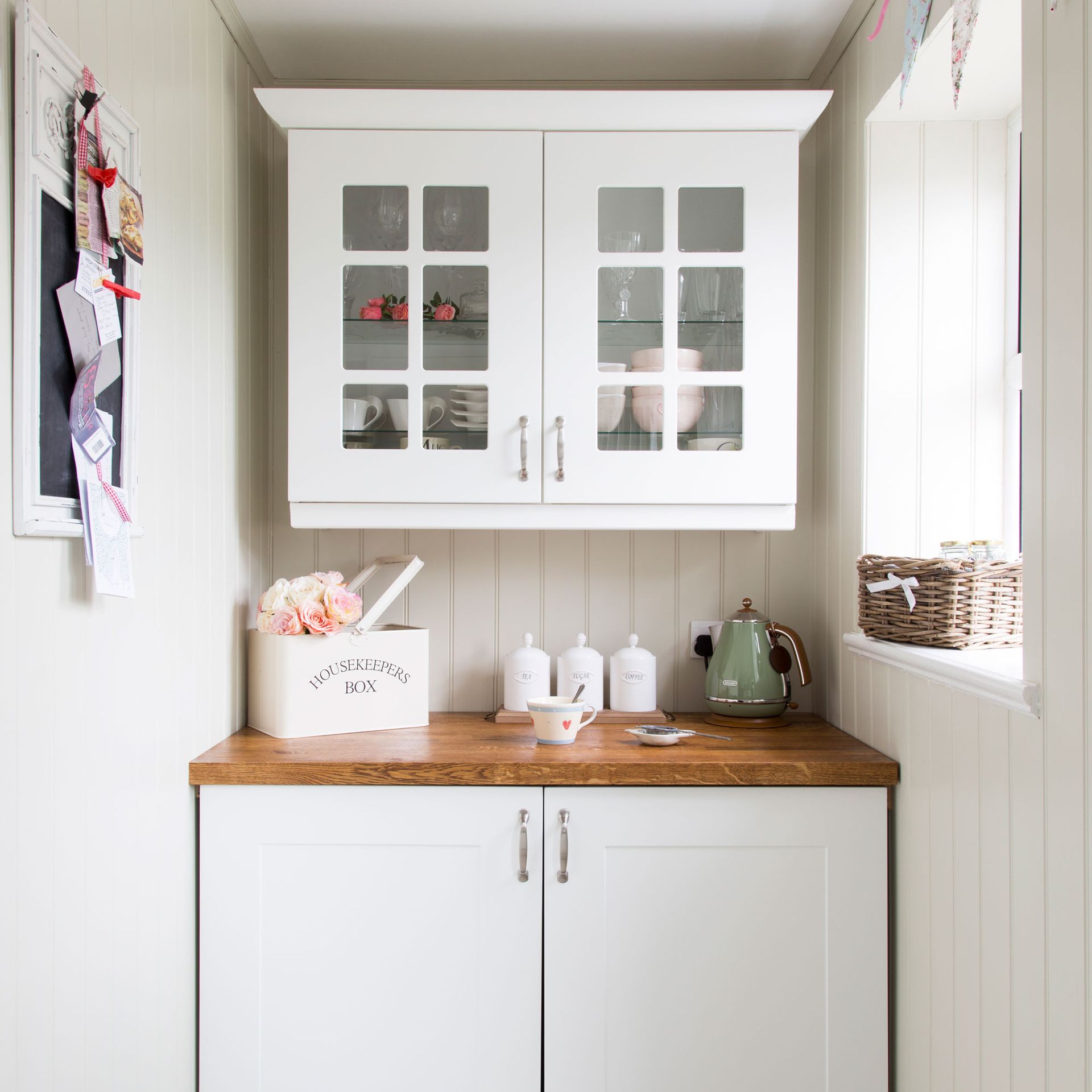 Why not opt for vertical tongue and groove wood panelling in your small kitchen area? Go all the way to the ceiling or stop halfway up, either option adds character and makes your kitchen feel more complete. A great option for anyone researching country kitchen ideas, this panelling brings a touch of farmhouse style that isn't in your face. You can buy tongue and groove MDF wall panels for £25 at Homebase and they're relatively to install yourself.
5. Opt for slimline appliances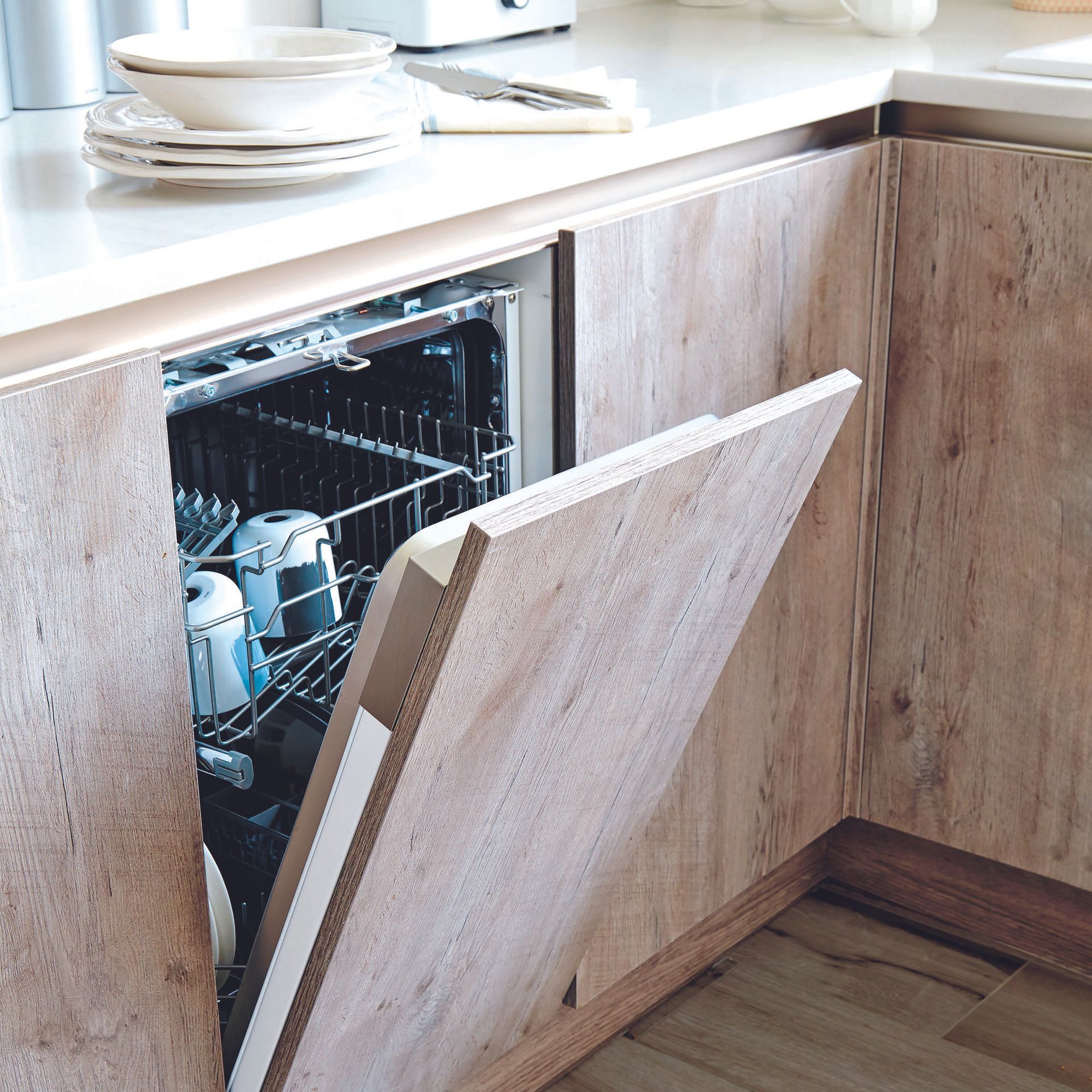 A small space doesn't mean you have to compromise on including the features you desire. If you want to pack in as much storage as possible as well as make sure you have the best dishwasher to make daily life that little bit easier, opting for a slimline model will give you the best of both worlds. 
It will be the ideal amount of space for a couple or small family, while still giving you the benefit of having less dirty dishes cluttering up your counters and sink. 
6. Lean into Japandi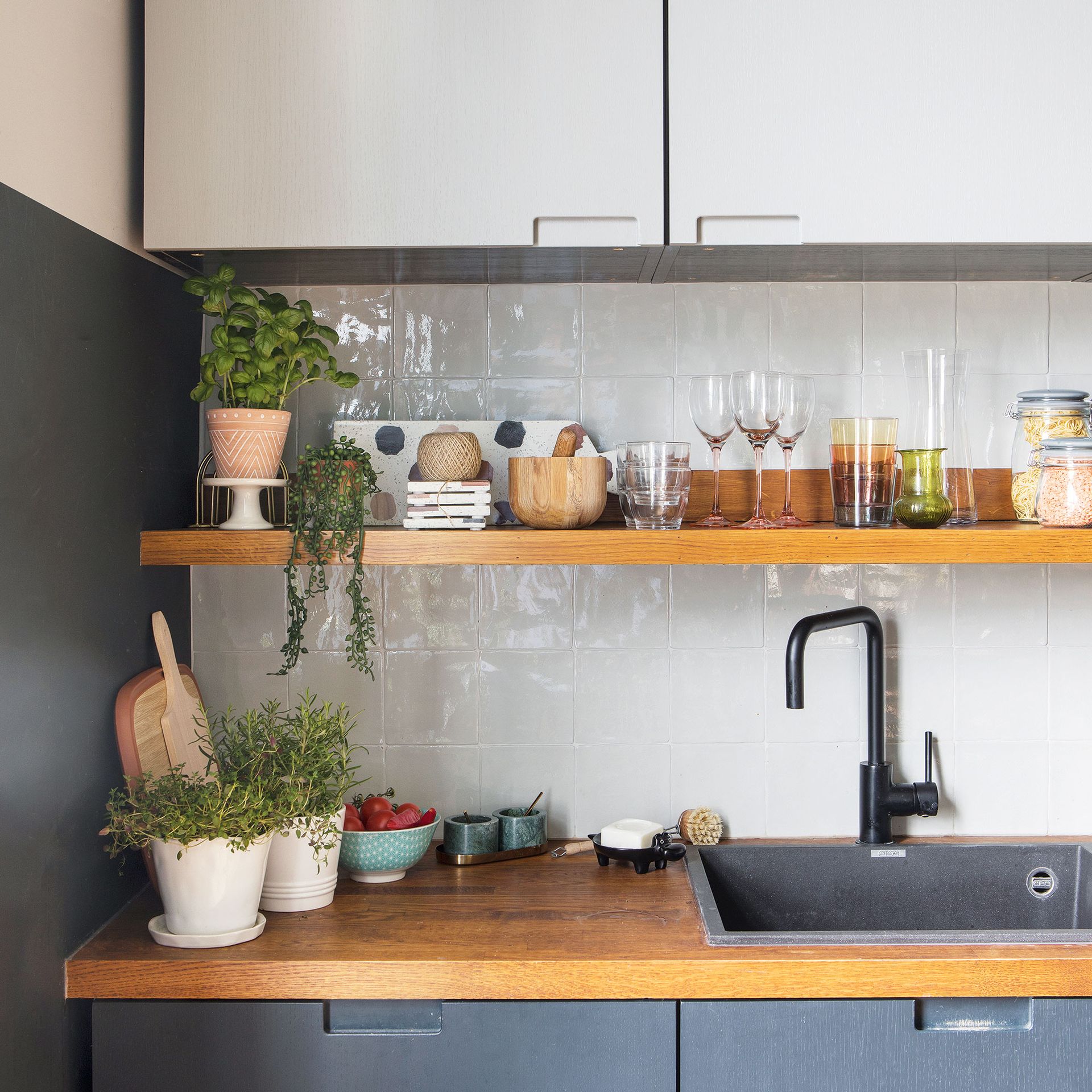 'Japandi designs not only infuse kitchens with a minimalist and calm vibe but also really lend themselves to small spaces,' comments Ideal Home Deputy Editor (digital), Rebecca Knight. 
'Indented handles and a matt black tap are an aesthetically pleasing and contemporary choice. Pair warm wood worktops and shelving with shiny tiles to add texture and warmth.'
7. Hang lots of hooks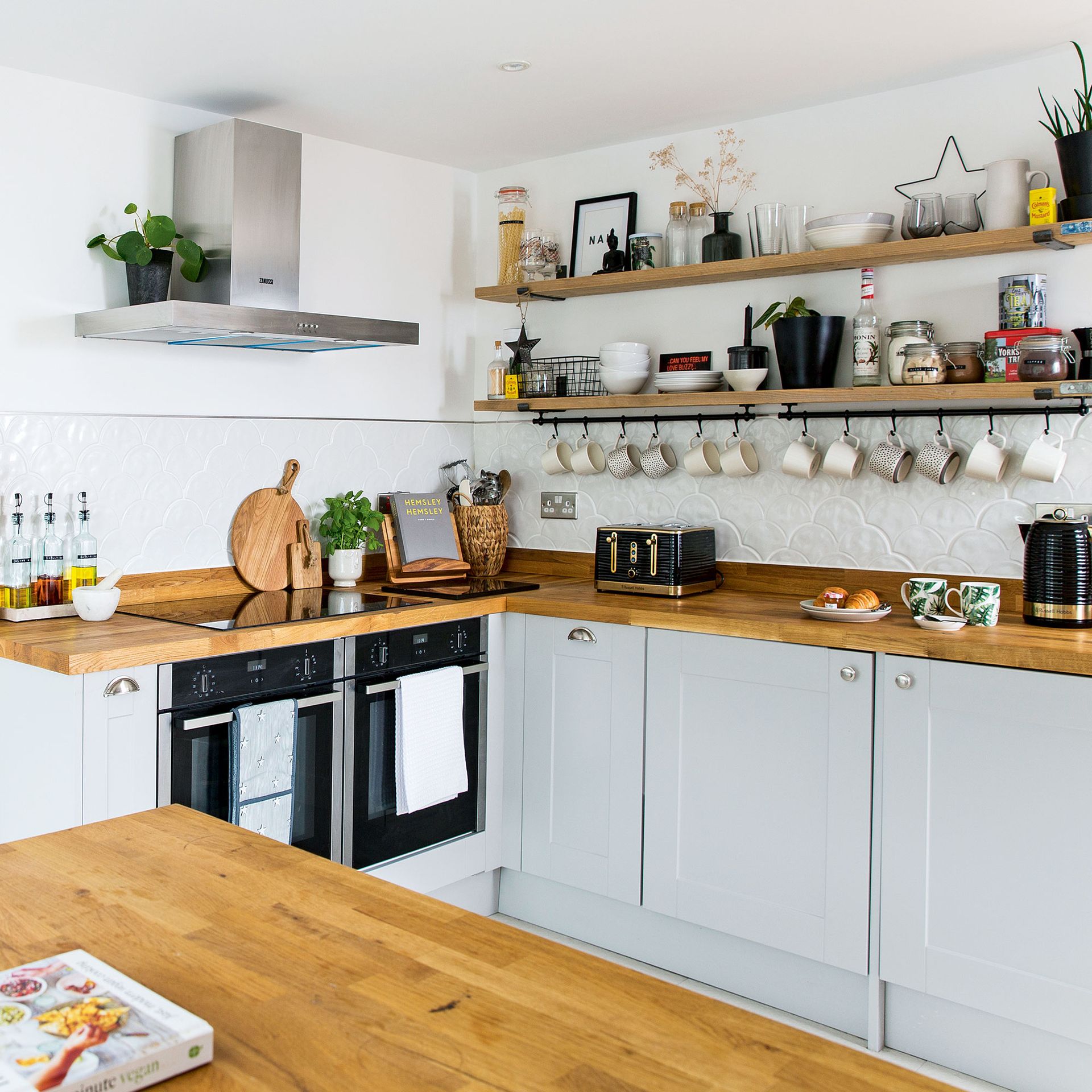 Use the walls and keep things nice and open by hanging plenty of storage hooks like these black rail and hooks used to store mugs. It means you have all your mugs on display and easy to grab for a cup of tea, and along with open shelving it's a way to avoid upper cabinets, which can sometimes feel a little heavy in a tight space. This tip works really well if you're thinking about farmhouse kitchen ideas, as it brings that relaxed, cosy look to the space.
8. Lead the eye up with a painted ceiling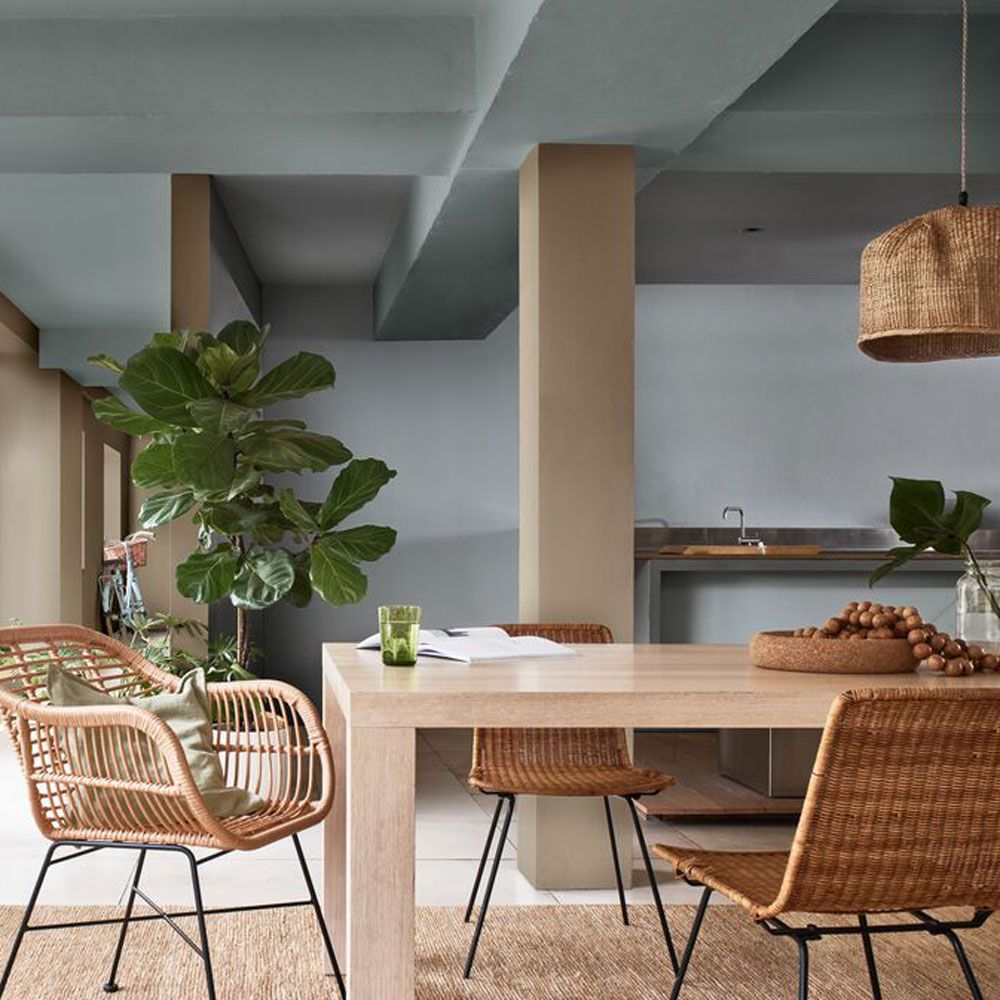 A ceiling painted in an unexpected colour will lead the eye up and create the illusion that your small kitchen is taller than it really is. 'Colour in the kitchen is like seasoning in food – walls and units can appear bland without it,' says Marianne Shillingford, Creative Director, Dulux. 'For small kitchen paint colours, consider adding a dollop of colour to the ceiling rather than the walls, and if you can paint them, add a splash of colour to the units too.'
You could use an uplifting blue, such as Bright Skies in otherwise white small kitchen design or, if you're feeling more ambitious, try a soft tonal checkerboard effect or soft wavy lines in different sheen levels of the same colour. Marianne also suggests combining colours in bands and blocks across the walls and ceiling if you have white, grey or natural wood units.
According to the colour professional, glossy ceilings are becoming a big trend, too. And they do look amazing – but only if the surface you are painting is really smooth and you have all the right tools for how to paint a ceiling.
9. Think about how you use the space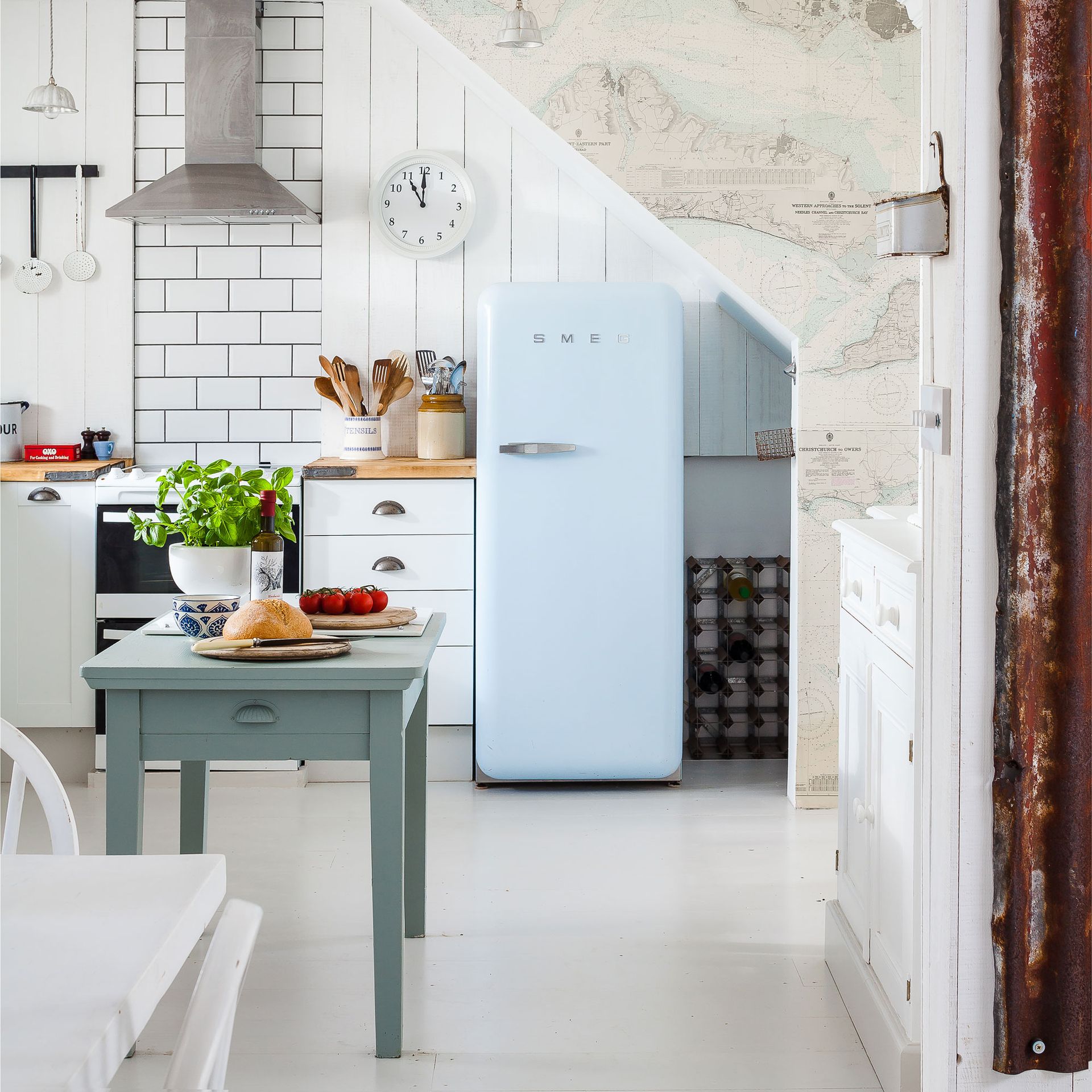 Whether it's big or small, we all want our kitchen to look beautiful. However, as the most dynamic room in the home, functionality is just as important as looks. Think about how you use your kitchen day to day and what works and doesn't work. 
'Small kitchen design typically has to work twice as hard due to the space constraints,' comments Ben from Kitchen Makers. 'Planning is therefore all-important to make the most of your space, so consider how you cook and the equipment, crockery, and types of food you want to store.'
Ben goes on to say that keen cooks tend to focus on smart kitchen storage ideas to store cookware and maximise counter space for food preparation. But if you prefer simple fresh food, ensuring you have enough room for a generous fridge may feel more important.
10. Don't forget to add art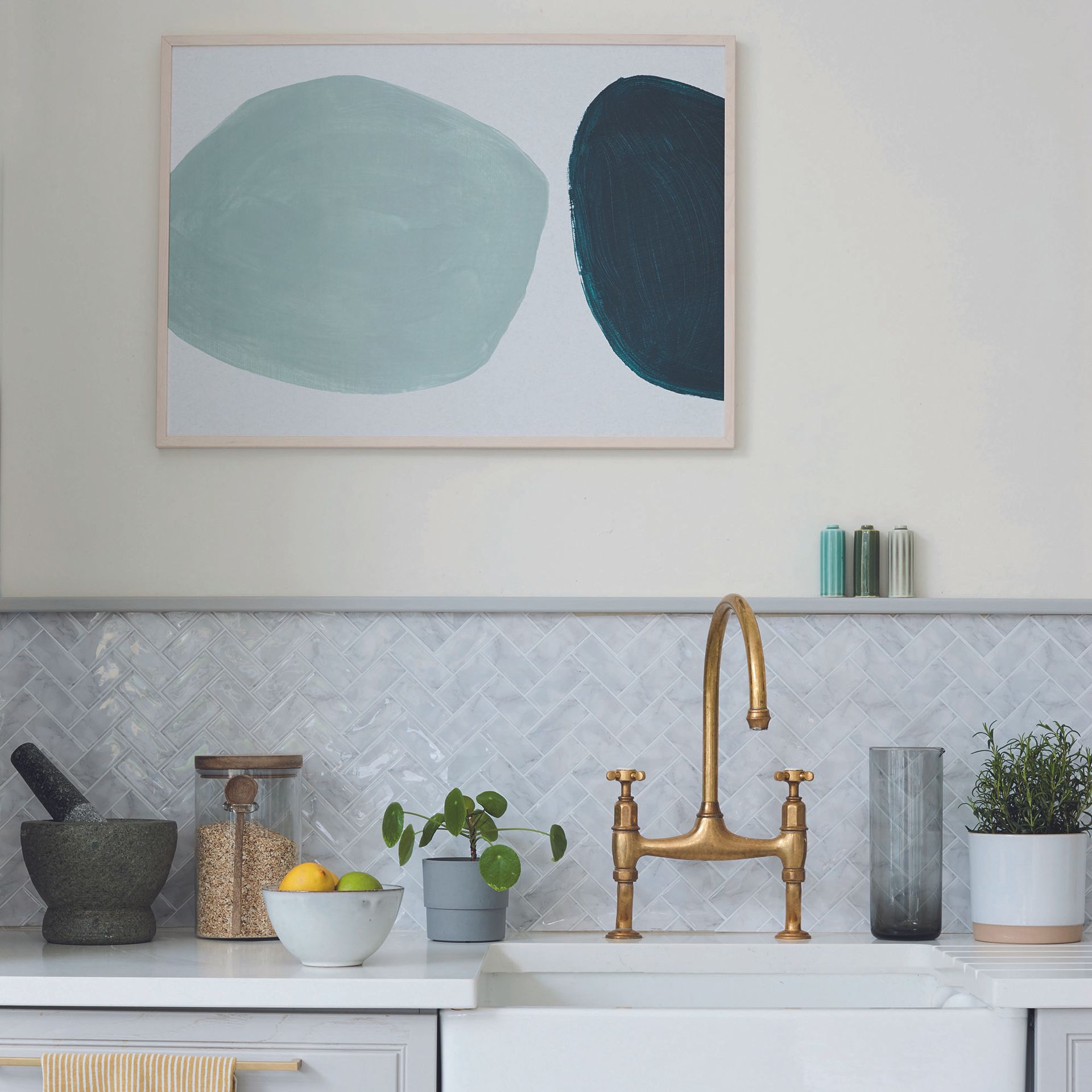 Art can often feel like a finishing touch that is designed for a living room or bedroom, but it can actually work well in a kitchen too. Small cooking areas don't have too much potential for countertop accessories that won't clutter the space, so making use of the wall space will make a kitchen feel like home. 
Whether it's a gallery wall that creates a focal point or a singular piece of art above a sink, it's a handy way of adding personality to a small area. 
11. Select tiles in soothing natural tones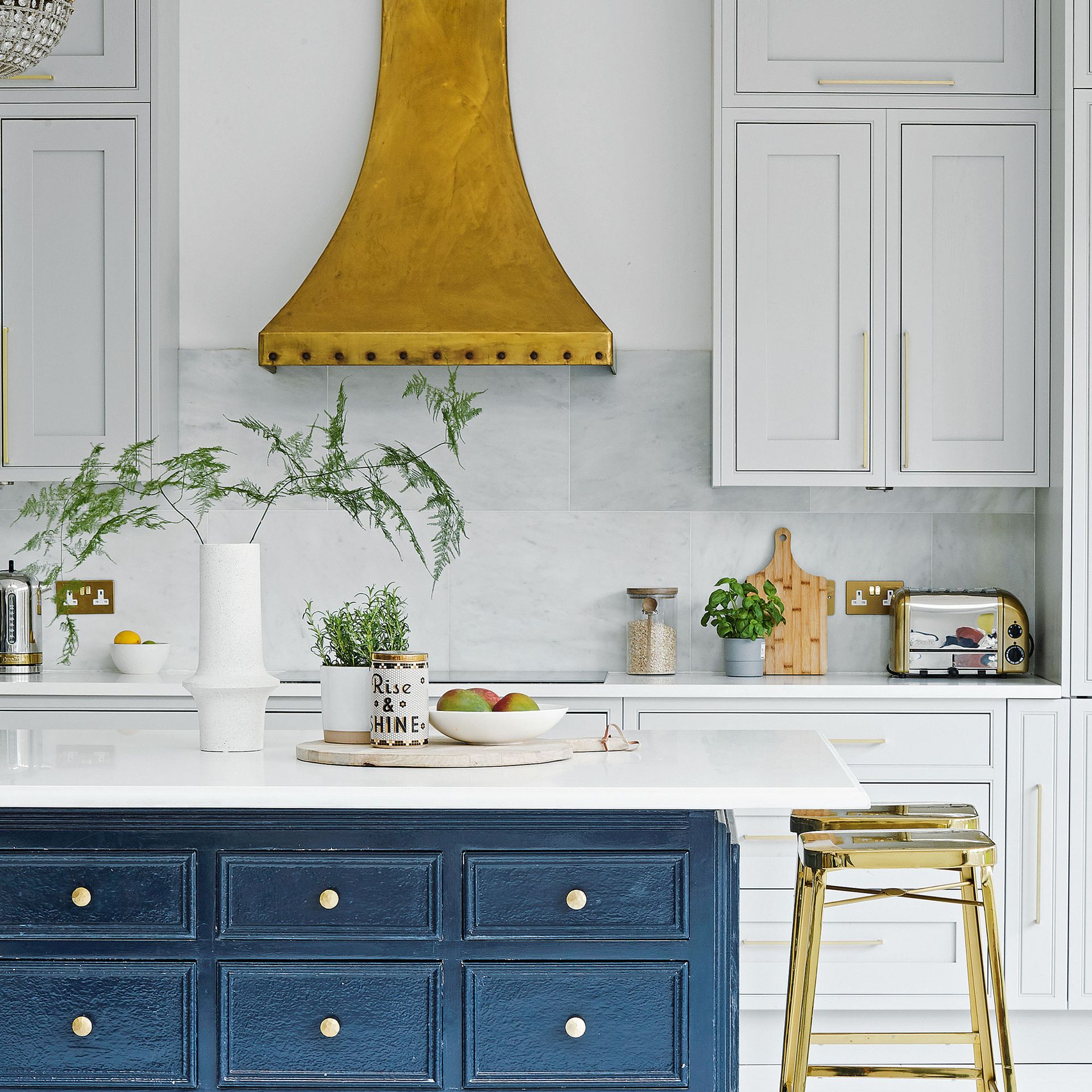 Carefully selected tiles are your secret weapon when designing or updating small kitchen ideas. 'Matt tiles in light, muted and natural tones or highly reflective gloss tiles are great ways of creating a sense of space,' says Adrian Blundell, Production Director, Craven Dunnill Jackfield. Steer away from small or heavily patterned tiles, as while they can create a striking feature wall, they'll likely overpower a small space.
'Mixed media, including combinations of ceramic and stone are becoming increasingly popular to create contemporary-inspired geometric layouts, perfect for modern kitchen ideas.'
12. Create depth with textured walls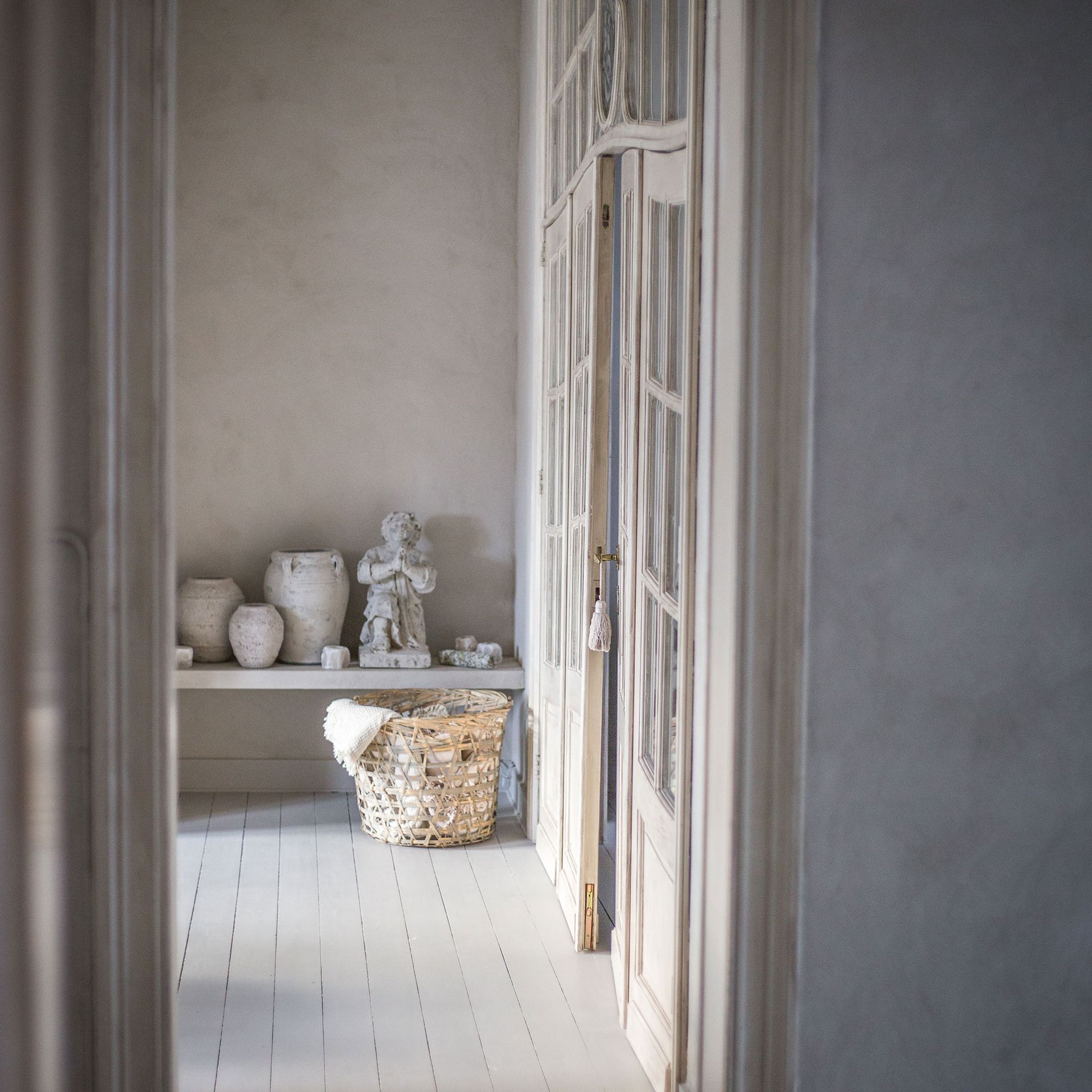 If you're tight on space, why not let the walls do the talking? Lisa Slack, Head of Product, Thomas Sanderson suggests using a limewash finish on your walls. 'The stone-like effect allows your kitchen to adopt some texture and project some warmth,' she comments. 
Then, you could always add a bookshelf to your kitchen wall and fill it with cookbooks, pots and pans. The open shelves against the textured wall will give a rustic feel to the small kitchen ideas and distract from the lack of space.
13. Rethink cupboard doors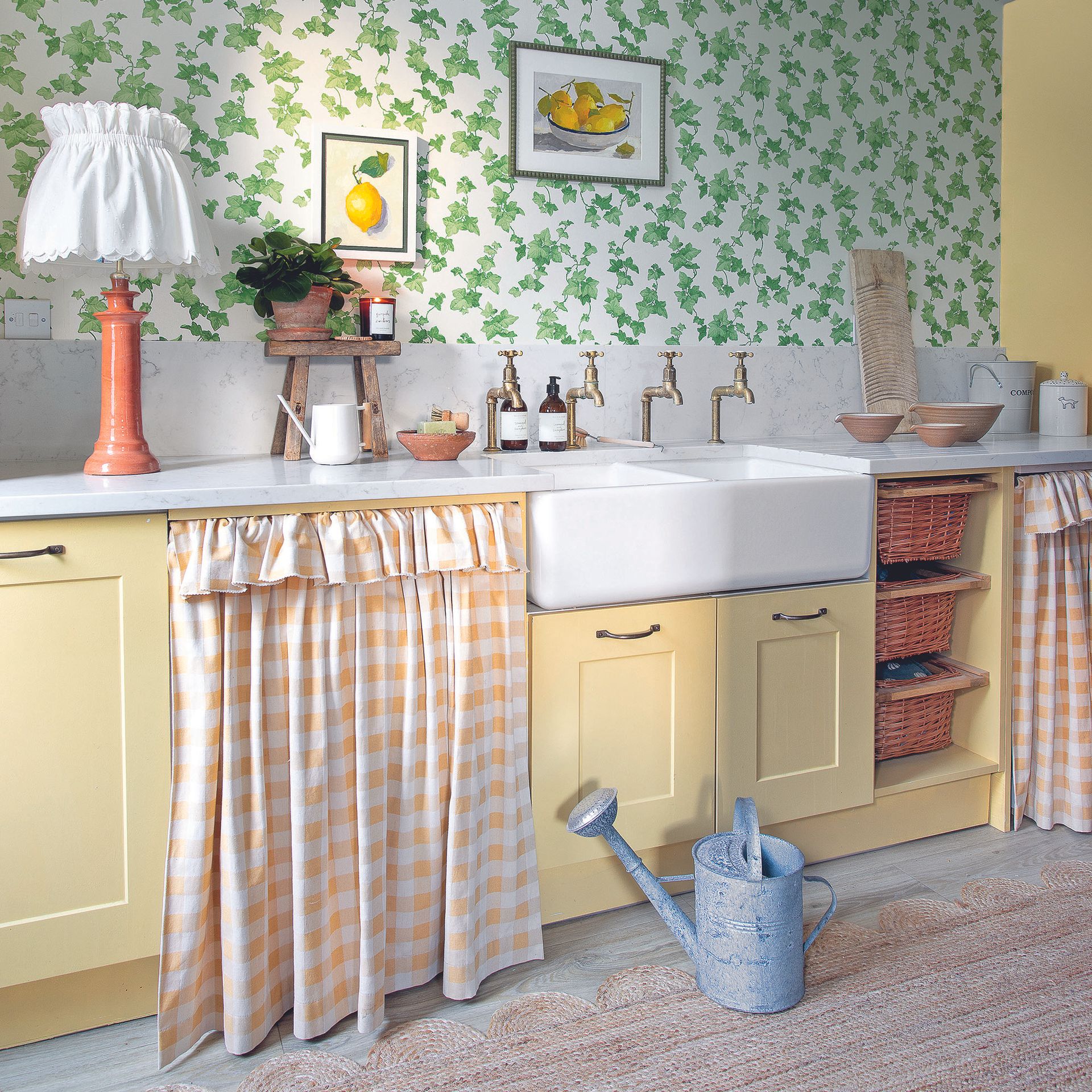 If you feel like your kitchen is overwhelmed by an abundance of cupboard doors, it might be time to rethink them entirely. Cupboard curtains are a stylish storage hack that works perfectly in traditional kitchens to keep clutter at bay, as well as add a homely touch. 
You can DIY them yourself by purchasing offcut linen or have them professionally made in a pattern of your choosing. Either way, the effect will add interest to a small space and make it easy to hide away pots and pans.
14. Add luxurious small details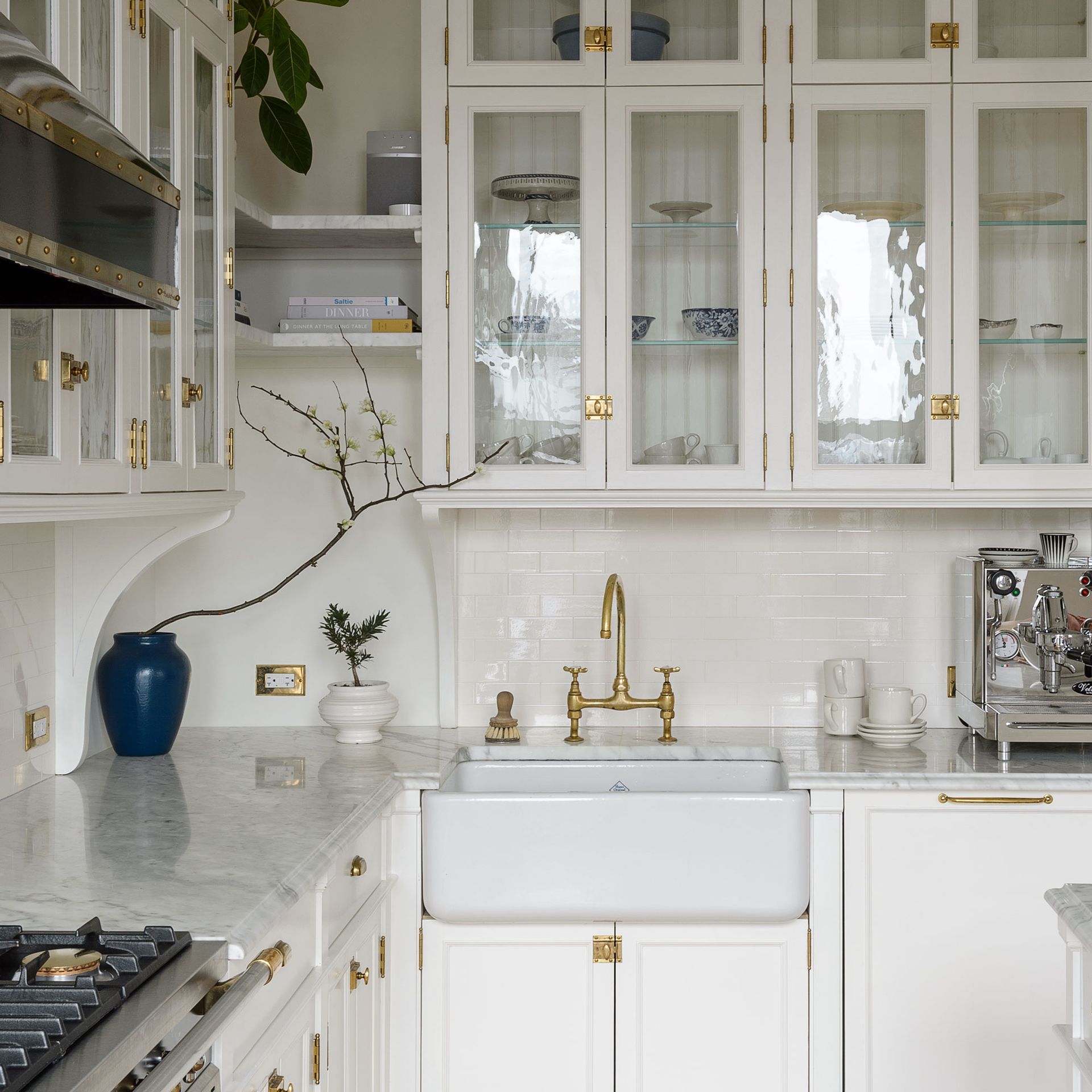 'Whatever type of cook you are the aesthetic is important,' says Ben from Kitchen Makers. 'Unfussy designs with clean lines tend to work best in these types of spaces, however, you can add a touch of luxury and style by specifying more decorative handles or a statement backsplash and good kitchen lighting.'
15. DIY a crittall-style mirror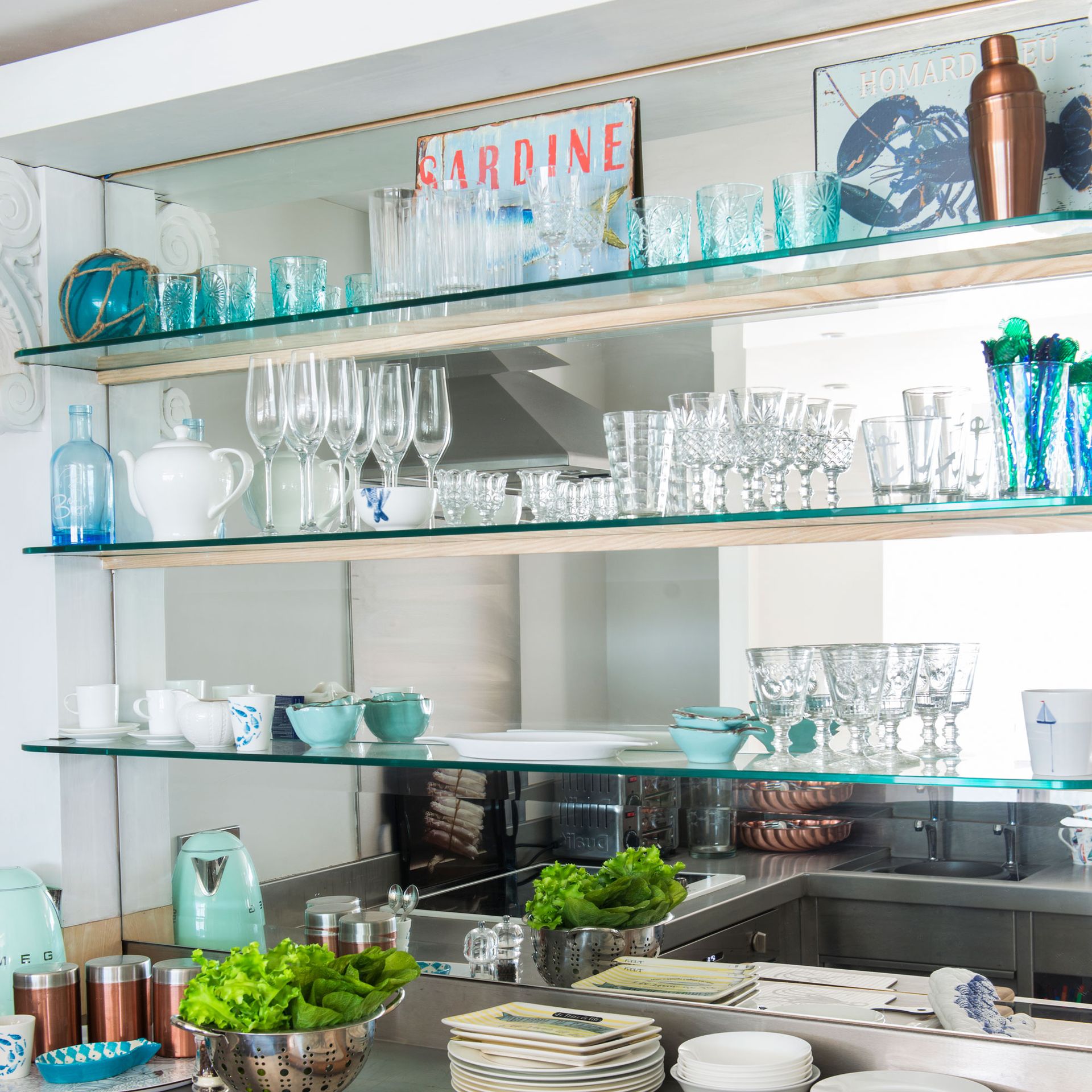 Don't discount easy DIY options, says Looeeze Grossman, The Used Kitchen Company. 'Masking off sections of the wall to paint a geometric print or using stick-on mirrors to create a crittall-style wall can add interest while remaining inexpensive,' she says. 
Place mirrors behind shelving to make small kitchen ideas feel twice as big.
16. Rethink kitchen furniture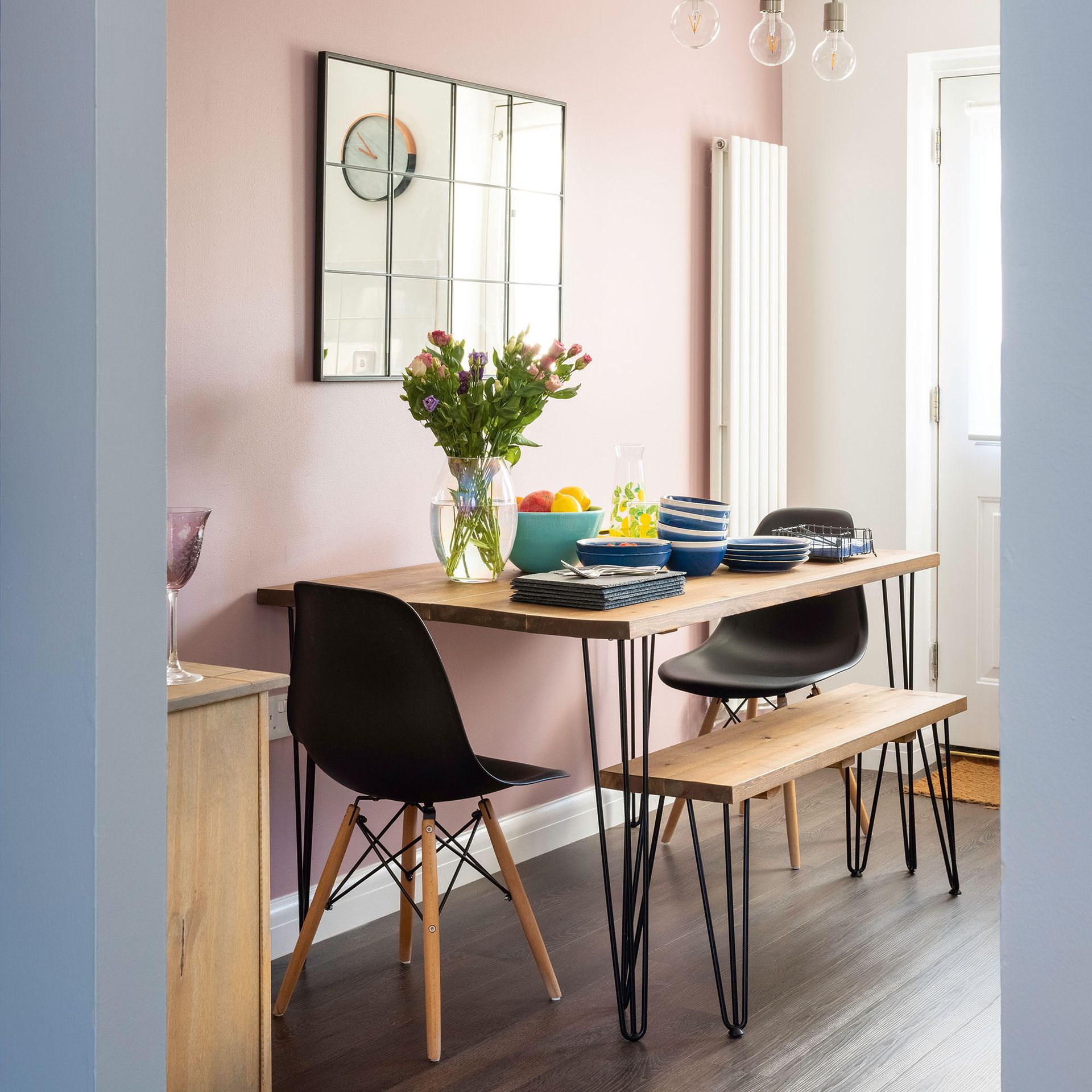 If you can't live without a dining table in your kitchen – whether to eat, work from home or entertain – you can still make this work with small kitchen design. 
Opt for narrow and small kitchen table ideas and push it completely against the wall. For seating, combine standard dining chairs with a bench – or two – that you can pull out when needed.
17. Build a mini peninsula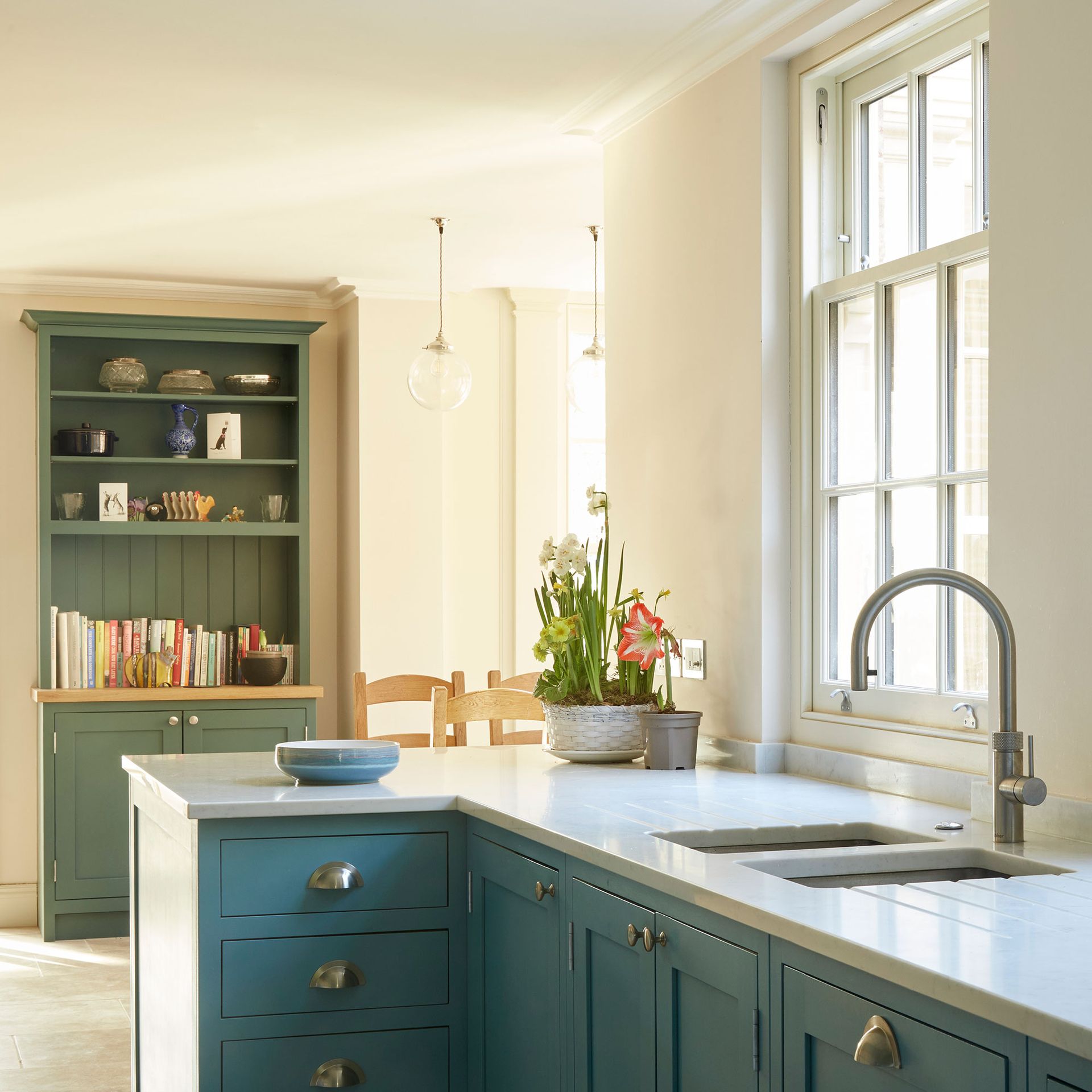 'Galley kitchens are favourable in a small spaces,' says Al Bruce, Founder, Olive & Barr. 'They instantly offer more flexibility especially in terms of storage space, as the layout is made up of two rows of cabinets facing each other to create a galley between them, removing the need for corner cupboards in favour of using every millimetre of space.'
If you've always dreamed of kitchen peninsula ideas you can still make this work in a slimline galley space. Simply take your cabinetry out by a foot to fit one set of small drawers. As a result you have extra storage, a visual zoning and a place to gather and chat while someone's cooking.
18. Distract with pattern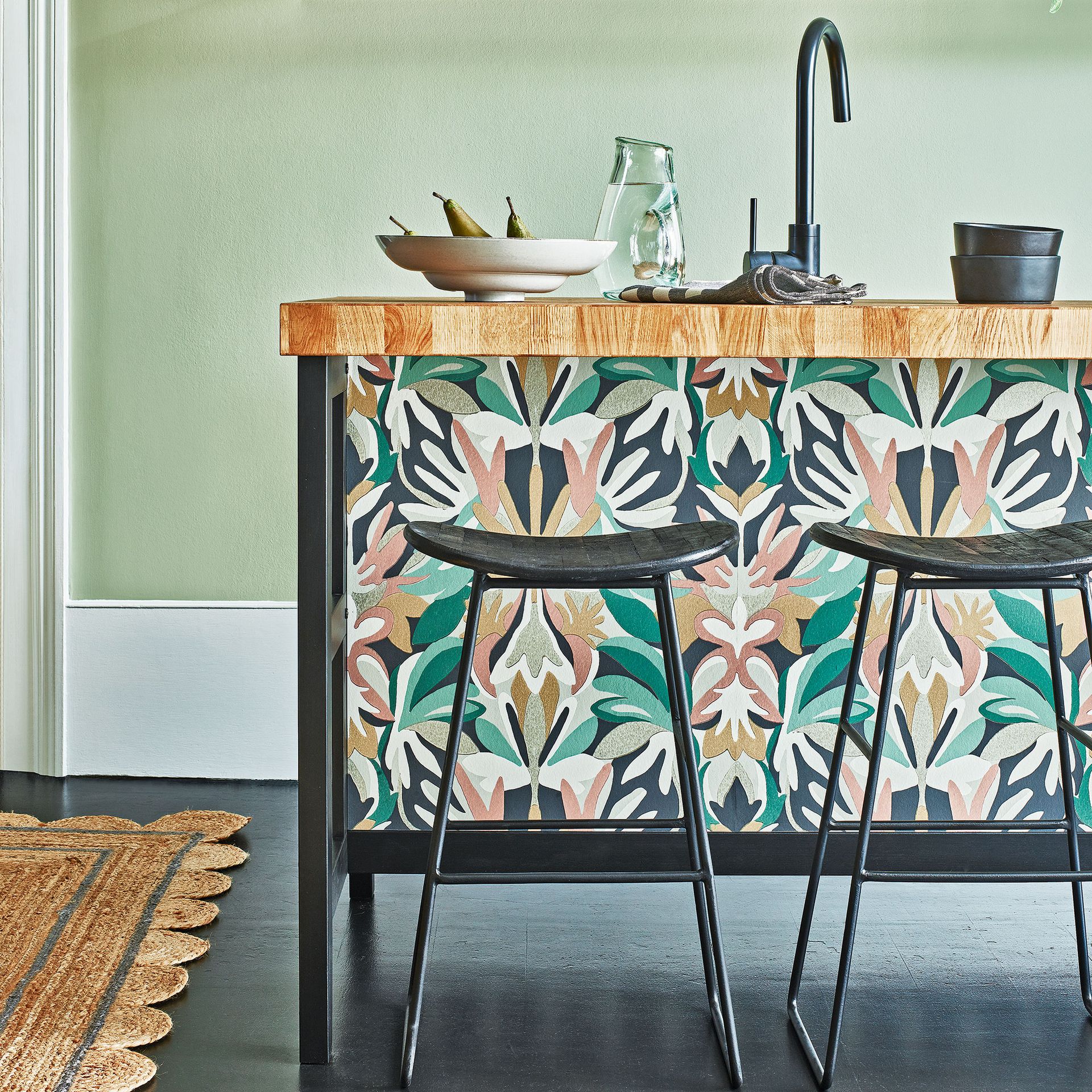 Distract the eye by going bold. A patterned small kitchen island or surface will direct attention directly to it, niftily making guests not notice how small the rest of the space actually is. Choose a large repeating pattern rather than small so it doesn't seem too busy and cluttered.
19. Up the sense of space with your layout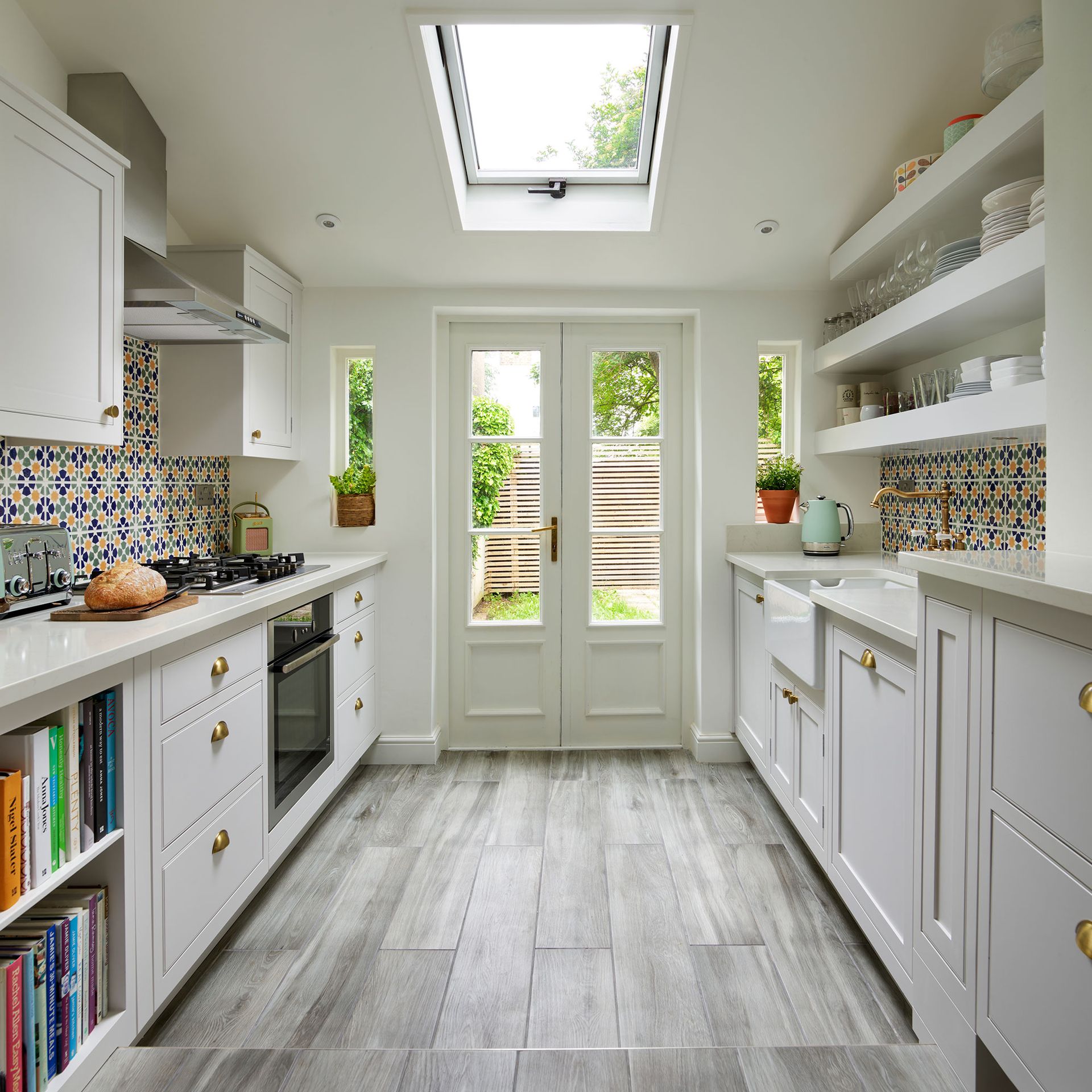 'Maximising storage is at the top of most homeowners' wish lists, however, this can be tricky in smaller kitchens,' says Vlad Putjatins, Kitchen Designer, Harvey Jones. 'If you are lucky enough to have tall ceilings, creating two runs of shorter, medium height wall cabinets stacked on top of each other will help to make the most of the vertical space.'
'For small kitchens ideas, I always recommend leaving a gap between the cabinets and the ceiling, as it gives you a clear visual of the room's full dimensions and avoids enclosing the space.' Enhance this effect even further by boosting light levels. Think floor-to-ceiling windows and, if possible, a skylight.
20. Choose alternative storage solutions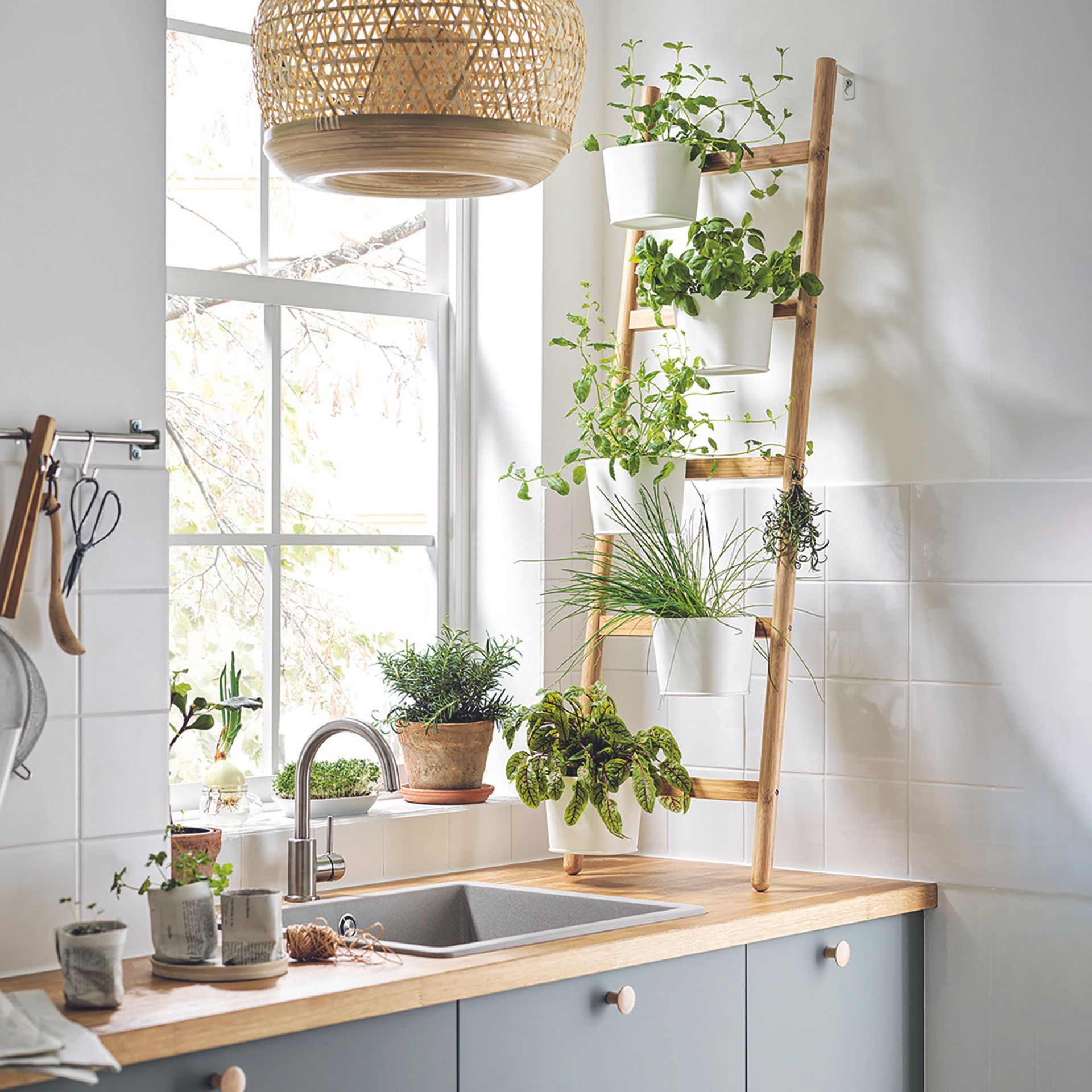 Think outside the box when it comes to how you store kitchen items. Think what you might do with small living room ideas, for example. Slimline ladder style shelving units are perfect for minimising how much floor space you're taking out without compromising on storage levels. Plus, they're a delight to style!
21. Build in booths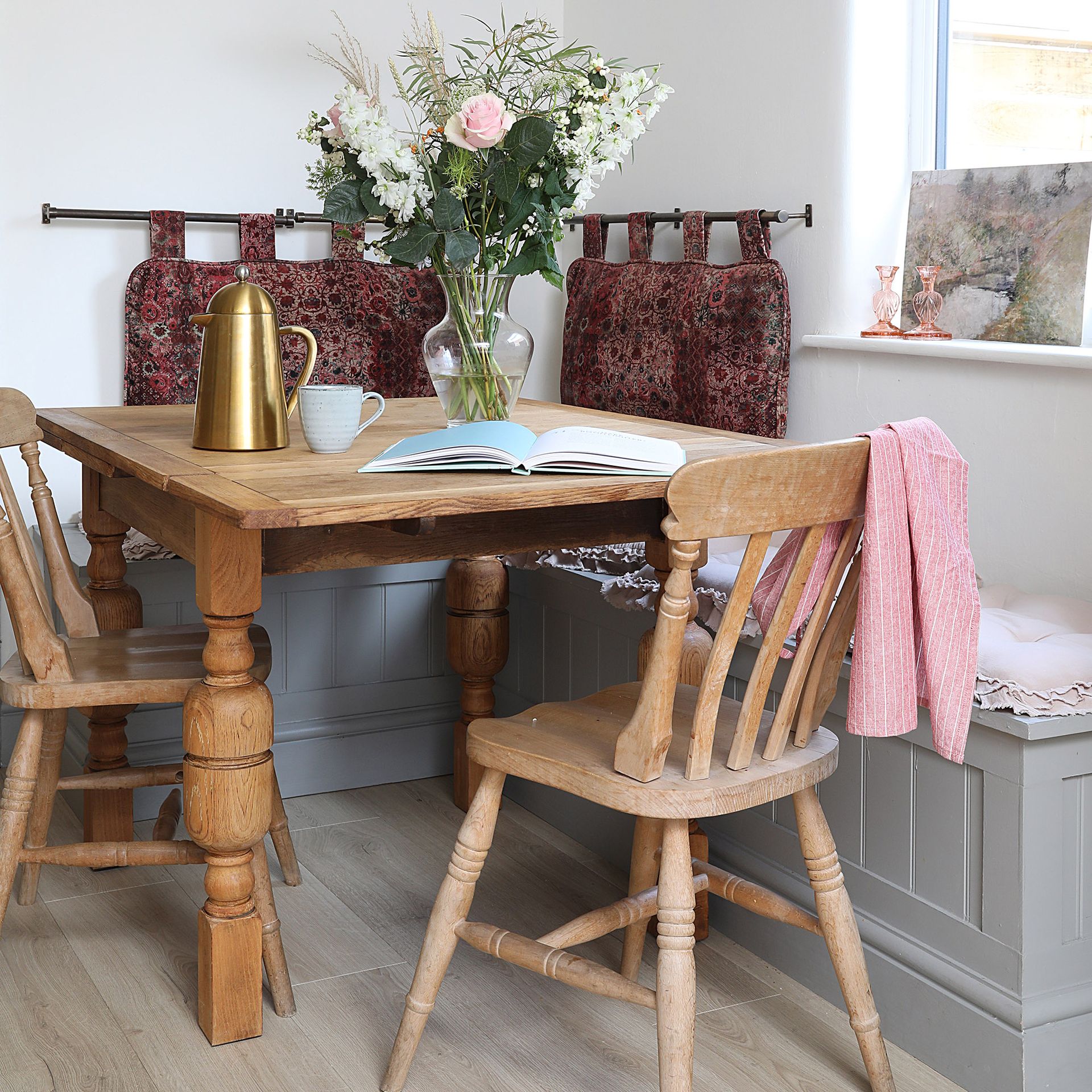 Kitchen booth ideas are always a plus, but they work especially well for small kitchen design. Build in your banquette or booth attached to the kitchen peninsula or cabinets so everything is in one. 
If you really need to save on space then rely only on the bench seating and only bring in extra chairs as and when needed.
22. Combine open and closed shelving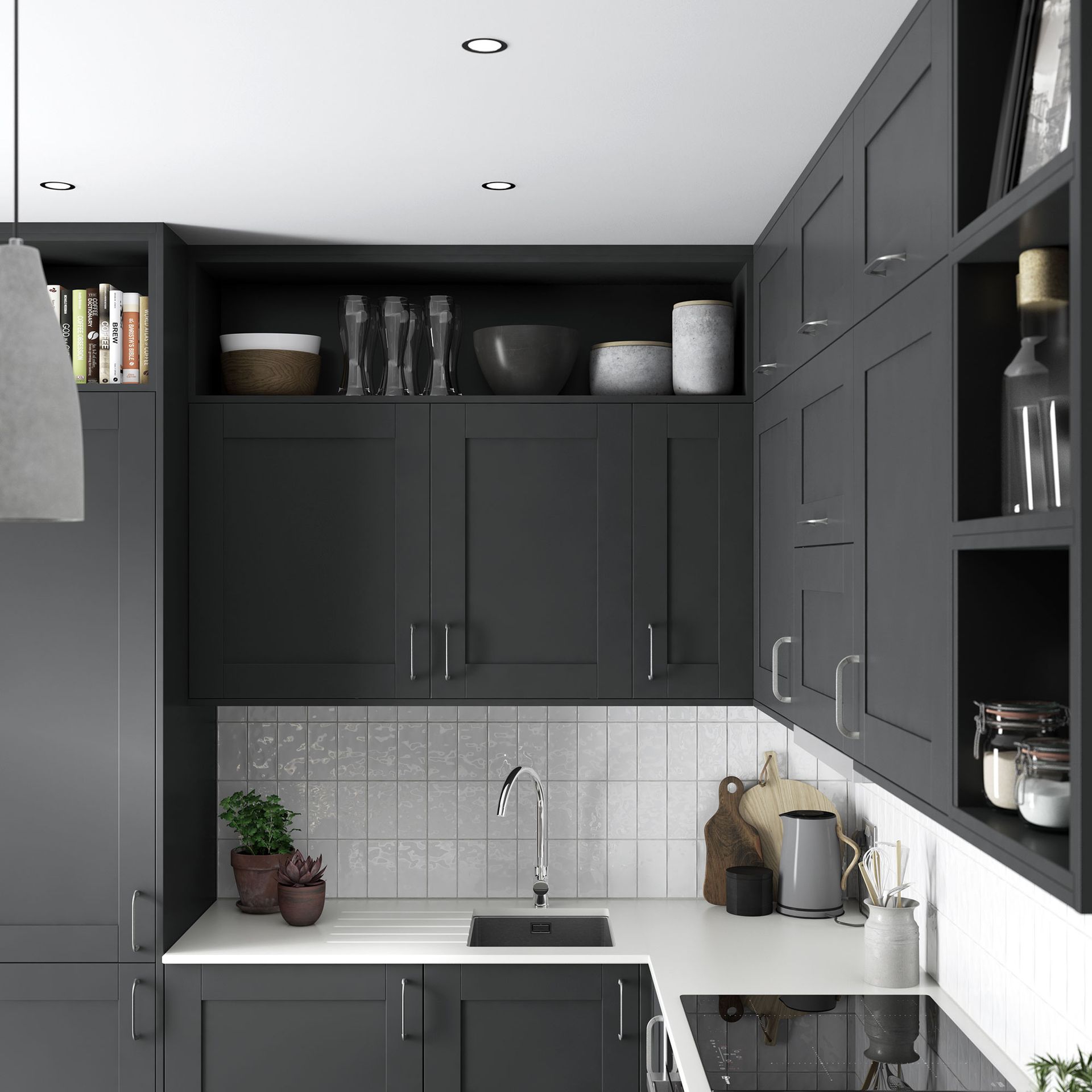 'A small space shouldn't restrict you in terms of colour, but there are important considerations to bear in mind,' advises Ruth from Benchmarx. 'It is inevitable that darker coloured units will absorb the light. So it is best to keep these to floor level to maximise storage without it becoming oppressive.'
Less is more, so instead of filling all available wall space with units, opt for open shelving, which gives a contemporary look and avoids enclosing the space.
23. Use partitions to separate tasks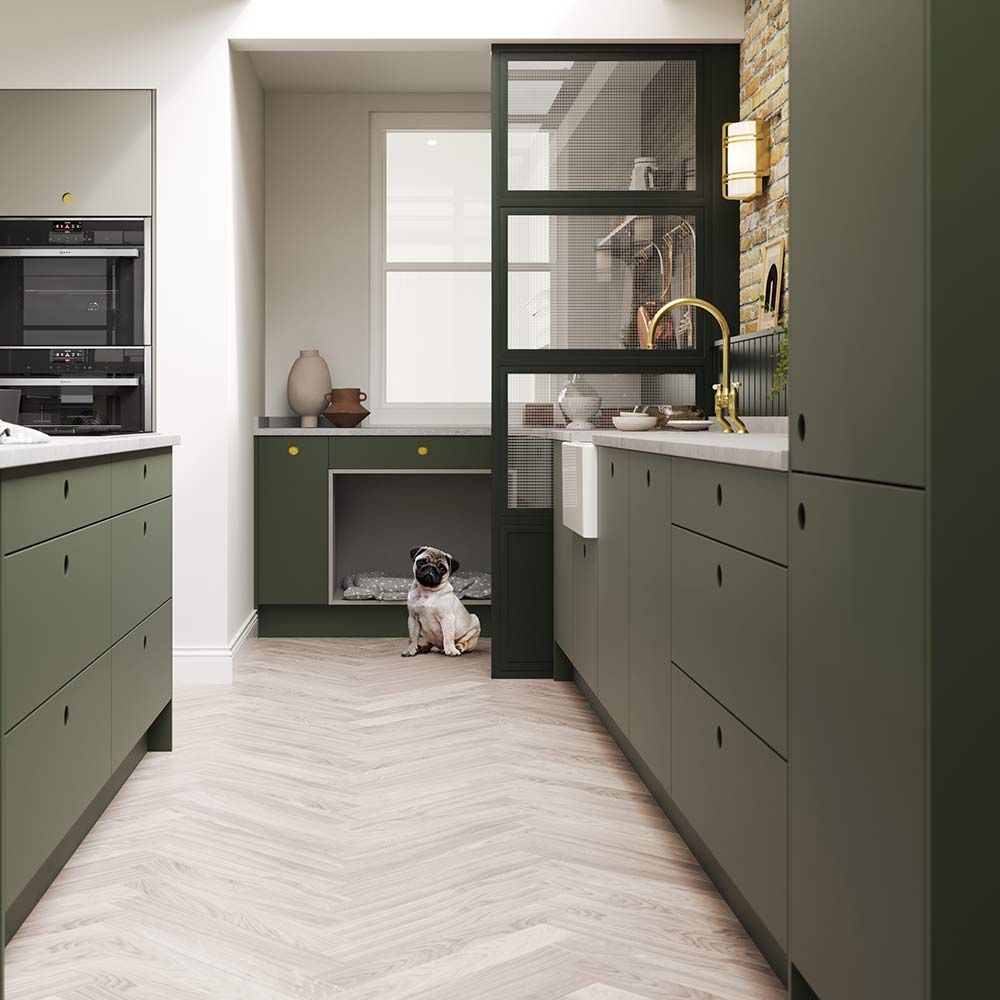 In a small kitchen, particularly with small galley kitchen ideas, it can feel like it's impossible to properly zone the space. 'Integrating a partition means you can separate functions out more and give designated prep areas within the room,' advises Graeme Smith, head of design, Second Nature Kitchens.
Opt for a glass half partition to keep the room feeling open and allow light to pass through. Treat one section as similar to a prep kitchen, and keep your appliances and larger utensils hidden from casual viewing.
24. Think vertically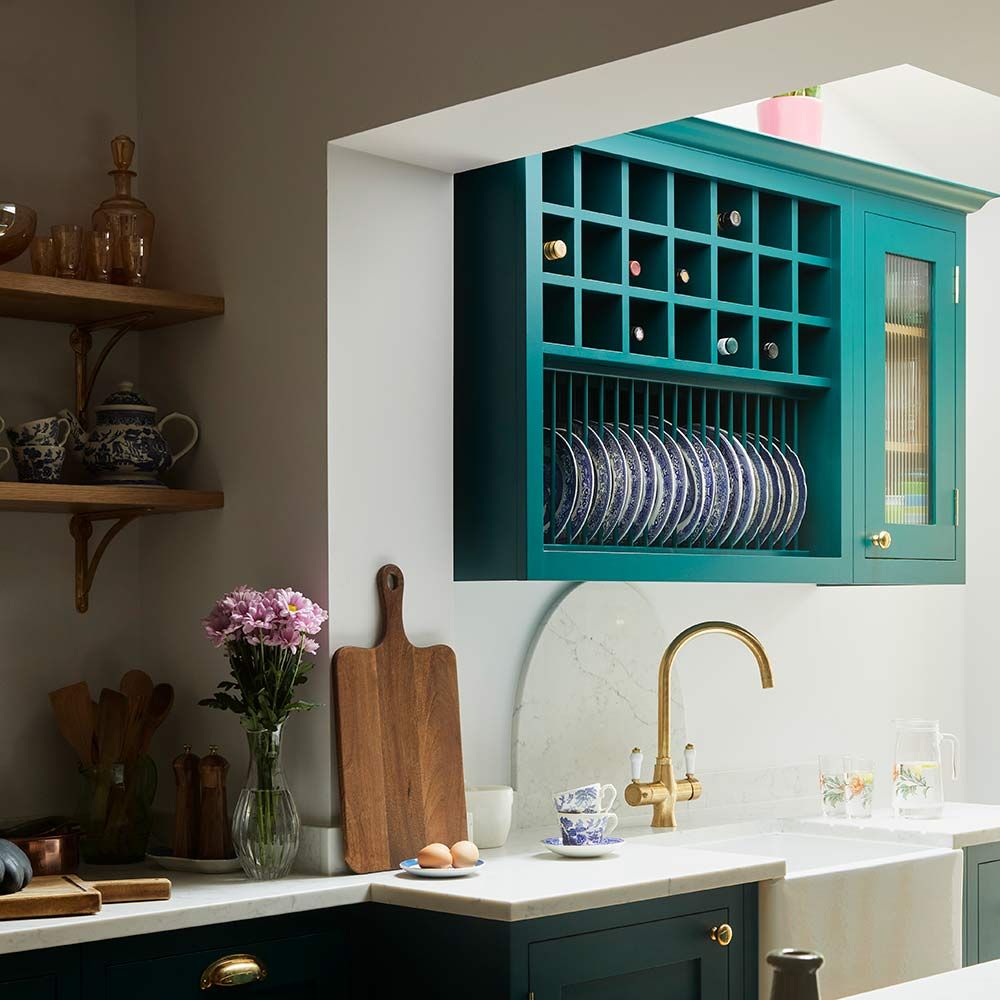 Storage is undoubtedly one of the most important considerations in any kitchen, but none more so than in a small kitchen ideas. 'One wall kitchen is ideal for those with a smaller space that still want an impactful kitchen,' says Al from Olive & Barr. 
'The simplicity of a one wall layout is that you can maximise efficiency without compromising on functionality. You need to think vertically and create as much extra storage space as possible by utilising the height of your walls.'
Once you've planned where this storage is going to go, start to think about light. With small kitchen design, wall-to-wall cabinetry will block out light, making the space seem smaller and more cramped. Resolve this by including some open storage and shelving. Using this on the top half of the wall will help make the room appear taller, too.
25. Zone with flooring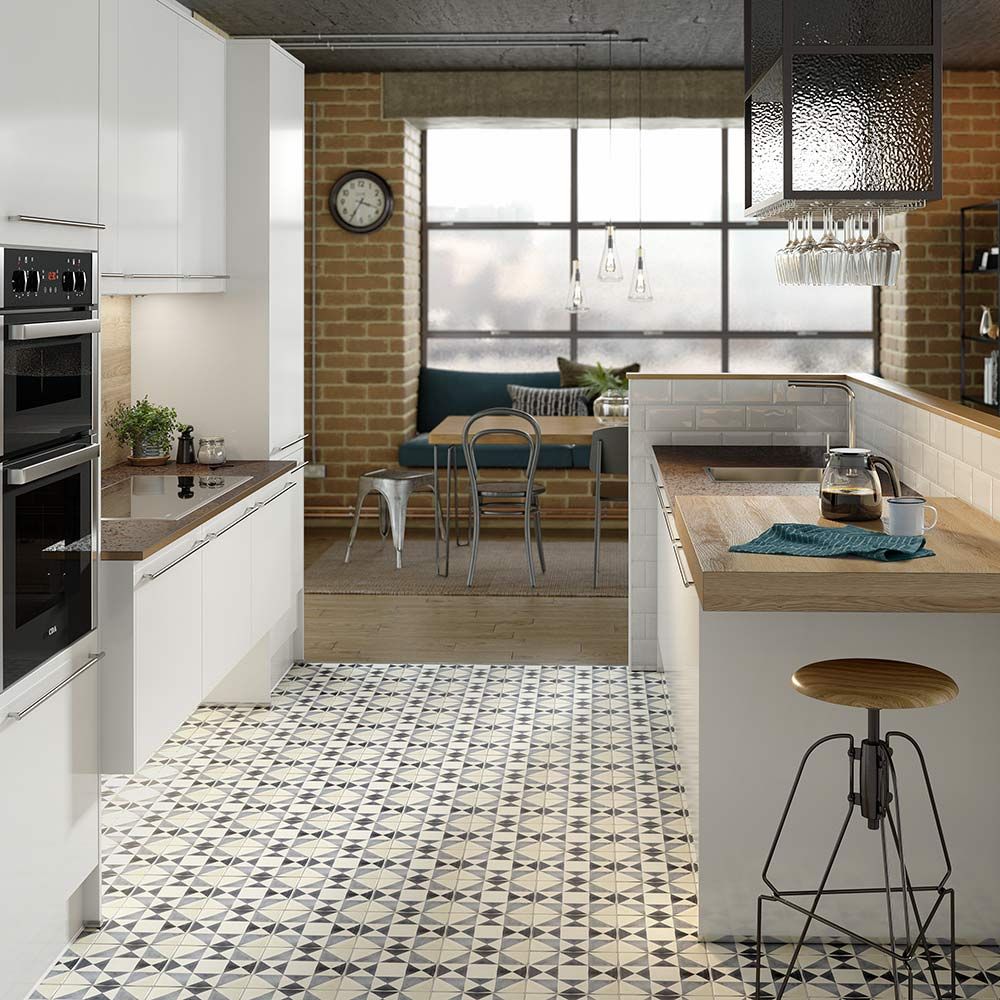 Contrary to popular belief, small kitchens can absolutely be used as petite kitchen-diners. Make the space feels like two separate rooms without compromising on space by clever zoning.
Choose two distinct kitchen flooring styles and use them to trick the eye into seeing two spaces. A patterned option is best for as it is more energising, and helps disguise spillages. Meanwhile, calming more neutral styles work well for a relaxed dining zone.
26. Break the plan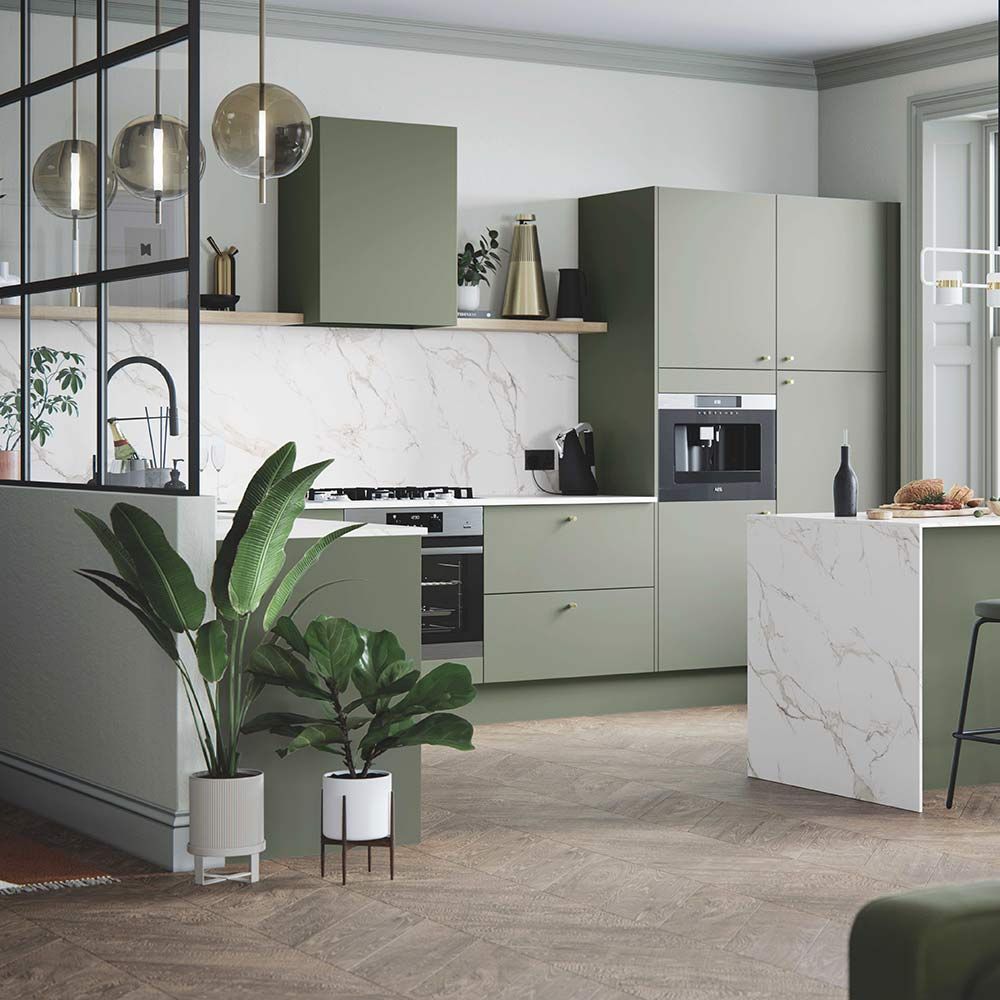 Broken plan is the new open plan, and small kitchens ideas can benefit from this style of layout. What you're essentially doing is zoning the room with either full partitions which can be opened or pulled back when needed, or half partitions to give the sense of separate areas. This allows you to differentiate cooking, dining and living areas while preserving the overall open plan feel of the space.
For partition alternatives, look at freestanding furniture, slatted screens or Crittall doors.
27. Incorporate a slim breakfast bar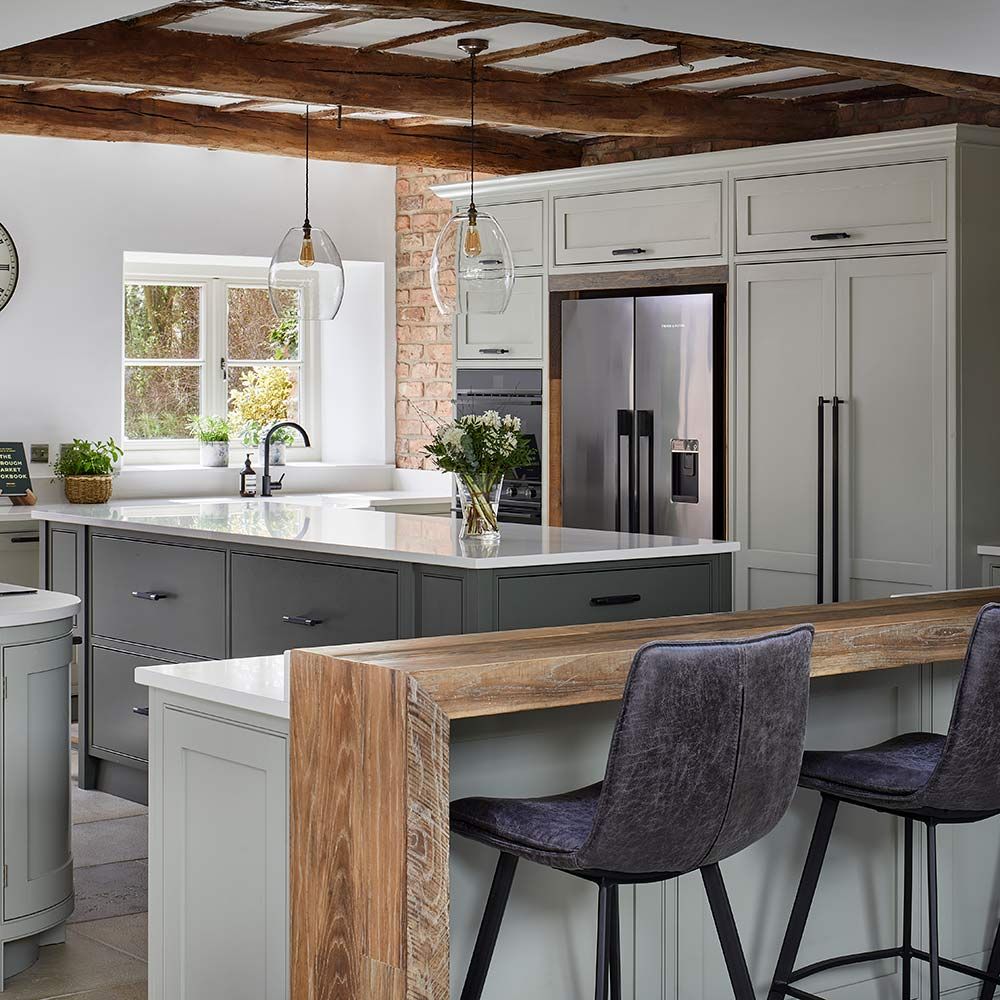 'Utilise the space of your kitchen by creating a breakfast bar area,' suggests Hayley from Magnet. 'While it may seem a challenging fit, they are an excellent option if you don't need a lot of cupboard storage space. However, breakfast bars can double as both a preparation and dining space, creating a multifunctional approach to your kitchen design.'
Look for slim options which can be built onto peninsulas or islands to further save on space.
28. Pay attention to your flooring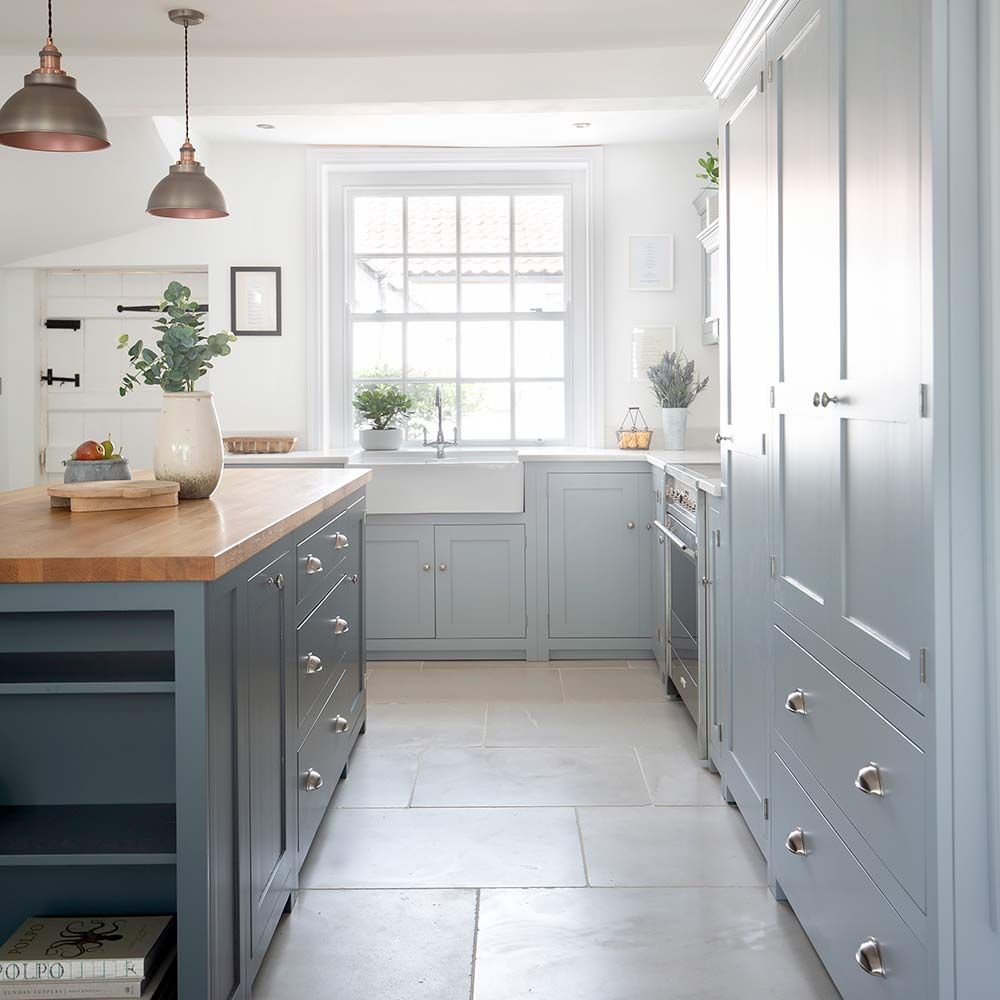 'Small kitchen design requires careful thought and consideration to give the illusion of a larger space,' notes Isabel Fernandez, Director at Quorn Stone. 'Contrary to belief we often find a larger tile can work well at achieving this. A smaller floor tile results in lots of grout joints which can enclose the space and detract the eye from the tile. We often suggest a 900 x 600 tile as it is a versatile size that works well in both smaller and larger areas.'
'Alternatively wood effect porcelain is becoming increasingly popular in tighter spaces due their long and narrow format,' continues Isabel. 'If you choose a complementary grout colour it makes the grout less noticeable which again helps to open the space out.'
29. Save space with a sliding door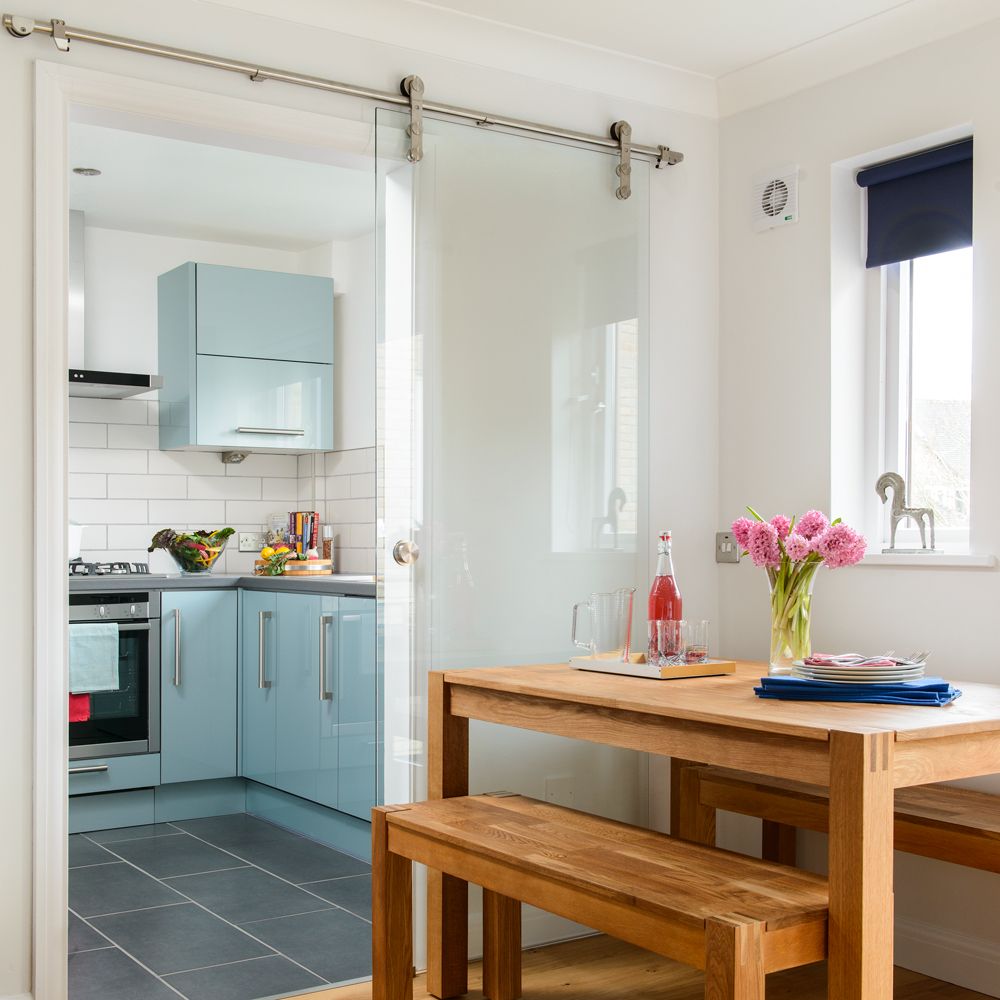 In small kitchen ideas where space is tight you may be tempted to remove the door to avoid the feeling of claustrophobia. But a door to a kitchen is a handy tool to be able to contain the smells of cooking from filling the rest of the house.
Consider sliding doors, which are the ultimate space-saving room divider. Even when it is pulled closed, a glass design means it doesn't act as a solid barrier from one space to the next.
30. Think about walkways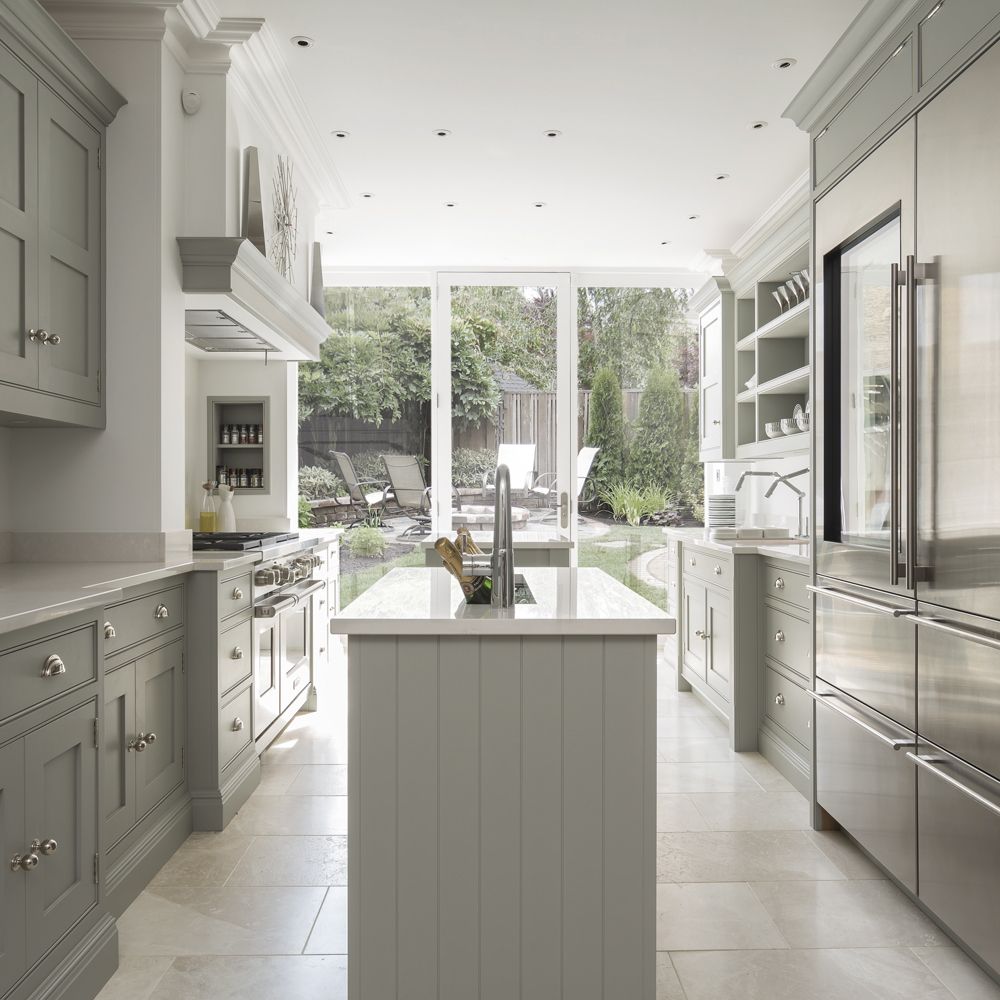 'Kitchens need to be as functional as they are beautiful,' says Tom Howley, design director, Tom Howley . 'If you take a standard galley kitchen to have a 6ft width and a 12ft length, island and peninsula counters are rarely an option in this sort of space. The importance of walkway space should be a key consideration.'
'When designing your layout for small kitchen ideas, always leave a metre of walkway space either one or two sides of your kitchen island, worktop or peninsula counter. This is a functionally and aesthetically effective dimension to keep in mind.'
31. Make space with collapsible furniture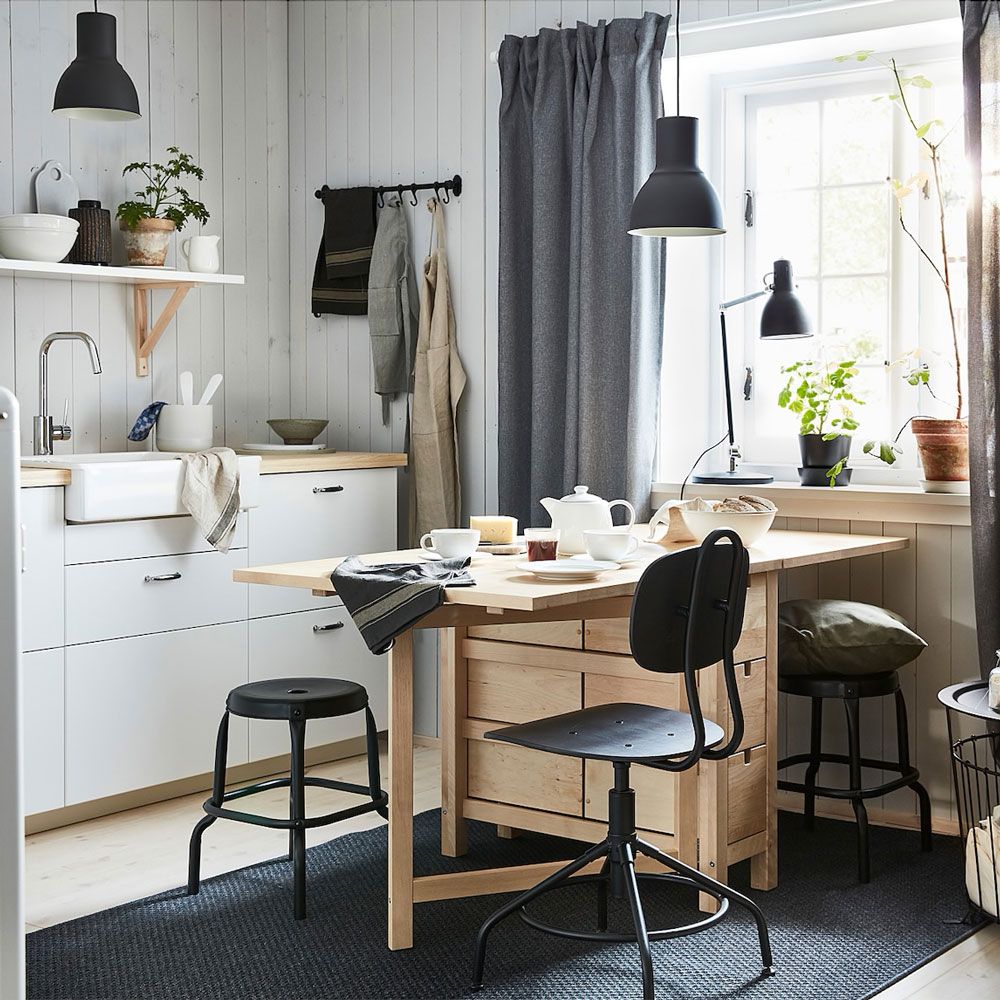 Choose collapsible furniture to create space when it's not needed. Look at including an extendable table, which can provide an island of sorts. Then, at mealtimes, it can extend out to form a sizeable dining table.
The table could even provide valuable desk space for working from home. Due to the nature of collapsible furniture the space isn't in any way compromised by the need for a table. It's a highly efficient way to make small kitchen ideas work to its full potential.
32. Get creative with corners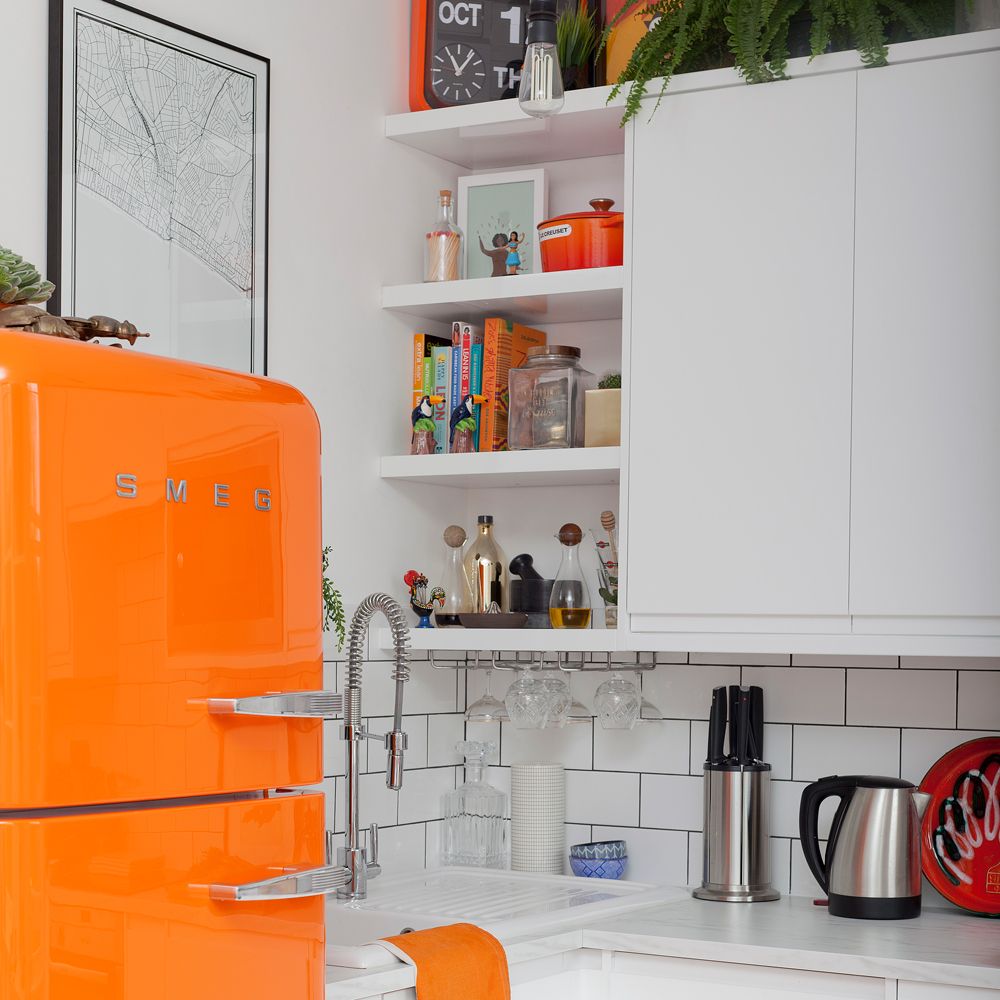 A tiny kitchen still has to cater for even the most basic of food prep and serving, which requires a lot of 'stuff'. This means it is key to use every last bit of available space by being savvy with the design solutions.
Ensure the units are as tall as physically possible to elongate the space. Making the most of magic corners and other clever mechanisms will also help use every millimetre of space.
Hanging glasses below the cupboards not only uses up space that is otherwise redundant, but more importantly it frees up storage space inside the cabinets.
33. Use one side for floor-to-ceiling storage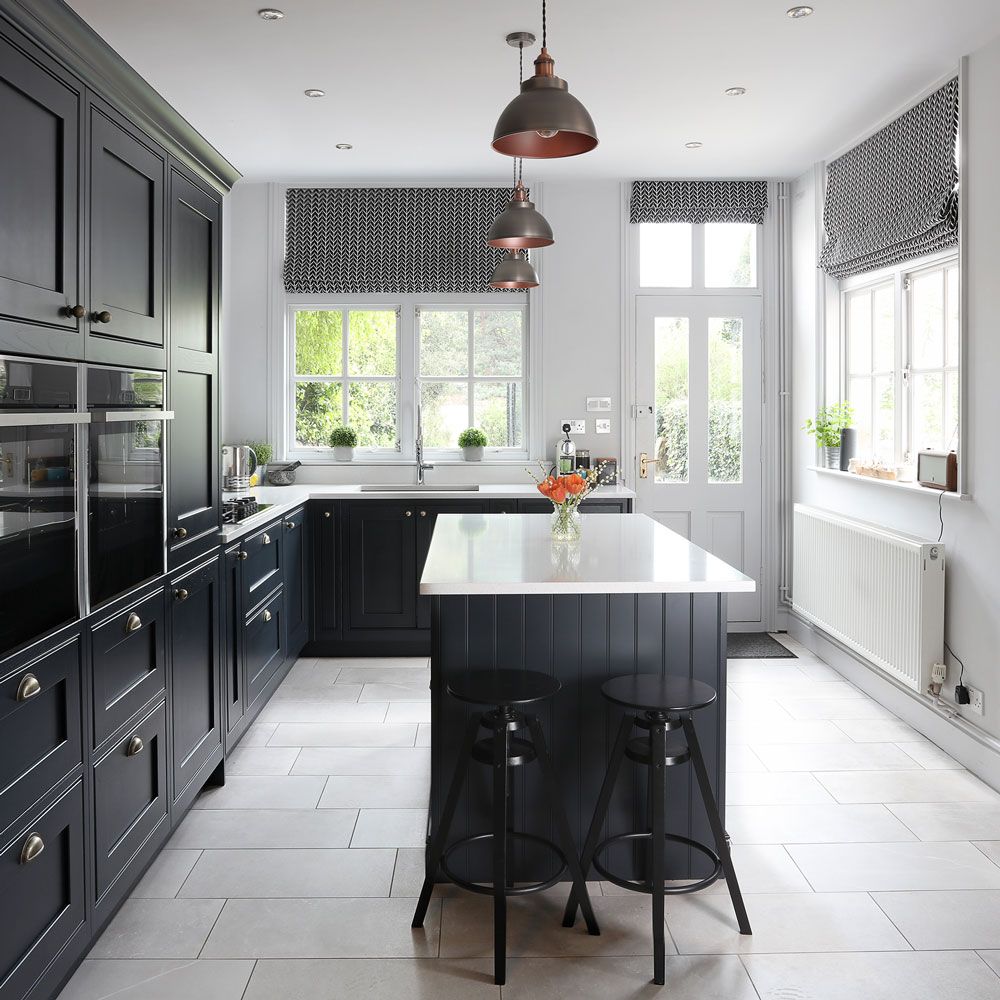 When space is at a premium, clever small kitchen design comes to the rescue. 'When presented with a small kitchen ideas it is essential that the layout is carefully considered to make sure every inch of the kitchen is utilised,' says Ben from Kitchen Makers.
'Creating a bank of cabinetry along one wall is a great way of streamlining and opening up the space. Tall wall units are particularly suited to narrow, galley style kitchens, as using this space ensures the area feels less cramped than if filled with larder style dressers.'
34. Add depth with glass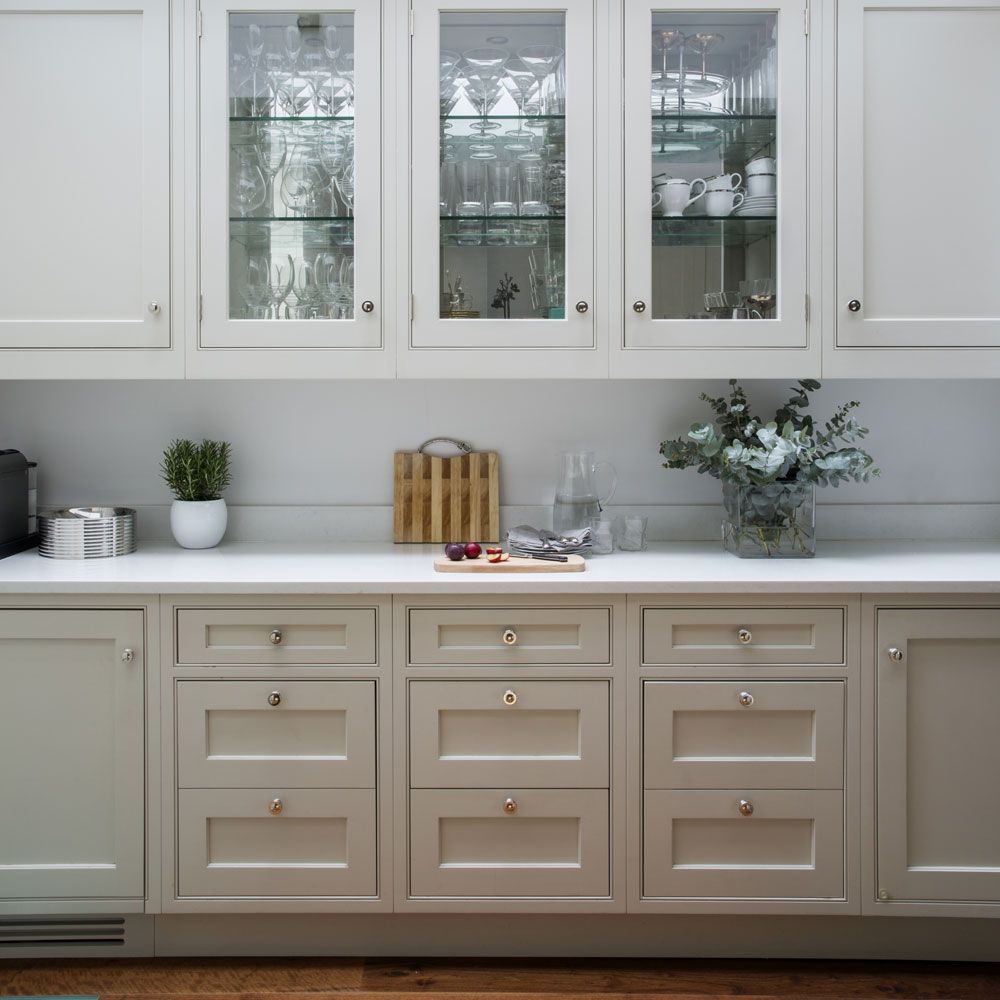 Whether planning a new kitchen or carrying out a makeover on existing cabinets, glass is a key material to enhance small kitchen ideas. 
'If you do decide on floor-to-ceiling cabinets, these should only be fitted with glass door display cabinets. This will open up the space in a way that opaque cabinetry will not in a smaller kitchen,' explains Tom Howley.
35. Use fresh mint green to promote calm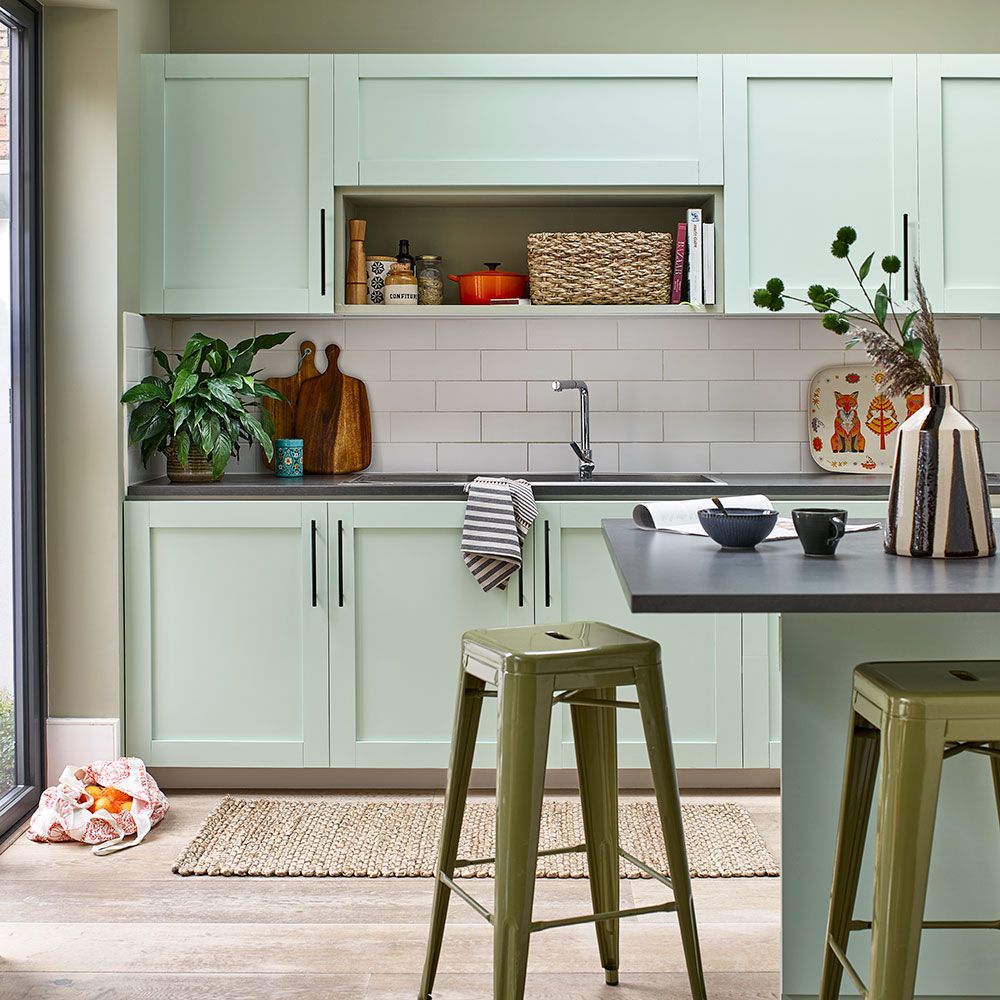 Kitchens of all sizes can feel chaotic, but by their very nature, small kitchens are particularly vulnerable. Tackle this head on by painting your small kitchen in a colour that promotes rest and relaxation. Green kitchen ideas are the ultimate choice for making us feel collected and calm.
Mix in different tones in cabinetry, walls and accessories. That layering will mimic the green of a garden, woodland or forest glade, exaggerating the effect.
36. Embrace reflective surfaces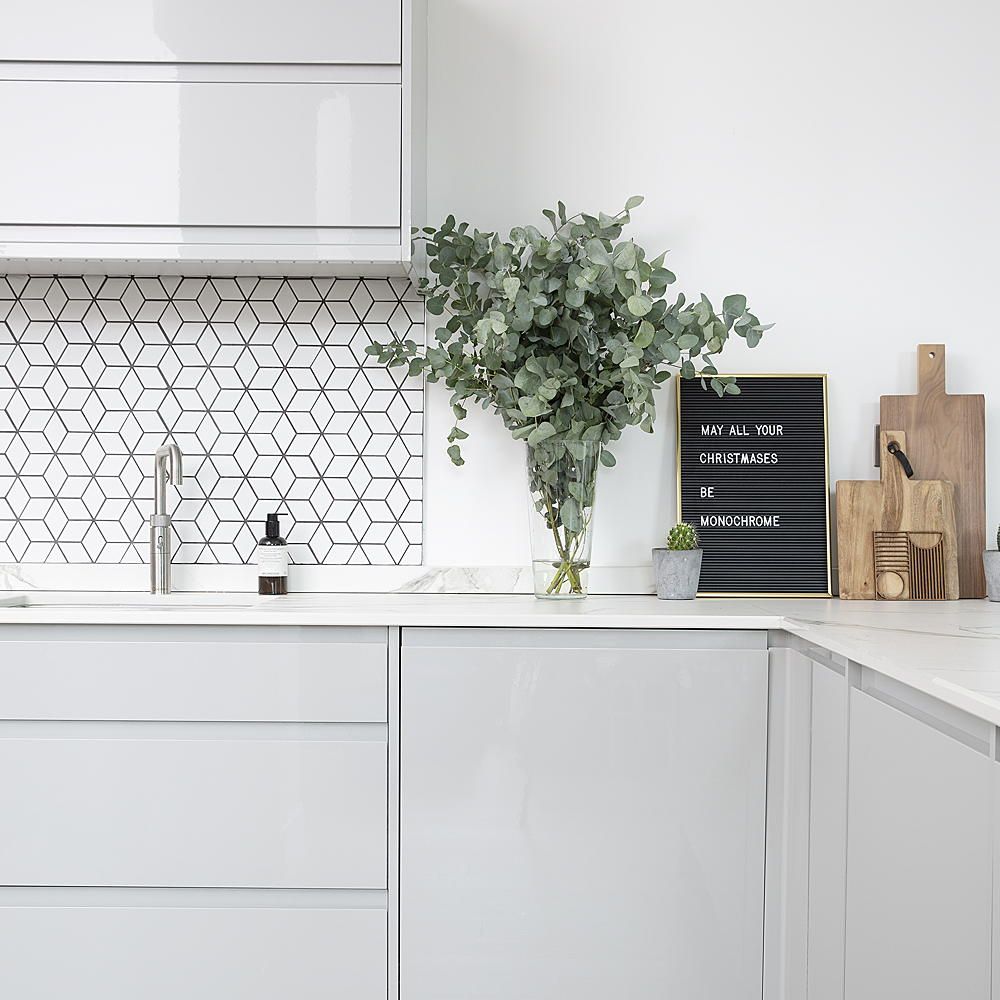 Make a small kitchen feel light and airy by opting for a neutral kitchen colour scheme. However, neutral doesn't just mean beige, white or grey. Pair white patterned tiles and marble worktops with duck egg blue kitchen cabinets for a crisp colour scheme that will bounce light around, making the kitchen feel spacious.
37. Invest in flexible storage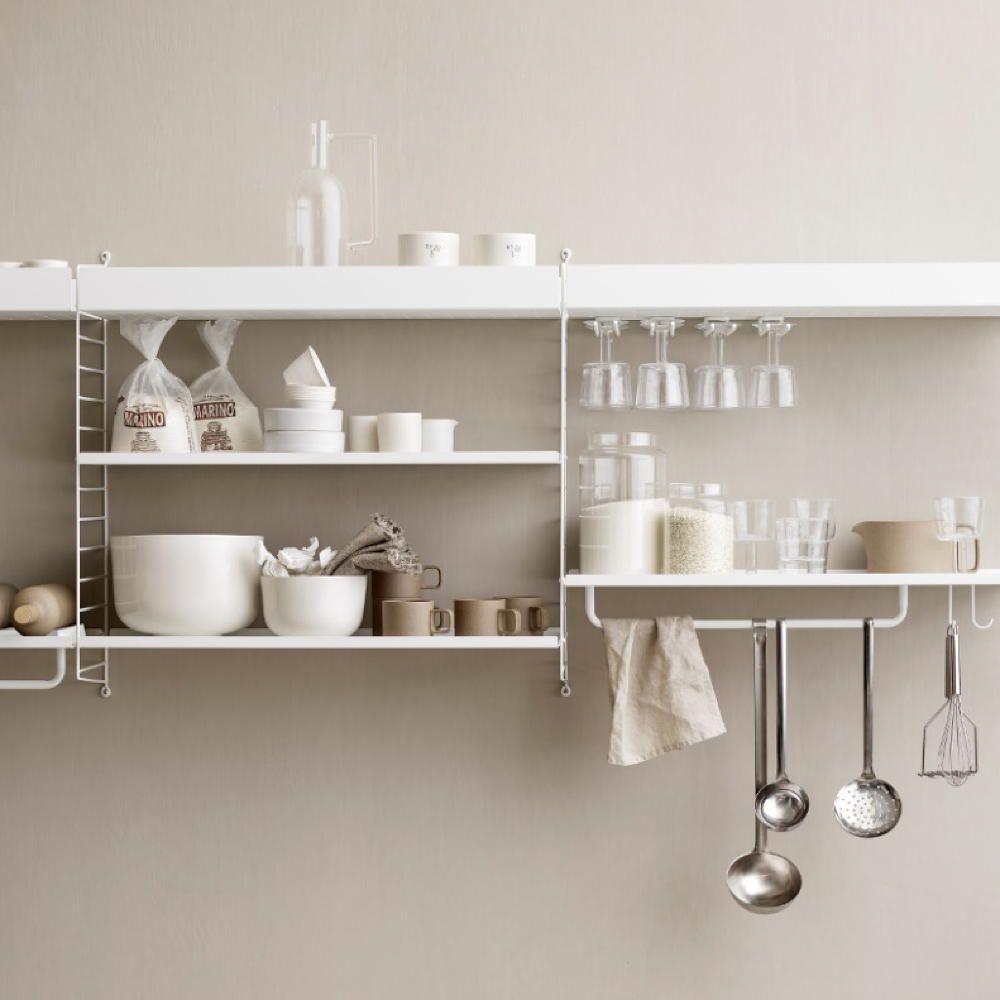 Instead of investing in ordinary shelves, look at more modular options. Choose shelving which maximises storage by adapting to your kitchen's needs. 
Add in or take away shelves, adjust heights, hang glasses upside down and even introduce a wine rack. When space is at a premium you need to make sure every inch counts. 
Simon Temprell, Interior Design Manager at Neptune recommends hanging a 'batterie de cuisine' above an island or countertops to store pans and cooking utensils overhead, and integrating as many appliances as possible so they're unobtrusive.
38. Hide appliances in a breakfast nook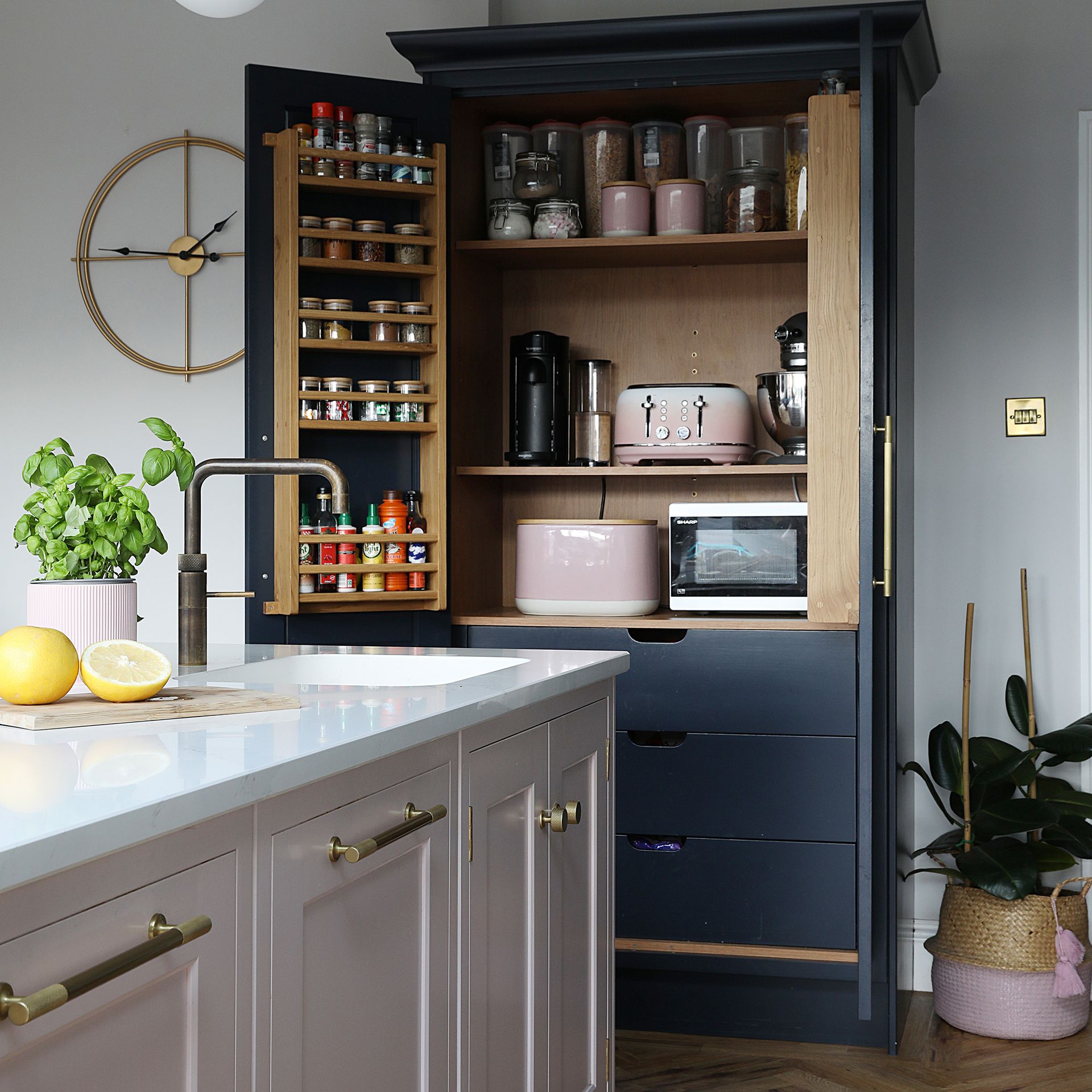 Keep surfaces from looking cluttered by tucking the toaster, kettle and coffee machine away in a breakfast cupboard, otherwise known as an appliance garage. As soon as you open the cupboard your favourite gadget is sat ready to use. 
This is a nifty trick for small kitchen design, making use of awkward corners and making sure that none of your kitchen tech gets lost at the back of a cabinet.
39. Choose a combined extractor induction hob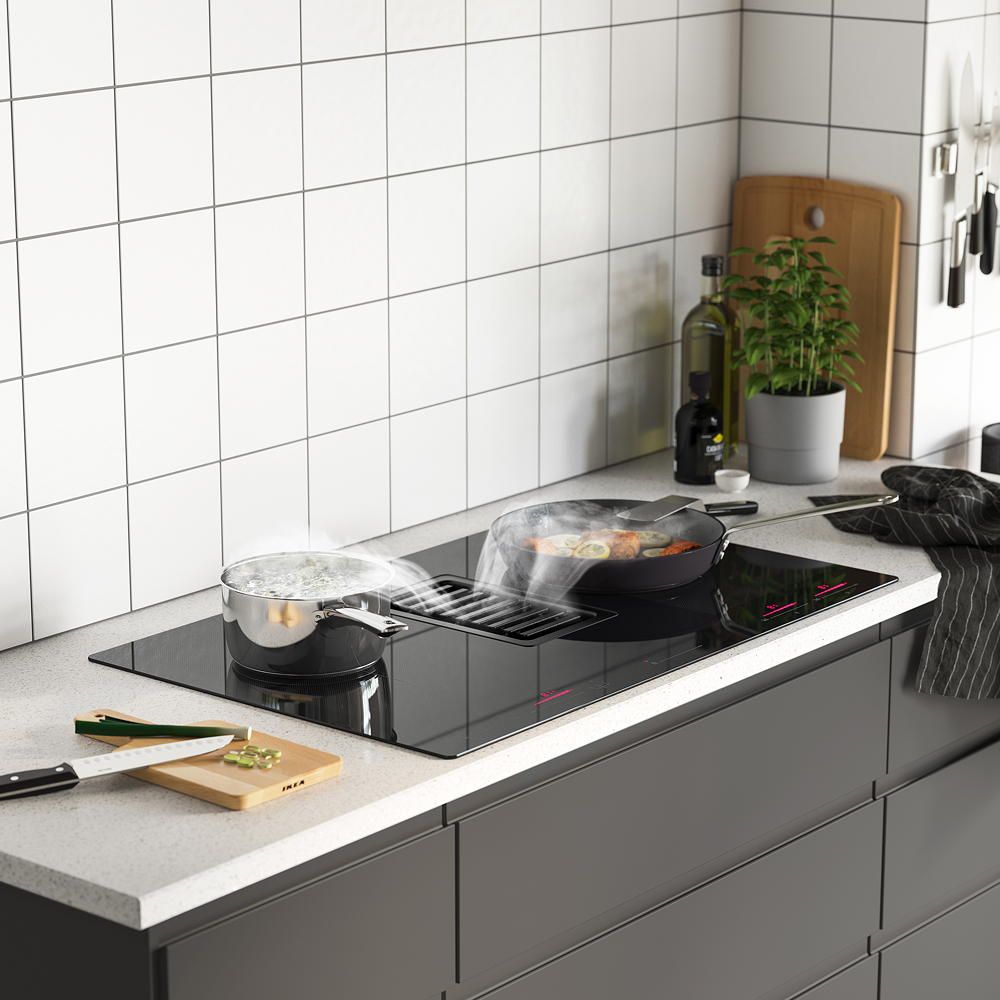 A combined induction extractor hob is a great space saver in small kitchen ideas. It means you can swap a bulky extractor hood above the hob in favour of extra storage. 
If you don't require an extra cupboard or set of shelves, consider leaving the area above the hob empty to give the illusion of a more spacious kitchen.
40. Swap a table for a kitchen island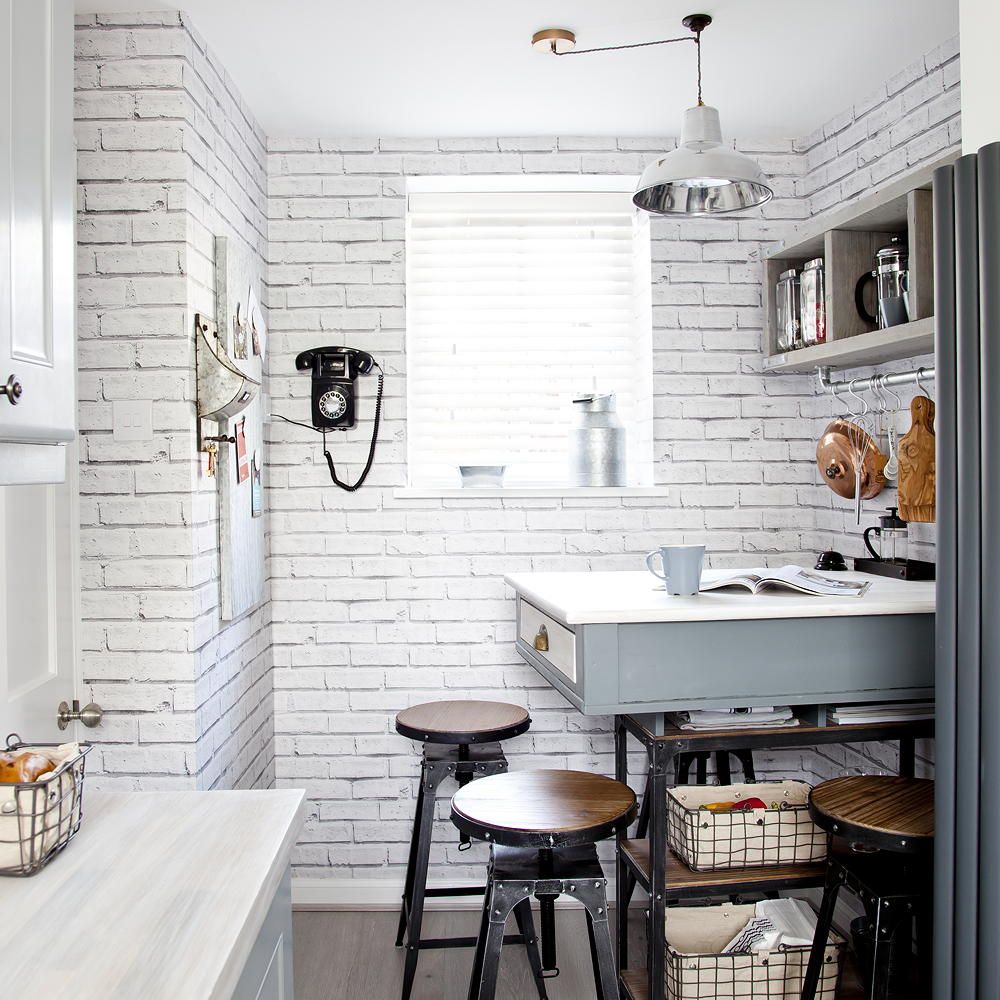 Adding an island might sound like a terrible idea in a small kitchen. However, in a long thin kitchen, a well-thought-out kitchen island can be the perfect way to add in extra storage and surface space, whilst keeping the kitchen a sociable space.
Choose an island with plenty of storage space underneath for stowing away vegetables and linens. A slight overhang from the counter top ensures that the kitchen island seating will fit easily underneath, avoiding any potential trip hazards.
41. Paint cabinetry to match the walls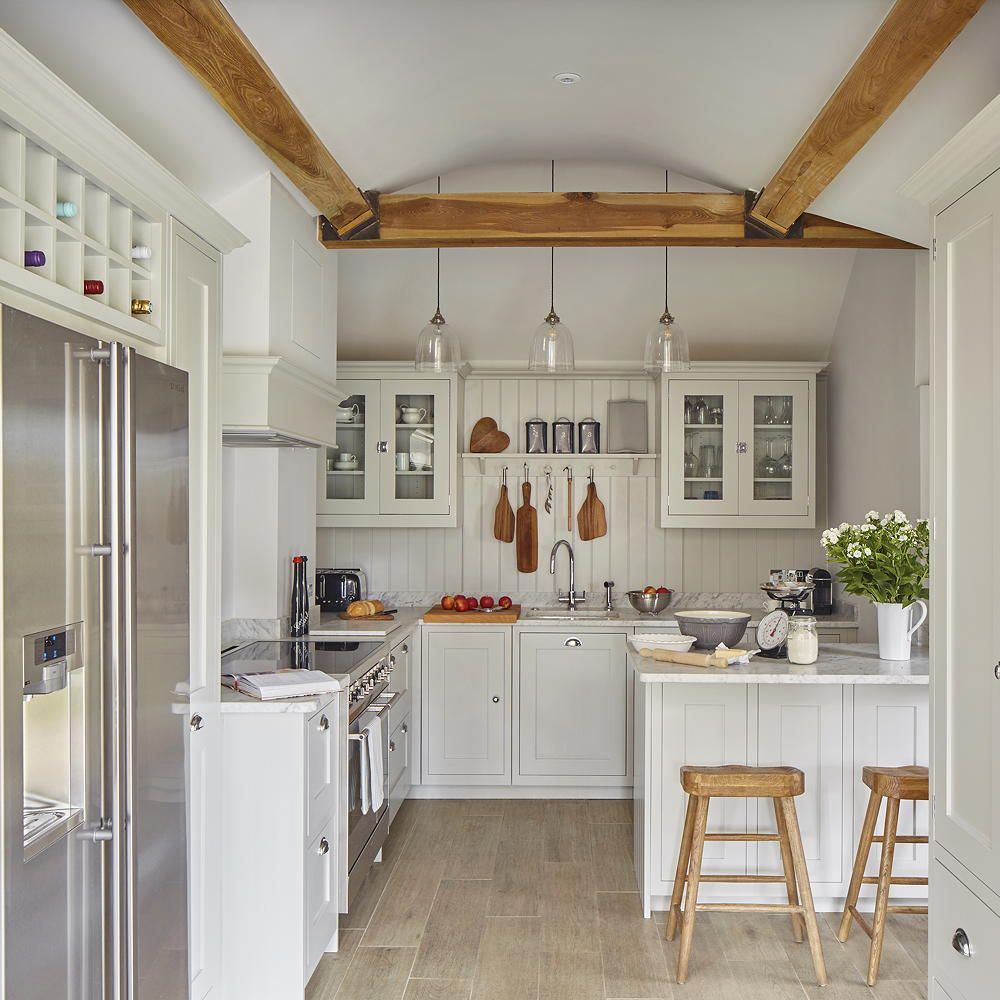 Create the illusion of more space in a small kitchen by painting the cupboards in the same colour as the walls. It creates a light and airy space where the units blend into the kitchen walls.
Every spare inch of space could be crammed with storage but a uniform wash of white paint will keep the space looking neat and spacious.
42. Invest in pullout drawers for easy access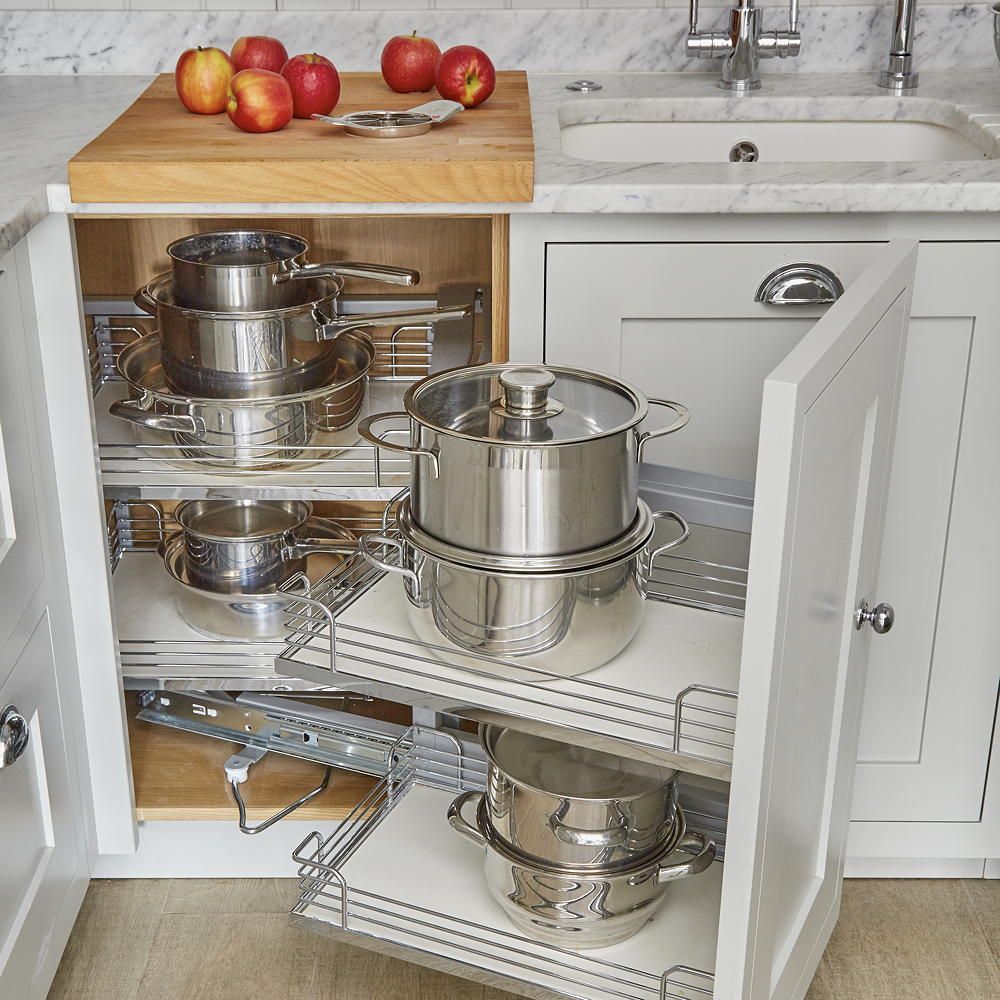 Small kitchen design requires you to make use of every inch of storage space you have. If you have a small boxy kitchen, rather than cramming all your pots and pans into a deep cupboard that is going to become a nightmare when you need to find a particular frying pan, consider swapping a cupboard for a drawer.
Choose a clever pullout drawer to maximise space and make finding your favourite frying pan easy-peasy.
43. Rethink the washing machine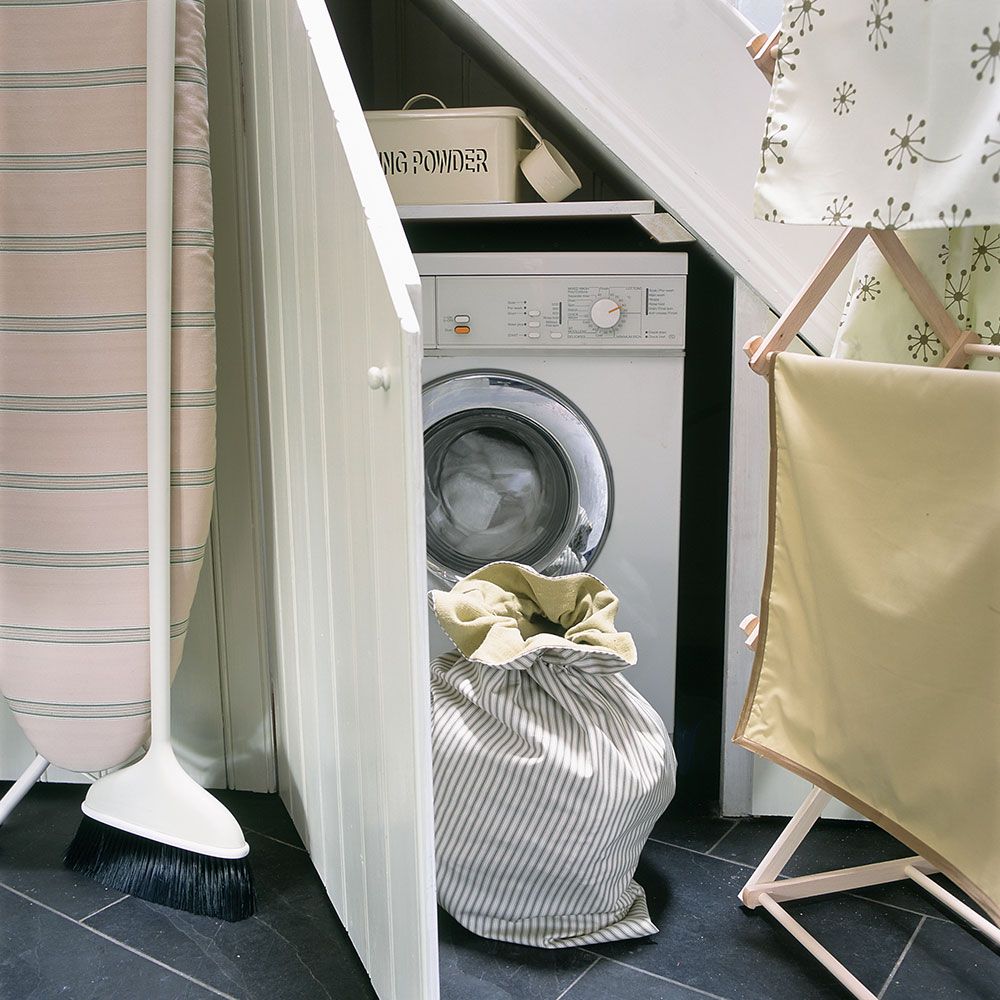 You may think the kitchen is the obvious place to put a washing machine. But in continental Europe, you're more likely to find it in a bathroom. So if you're stuck for space, it might be worth relocating your laundry appliances and incorporating them into your bathroom ideas. If your bathroom is just as teeny, you might be able to squeeze it in a cupboard under the stairs.
Alternatively, if you have a separate washer and dryer, you could consider keeping them in the kitchen but stacking them one on top of the other in an old larder cupboard. It hides them out of sight, saves space and helps streamline laundry days.
44. Supersize the sink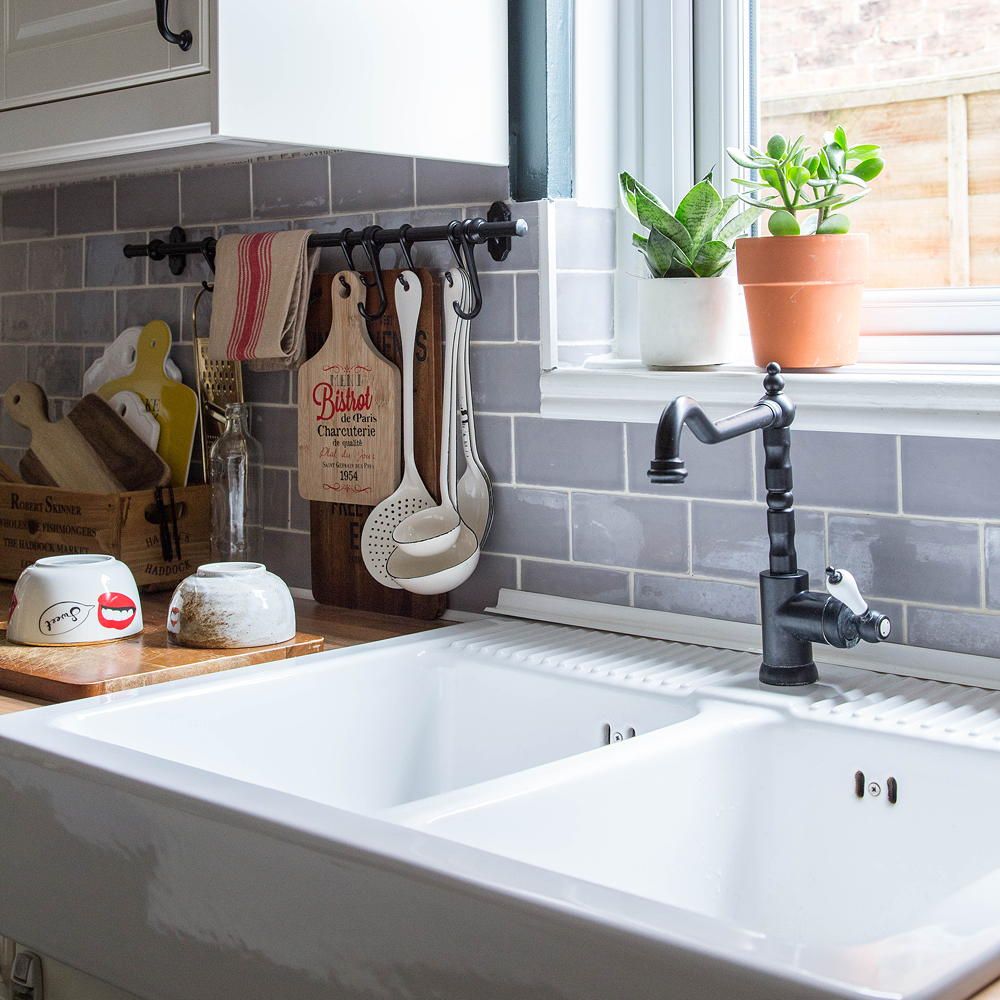 Investing in the best dishwasher is tempting, but your small kitchen design might not have space for one. So, it's worth finding room for a double sink instead.
Keep one bowl for washing and one bowl for dirty dishes. That way you'll have somewhere to stack mucky prep kit and plates out of sight, and without cluttering up the work surface.
45. Turn every corner into a storage space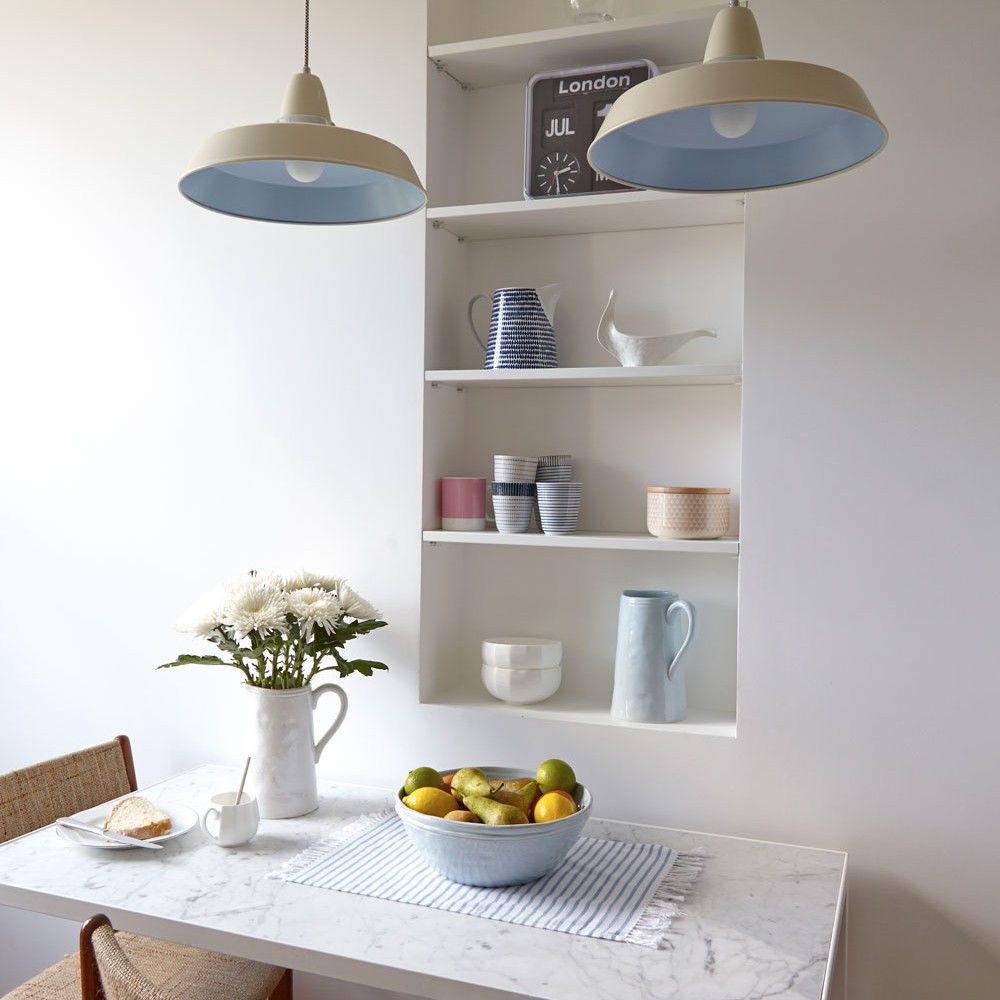 If you don't have the budget for a kitchen extension, optimise the space you already have instead. Identify places where there's wasted space, such as the gaps between shelves, at the back of cupboards, below the sink, unused corners and windowsills. Stack wherever you can and have a clear out of kitchenware that's infrequently used or only has one purpose, so you have less to store.
Think also about relocating items that aren't in everyday use, but you don't want to throw out, to elsewhere in your home. Next, think about the space on your walls and doors. Try adding a utensil rail or magnetic knife board, hooks on the sides of your cupboards or racks hung over a door. Extra shelves in corners or across alcoves will also come in handy.
46. Keep on top of clutter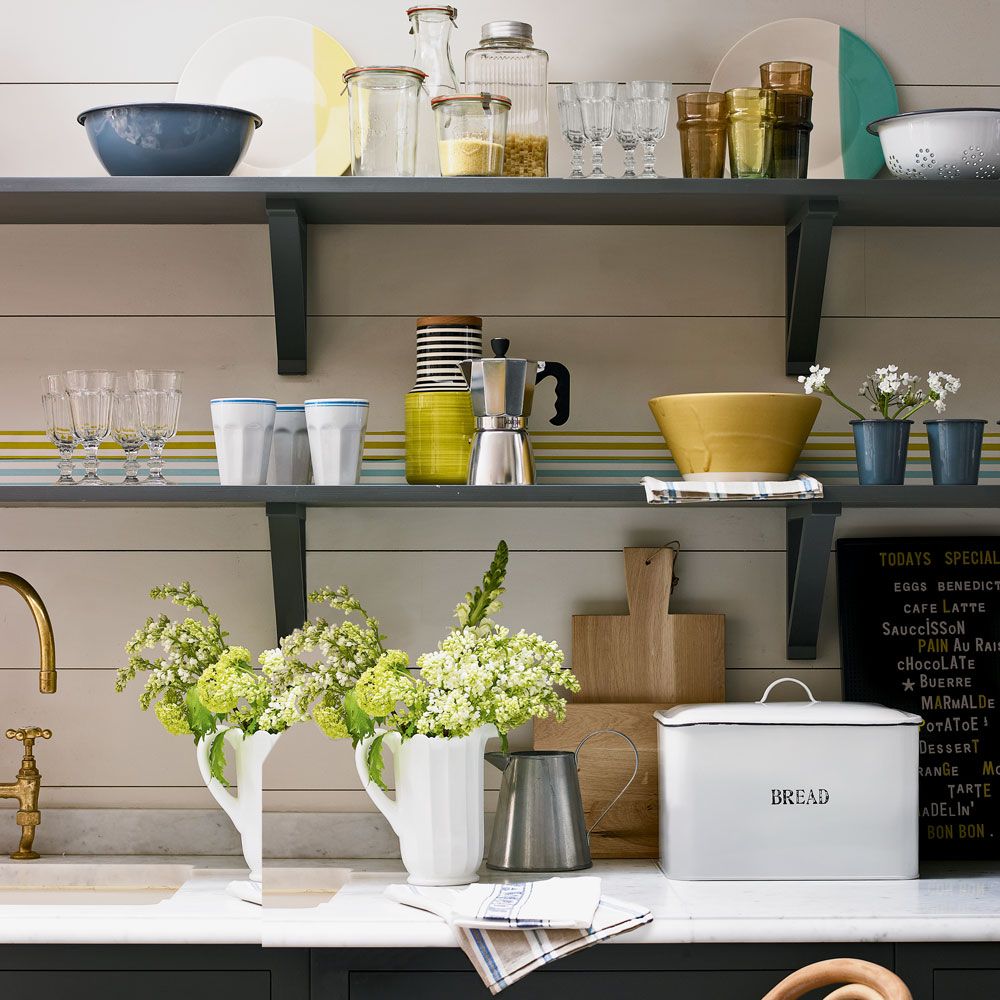 Wall cabinets can really encroach on space, so consider doing away with yours. Open shelving can have a huge impact in a small kitchen, creating an open and airy feel. Just ensure you limit the amount of shelves you use, and what you keep on them.
47. Select slab cupboards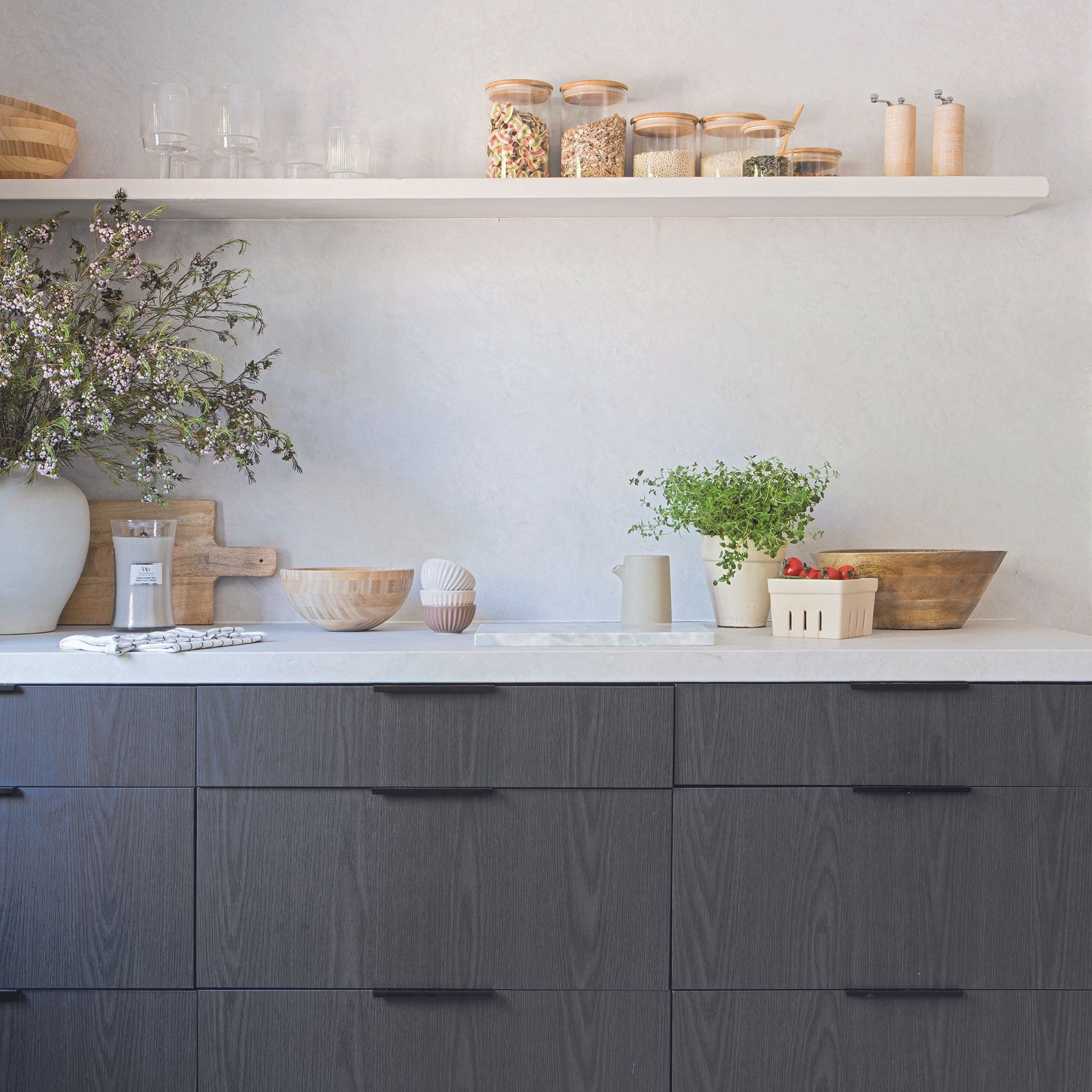 If you're wanting to reduce any visual clutter in a more compact cooking space, then the cupboard doors are a great place to start. They take up a large amount of the surface area, so using slab doors will create a pared-back look. 
Even with long cabinet handles, the kitchen design will look sleek, Scandi-inspired and more streamlined. 
48. Marie Kondo your worktops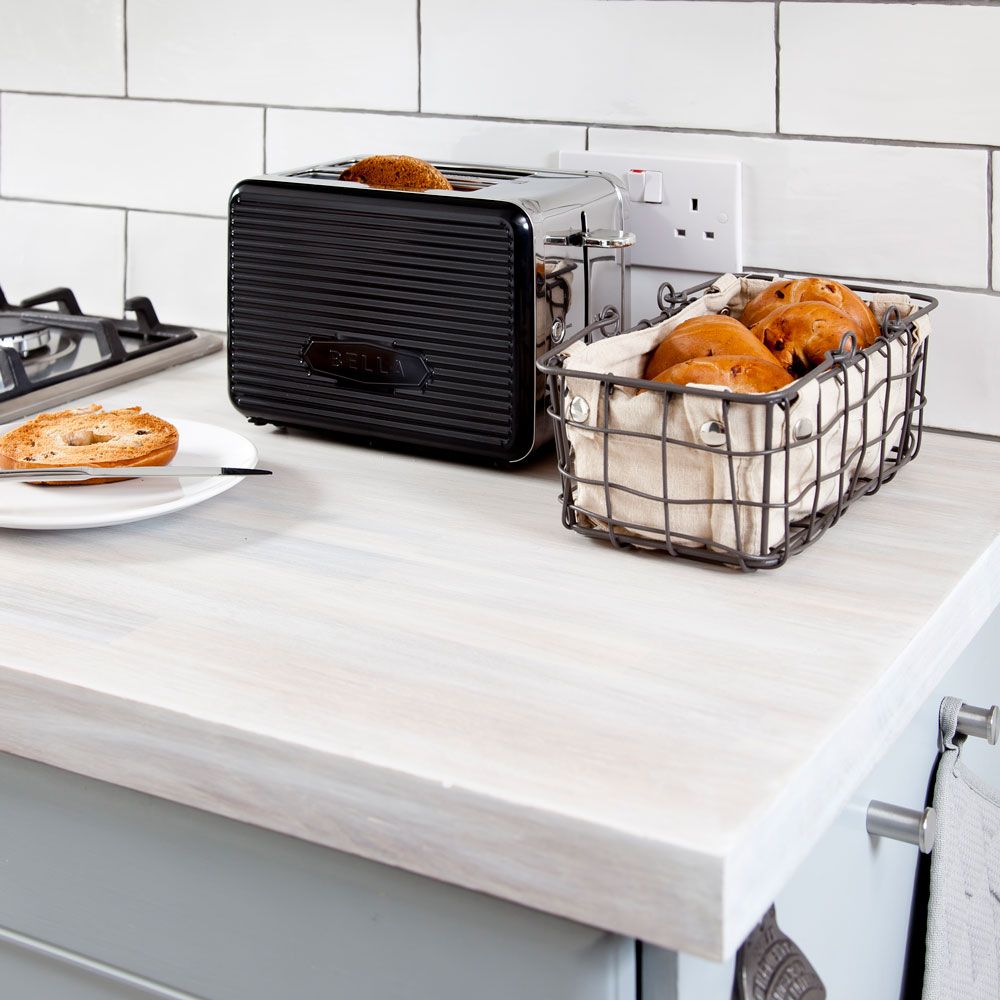 Marie Kondo advises against having anything left out on your worktops, and while that may be a little extreme, too many items cluttering up the worktops can be a real headache. Consider clever solutions like wall-mounted magnetic knife strips, rails to hang utensils, pans, mugs, spice jars, and cutlery bins.
Also think about what you need to have to hand every day, such as chopping boards, wooden spoons, washing-up liquid, and what can be stored away until needed. Look for genius kitchen appliance layout ideas to save even more space.
49. Incorporate a slim island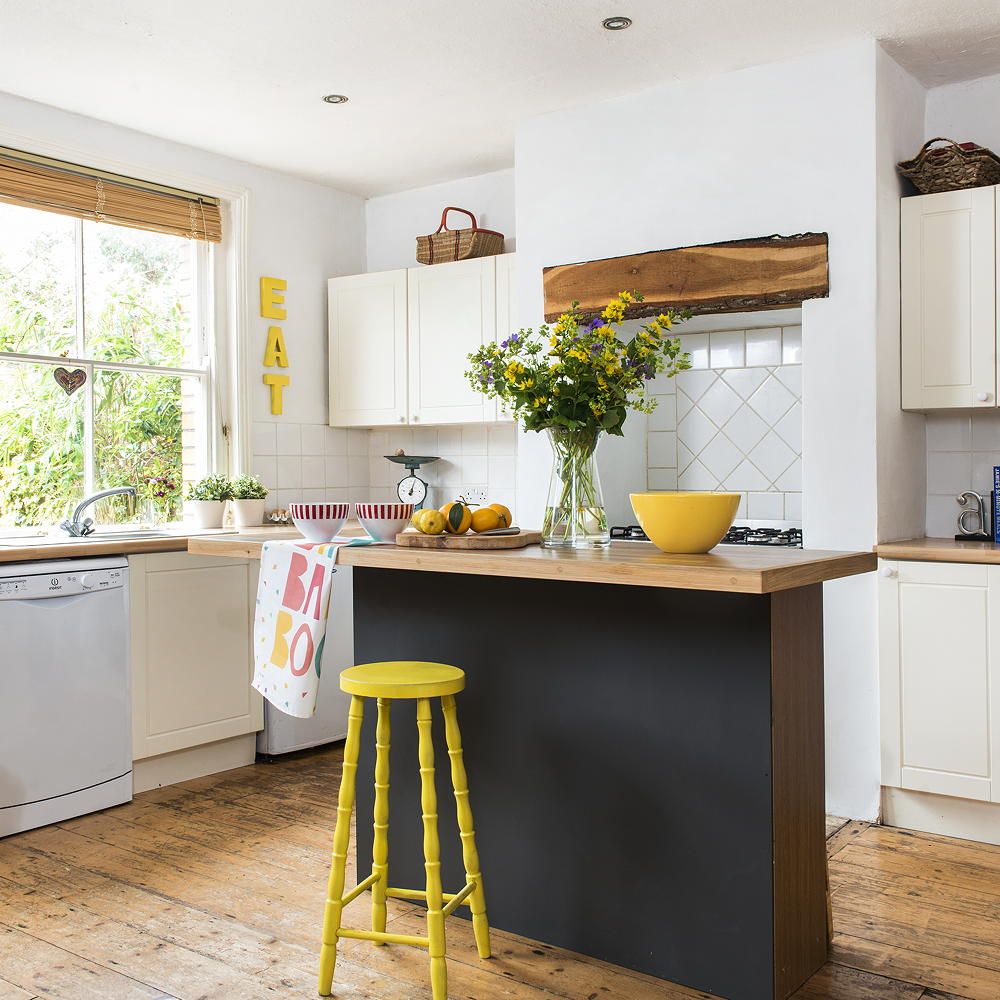 Not every kitchen will have room, but if your heart is set on having an island or peninsula, consider a slimline design with a petite footprint so it can fit comfortably in a small kitchen. The central workstation may be small, but it can still provide extra storage space and a useful worktop for food preparation.
49. Choose handless cupboards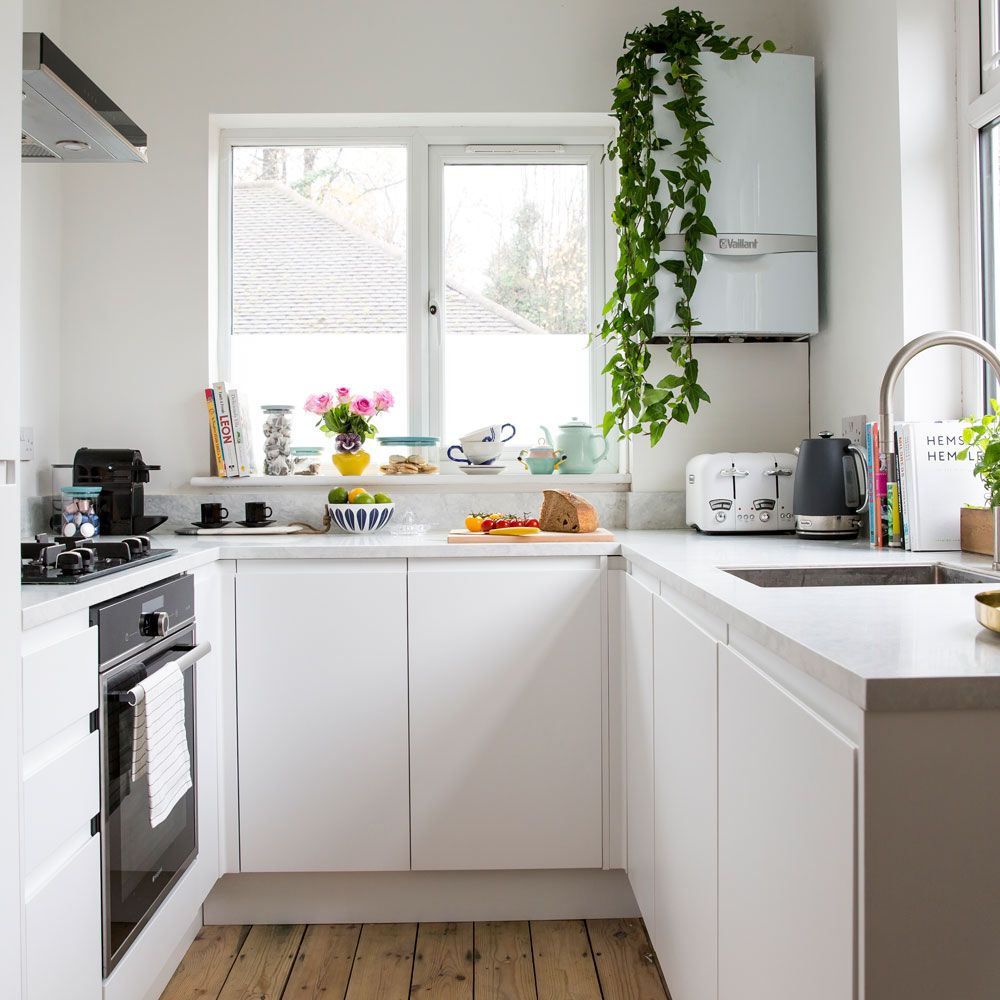 Opt for handleless designs for a sleek, streamlined appearance. This will maximise the visible space and make your small kitchen ideas feel less cluttered. Boost this effect by keeping to the same materials and colourways.
How do I plan a small kitchen?
As with any kitchen, large or small, you need to think about the journey. How do you use the space? There's a triangle of use within every kitchen, the journey made from fridge to sink to oven – the key elements that need to be considered. Plan your layout around the best way to use the floorspace. Look to use vertical solutions to make the most of every storage space available.
'With small kitchen design, considering appliances would be my starting point,' says Sally Hinks, Kitchen Designer, Harvey Jones. 'Any large appliances such as washer/dryers that can multitask are worth considering. Integrating appliances wherever possible will also help open up a space visually and create clean lines. Housing small appliances also makes a difference – boiling taps and integrated microwaves and coffee machines free up valuable space and keep surfaces clear from bulky microwaves and kettles, to create the illusion of more space and a more minimal aesthetic.'
'Lighting is one of the biggest elements of the room's design which is often overlooked at the early stages,' adds Daniel Bowler, Director, Eggersmann UK. 'This can actually make a big difference to how spacious small kitchen ideas feel when finished and should really be incorporated into the initial layout so that electrical planning can take place early on.'
What is the best layout for a small kitchen?
'When it comes to choosing the right layout for small kitchen ideas, the most important consideration is for the space to be easy to navigate,' advises Matt Baker, Kitchen Designer, Harvey Jones. You should ask yourself what is the kitchen triangle design rule, and how to make it work in your space.  'There should be a good-sized space of worktop run for preparation, preferably next to or opposite the hob zone. Thinking about how you will use the space is really important. For example, opting for an L-shaped layout gives the room an open, more inclusive feel, so it's easier for family and guests to interact. '
'Other popular layouts for small kitchens include U-shaped and galley styles,' continues Matt. 'U-shaped layouts are a great solution to maximise storage and work surface areas, creating a remarkably efficient cooking space. '
'Galley kitchens offer a simple and practical option for small kitchens,' adds Matt. 'The great thing about them is that everything is within reach, however, they aren't really designed for more than one person!'
Ben Burbidge, at Kitchen Makers says small kitchens needn't compromise on dream layouts. 'Don't be afraid to include a  breakfast bar but try not to make the overall dimensions too big, as it may restrict movement around the kitchen. The area under the breakfast bar can offer ample space for storage and kitchen.'
'Islands are best to be avoided in small kitchen design as they are more space-hungry than people think,' adds Graeme from Second Nature Kitchens. 'You need circulation space around the Island – to ensure you get the best movability and functionality. You could opt for a peninsular to get a similar feel if your kitchen was too small for an island but slightly bigger to accommodate more than galley.'
How can I make the most of my small kitchen?
Make every centimetre count by carefully planning your layout and making sure you regularly clear out kitchen paraphernalia you're not using. 
Simon Temprell at Neptune says it's important to incorporate articulated shelving in corner cabinetry to get the most out of your 'dead' space and to use a pantry cabinet to get maximum versatility for your storage solutions. If you can afford to, he suggests installing a Quooker tap, as this will free up kettle counter space.
Tori Summer, Director of Design and Innovation at Howdens points out that recycling and waste bins are commonly overlooked pieces of kitchen furniture in small kitchens. 'By thinking about these items from the very inception of your design it means that there will be fewer objects taking up valuable floor space, but it also means that recycling is sorted quicker, and any unwanted smells are kept at bay too.'
What is the best colour for a small kitchen?
Light is the greatest tool to help a small space feel bigger, brightening the space by bouncing light into shadows and lifting the entire room. Therefore white is a great option. A staple for small spaces, pure brilliant white is devoid of all pigment. This means it reflects back nearly all light that hits it. Conversely, the darker the colour, the more light it absorbs.
'Whether it's a matt or gloss finish, lighter shades like Porcelain and Dove Grey are your best options when designing a compact kitchen space,' advises Simon Bodsworth, Managing Director of Daval Furniture. Providing high reflection and fluidity of design, this choice of colour will keep the area bright and create the illusion that the space is larger than it really is.'
Help your chosen colour go even further in a small kitchen by painting the cupboards in the same colour as the walls. An allover colour scheme helps to keep the look light and airy by seamlessly blending the cabinets into the kitchen walls.
All that said, you can go bold with dark shades. 'Much to contrary belief, bold colours can work especially well in smaller kitchen ideas,' points out Al from Olive & Barr. 'Navy, cobalt, or royal blue add impact and a wow-factor and work especially well when used liberally throughout the cabinetry. Maintain balance with a quartz countertop to keep the room feeling light and airy.'
'Those looking for a classic scheme that lends itself to an understated look, a neutral palette of white, ivory, and grey work to add a sense of modern simplicity to a kitchen.'